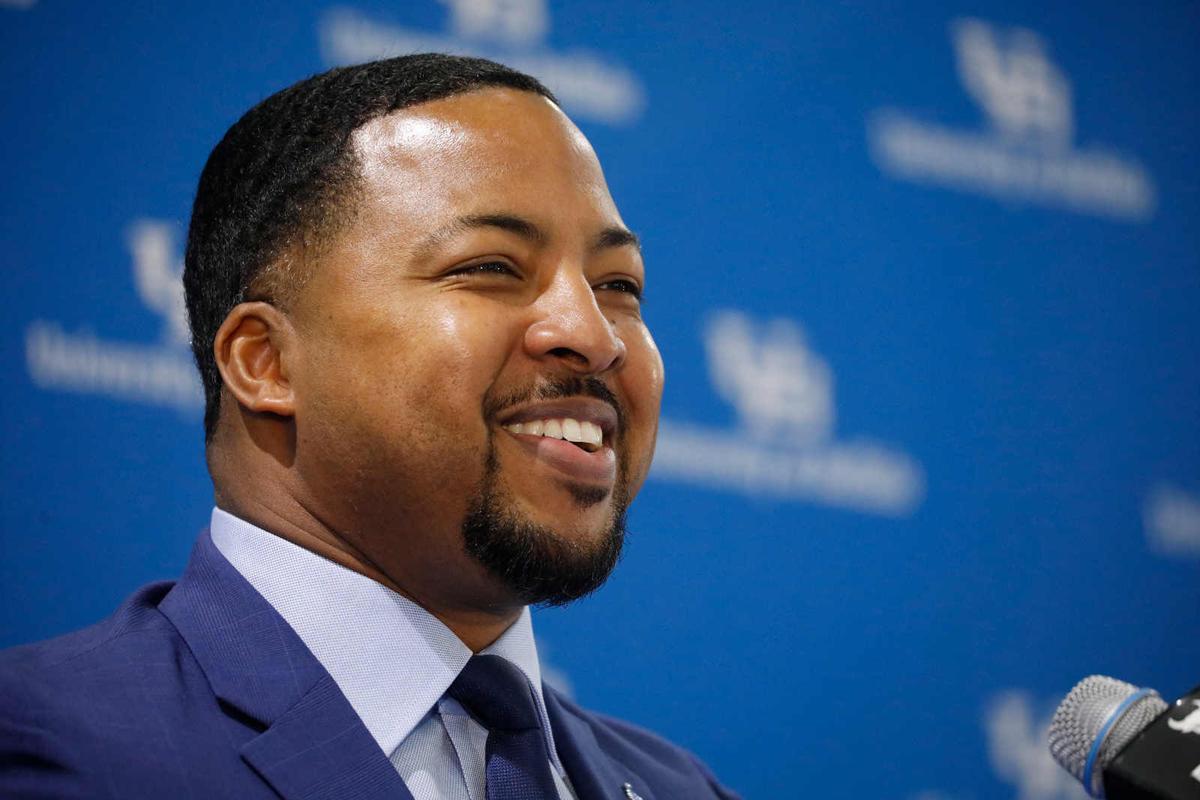 Upon his return to the University at Buffalo, Maurice Linguist recalled two particular instances that helped define his time as an assistant football coach with the Bulls.
He remembered being an assistant coach in the locker room after the Bulls won their sixth game in October of 2013, which made the program bowl-eligible. UB linebacker Khalil Mack leaped into his arms, hugged him, then picked up the defensive coach.
Mack, Linguist said, squeezed him so hard that he could barely breathe, but it was a gasp that came with the euphoria of victory.
"I don't know if I've had as much fun in that locker room from playing or coaching, because we knew we had accomplished something special," Linguist told The News on Monday. "It hadn't really been done a lot in the tenure before us."
Then, he evoked a culinary staple of Buffalo.
"The wings!" Linguist said, laughing. "I can't wait to get back. Joe Licata told me, 'You've got to get over to Elmo's.' Anchor Bar, Duffs, where do I begin? I'm worried I'm going to leave somebody out."
UB introduced Linguist as its football coach Monday at Murchie Fieldhouse; he was UB's defensive backs coach and defensive passing game coordinator in 2012-13.
Linguist, 37, takes his first head coaching job. He previously was the co-defensive coordinator and defensive backs coach at Michigan. Linguist replaces Lance Leipold, who became Kansas' head coach April 30, after six seasons at UB.
Linguist agreed to a 4 1/2-year contract that runs through Dec. 31, 2025, and will earn $675,000 a year at UB with an annual base salary of $475,000 and annual additional compensation of $200,000.
"We wanted someone of extremely high integrity," UB athletic director Mark Alnutt said. "We wanted someone who's a proven winner. A relentless recruiter, a family man. We wanted somebody that understood Buffalo, understood the Mid-American Conference and, more importantly, knew what it'd take to continue this tremendous trajectory that we were on."
Accompanied by his family, including his wife, Stacie, his 4-year-old daughter Maura, and his 2-year-old son Lance, Linguist outlined his vision for the program.
"It's clear and concise," Linguist said, during his introductory remarks. "We want to run the very best program in the United States of America. We want to continue the success that Lance (Leipold) has already created. We want to build and continue a championship culture of academic and athletic success. We want to build the most dominant football program in the Mid-American Conference. Graduate our football players. Put championship rings on our fingers. Develop our men to the very best version of themselves and do it all with integrity. We're going to do it the right way."
Linguist may have a makeshift chicken-wing tour in the works this summer, but as UB's new coach, he has a loftier task: the responsibility of continuing the success of one of the Mid-American Conference's top-tier programs.
"The ingredients to any successful program always go back to the same things for me," Linguist said. "One, it's the leadership and culture, in the locker room, because leadership comes top-down and culture lives inside that locker room. You have to get that straight.
"It's going to be a scientific approach to implementing our culture and what our beliefs and core values are. This is not an overhaul. This is a thoughtful conversation with our players, about what they thought helped make them successful. Also, a genuine dose of who we are and what we believe, because we recognize the timing of things."
It's part of a three-tiered approach that Linguist plans to implement at UB, one that he's constructed in 14 seasons as a college football coach.
"We believe in the recruiting that has to happen," Linguist continued. "We're going to recruit every day and constantly look for ways to improve our roster. Then, ultimately, our teaching and coaching. Our schemes, our philosophies, our approaches, but with the understanding that they've been successful at certain things, and how do we continue to build on that success and improve on the areas that maybe we're not as strong."
Linguist is already keeping one timetable: As of Monday, UB has 115 days until its season opener and Linguist's first game as the Bulls' head coach. UB is scheduled to open its season Sept. 2 against Wagner, at UB Stadium.
But between now and Sept. 2, Linguist has a lot on his plate as UB's head coach. He acknowledged the unusual timing of taking over a program in May. Coaching changes in football are typically made in December and January, which gives new coaches time to hire staffs, cement their recruiting classes, begin recruiting for the next cycle, and to install new offensive, defensive and special-teams schemes.
Linguist described himself as "a Division II coach that has had to grind his way to the top." Over the weekend, Linguist met with his new team, and with UB's incoming 2021 recruits.
"The number one ingredient to successful football, we believe, is play style," Linguist said in his prepared remarks. "We will make people uncomfortable with how physical we play. We will play with a shocking level of effort, and we believe in a physical, free, disciplined and confident brand of football. We believe in a multiple, pro-style system designed to take advantage of our strengths and hide our weaknesses."
Now, Linguist has players to recruit – and to re-recruit. Seven players from UB's 2020 roster entered the transfer portal in the week after Leipold's departure, but two have withdrawn or plan to withdraw from the portal: Rivals.com reported that linebacker Tim Terry has withdrawn from the portal, and two sources told the News that quarterback Matt Myers plans to withdraw from the portal.
Linguist has a coaching staff to assemble. A source told The News that UB will hire Joe Cauthen as its defensive coordinator, a hire that was originally reported by Yahoo! Sports. Cauthen has spent the last two seasons as Houston's defensive coordinator and linebackers coach.
Additionally, four holdovers from Leipold's staff at UB are listed in the athletic department directory: tight ends coach/recruiting coordinator Rob Ianello, running backs coach Isaac Reed, defensive tackles coach George Ricumstrict and cornerbacks coach Jeff Burrow.
"We have coaches that are on the way right now," Linguist said. "We're in the middle of making some decisions on certain positions and other coaches, but we're going to get the right men in place."
Linguist still has to put his stamp on a program that's had plenty of success in the last three years. The challenge is to sustain that consistency.
"The positive is that we're taking over a stable foundation," he said. "We recognize the challenges that we have because of the time. We had a team meeting the other day, and we clearly stated and expressed that to the team — this is not an overhaul as much as it is a continuation."