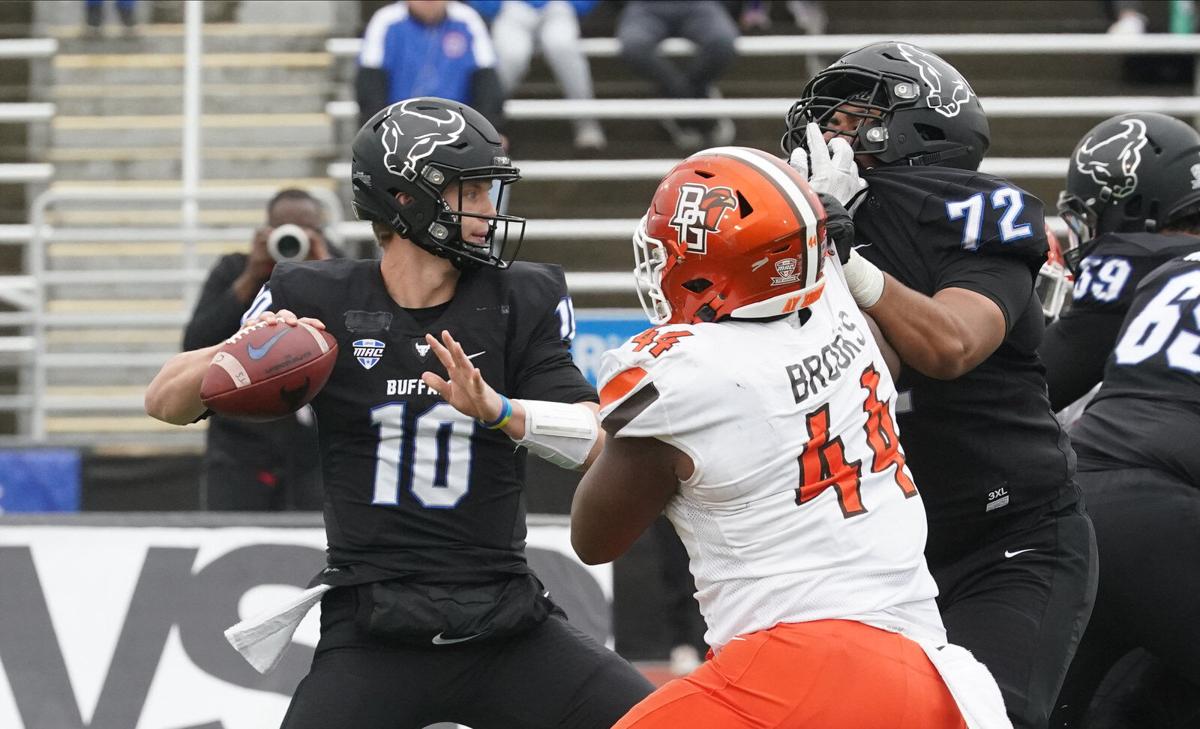 Matt Myers has become conditioned to being ready for anything.
He was the starting quarterback for the University at Buffalo football team for the first month of the 2019 season, but an upper-body injury sidelined him after five games.
It's fair to say that the Bulls took one of their most daunting MAC losses in recent years, falling 56-44 to Bowling Green on Saturday at UB Stadium.
He has since adjusted to being the understudy behind starter Kyle Vantrease, and knows that sometimes he has to enter a game at a moment's notice, like last Saturday when Myers was put in charge of the Bulls' offense in a 56-44 loss to Bowling Green.
"It was unexpected, but at the same time, I have to prepare for those moments, next man up," said Myers, a former West Seneca West and Bishop Timon standout. "Just to be ready at any time, whether it's during the week, or first quarter or fourth quarter, just to be ready, for any play, to step up."
UB (4-5, 2-3 Mid-American Conference) plays at 7 p.m. Tuesday at Miami (Ohio), and Vantrease did not practice Thursday.
"All I can say is it's just a dream come true," Ksiezarczyk said Monday. "I feel like it's every kid's dream if you're growing up in Buffalo, a fan of the Bills, is to play for your hometown team."
Bulls coach Maurice Linguist said "We fully expect Kyle to be ready" against Miami during his weekly press conference Thursday at Murchie Family Fieldhouse.
Myers replaced Vantrease, who exited with a left leg injury, late in the second quarter against the Falcons. Myers completed 12 of 24 passes for 239 yards, one touchdown and one interception in his first extended playing time since a 34-20 loss at Miami on Sept. 28, 2019.
If Vantrease is ruled out for Tuesday, Myers could make his first start in more than two years. 
The Bulls need to win two of their final three games to earn bowl eligibility.
"It's understanding the role and trying to prepare like I was the starter, regardless of whether I was second string, third string, fourth string," Myers said. "Just to be ready at any moment, because you never know what's going to happen."
Wide Receiver Jamari Gassett had four catches for 95 yards and a touchdown and running back Dylan McDuffie had 111 yards on 23 carries in the Bulls' 45-10 rout at Akron.
Myers maintains a starter's mindset and a measured approach to his responsibilities. Each game week, he confers with coaches on how he prepares off the field in order to be ready for when he plays. If he goes in, he knows the importance of keeping an even keel.
"To be able to step into a game, not when you're just up or having a ton of success, but to step into a tough situation, this late in the season, and to still be mentally prepared and ready, that tells you a ton about the character and the DNA of Matt Myers and who he is," Linguist said.
"The easy thing to say, is, 'I stepped into a tough situation. I unexpectedly went into a game and could have easily underperformed or not performed high.' But Matt stepped in there (against Bowling Green), ran the offense efficiently. A couple throws we probably want to have back, but he was able to get us in and out of the huddle, and really didn't miss a beat on offense, with him under the center and him operating the offense."
Myers was both a backup and a situational quarterback for the Bulls in their first seven games this season. He's thrown for 285 yards and two touchdowns and has been intercepted once on 16 of 31 passing. He has subbed in for Vantrease on short-yardage running or run-pass option plays.
Still, Myers knows he has to be prepared to step in at a moment's notice, something he learned to do last season.
"That wasn't really brought up to me until the Coastal Carolina game," Myers said of his use in in-game situations. "That's when we first introduced that. But after camp, coach always said, 'Don't wait to play, be ready to play. I always carry that with me. If they needed me to go in and run, I'll do it. If they needed me to go in and pass, I'll do it. I'll do whatever they ask me to."