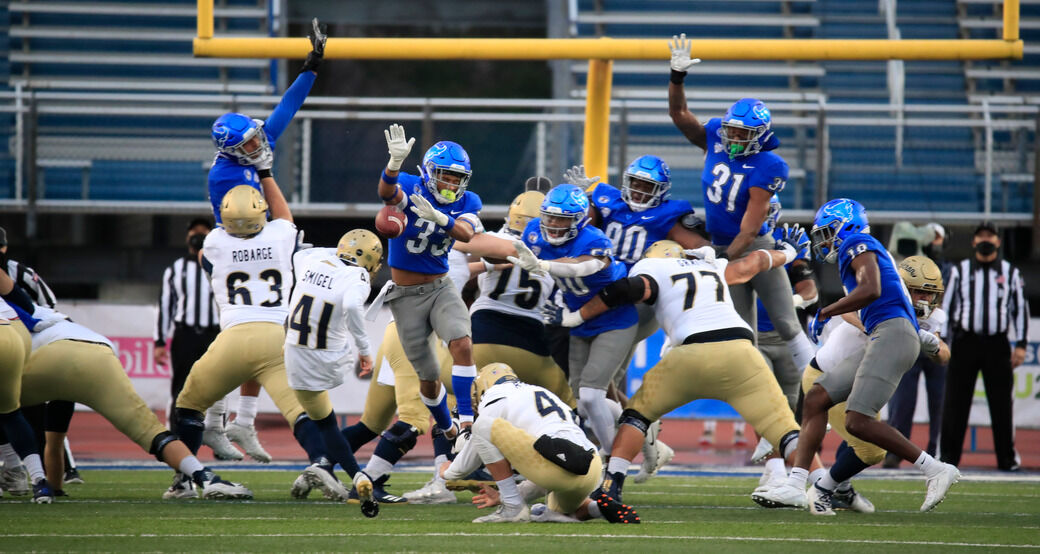 Ali Fisher saw a program on the rise when he committed to the University at Buffalo football team during the summer.
Fisher's recruitment was uncharacteristic, in a year that was altered by the Covid-19 pandemic. A wide receiver from Ann Arbor, Mich., Fisher hasn't made an official visit to campus, and the NCAA has extended its recruiting dead period multiple times since March. Coaches cannot meet face to face with recruits until at least April 15.
But the circumstances didn't deter Fisher when he made his decision.
"I saw the way the coaches believed in themselves and believed in each other, and it set them apart from every other school that had high interest in me," Fisher said. "I knew this was going to be a great season for them, and it's showing up. It makes me excited, and it's the perfect time for me to join them."
As many as 16 players are expected to sign national letters of intent with UB, when the early signing period for college football opens Wednesday and continues through Friday. The late signing period goes from Feb. 3 to April 1.
The players who plan to join the Bulls as freshmen in 2021 will join a program that's preparing to play in its second MAC championship game in three years, and that's earned an Associated Press Top 25 ranking for the first time in program history.
"Coming into this year, you'd say you were going to Buffalo and it was like, 'Oh, cool, Buffalo,' " said DeMarco Cuffey, a defensive back from IMG Academy in Florida who committed to UB in May. "Now it's like, 'You're going to Buffalo!' What they've done in the last couple games, it brings more of an exciting type of thought to peoples' minds about the school and the program.
"It's put UB on the map. They're doing things that most schools wouldn't think they would do."
That's shown in recruiting, as the bulk the players who have committed to the Bulls' 2021 recruiting class are rated as three-star prospects by 247Sports, a national recruiting service. Recruiting website 247Sports also ranks UB's recruiting class second in the MAC, behind Toledo.
In years past, recruiting has included in-home visits by coaches, campus visits and designated on-campus recruiting weekends. Instead, almost all communication has been done electronically or by phone.
Michael Washington, a running back from Cicero-North Syracuse, made unofficial visits to UB twice during the 2019-20 school year, and also visited Villanova, a Football Championship Subdivision program, before the Covid-19 pandemic restricted recruiting parameters.
"I was able to go to the campus on my own, but couldn't have communication, in-person, with (coaches)," Washington said. "I visited the campus, I talked over the phone with coaches about where I was, and got on Zoom calls almost every other week."
Phone calls, text messages and social media helped Cuffey learn about his future coaches, whom he has yet to meet.
"There was always something to talk about, and I asked a lot of questions because I wanted to find out about the program," Cuffey said. "It was important for me because building a relationship is a key thing. I haven't met Coach Z (UB quarterbacks coach/co-offensive coordinator Jim Zebrowski), or Coach (Lance) Leipold in person, but it feels like I'm going to get to know them."
One of the questions surrounding the early signing period, though, is the potential for turnover at UB. Leipold's name has been linked as a candidate for at least two openings, at Illinois and at Vanderbilt, and more are likely to come. Illinois fired head coach Lovie Smith on Sunday and has not filled the position, while Vanderbilt announced Monday it had hired Notre Dame defensive coordinator coach Clark Lea as its head coach. Lea replaces Derek Mason, who was fired Nov. 29.
Multiple sources told The News that the coaching staff has not discussed with recruits the fact that Leipold has been mentioned as a coaching candidate at other schools, even as signing day approaches.
While decommitments are common in the days and hours leading up to signing day, UB has, for the most part, kept its class together. Two players have changed their minds. Artez Hooker, a wide receiver from St. Petersburg, Fla., posted Tuesday night on Twitter that he has decommitted from UB. Gavin Bartholomew, a 3-star tight end from Schuylkill Haven, Pa., committed to the Bulls in June, but flipped to Pittsburgh on Nov. 29. 
"I kept my commitment to UB because I felt like they were 100% committed to me," Fisher said. "It's a place where I can grow as a player and as a man. You can see what they're doing, and what they're doing this year is a reflection of what the coaches have been building. Why not be a part of a program that is trending upwards?"
Matthew Pajuste, an offensive lineman from Philadelphia, also still plans to sign Wednesday with the Bulls, nearly six months after he verbally committed.
"I said I was all in when I committed," Pajuste said. "Right now this looks like decommitment season. You see the flips, but this is a four-year decision. I'm all in for this school and I'm ready to go there."
UB football's Class of 2021 verbal commitments
Name, position, 247Sports ranking, hometown, commitment date
Jaillen Howze, LB, 3 stars, Clinton, Mich., May 5
Quillen Howze, CB, 3 stars, Clinton, Mich., May 5
DeMarco Cuffey, CB, 3 stars, North Point, Md., May 8
Aljay Henderson, RB, 3 stars, Irvington, N.J., May 15
Brian Plummer, QB, 3 stars, Gaithersburg, MD, May 22
Anton Ricumstrict, DE, 3 stars, Mount Pleasant, Mich., May 29
Jibrahn Claude, S, 3 stars, Loganville, Ga., May 29
Chris King, DE, 3 stars, Queens, N.Y., June 2
Nolan Gorczyca, OL, 3 stars, Omaha, Neb., June 9
Carson Williams, TE/LB, 3 stars, Marshalltown, Iowa, June 10
Floyd Dozier Jr., DT, 3 stars, Palmetto, Fla., June 18
Jamari Gassett, WR, 3 stars, Tampa, June 20
Matthew Pajuste, OL, 2 stars, Philadelphia, June 21
Ali Fisher, WR, 3 stars, Ann Arbor, Mich., July 6
Rowin McGinn, OT, 3 stars, Rochester, July 20    
Michael Washington, RB, 3 stars, Syracuse, July 25