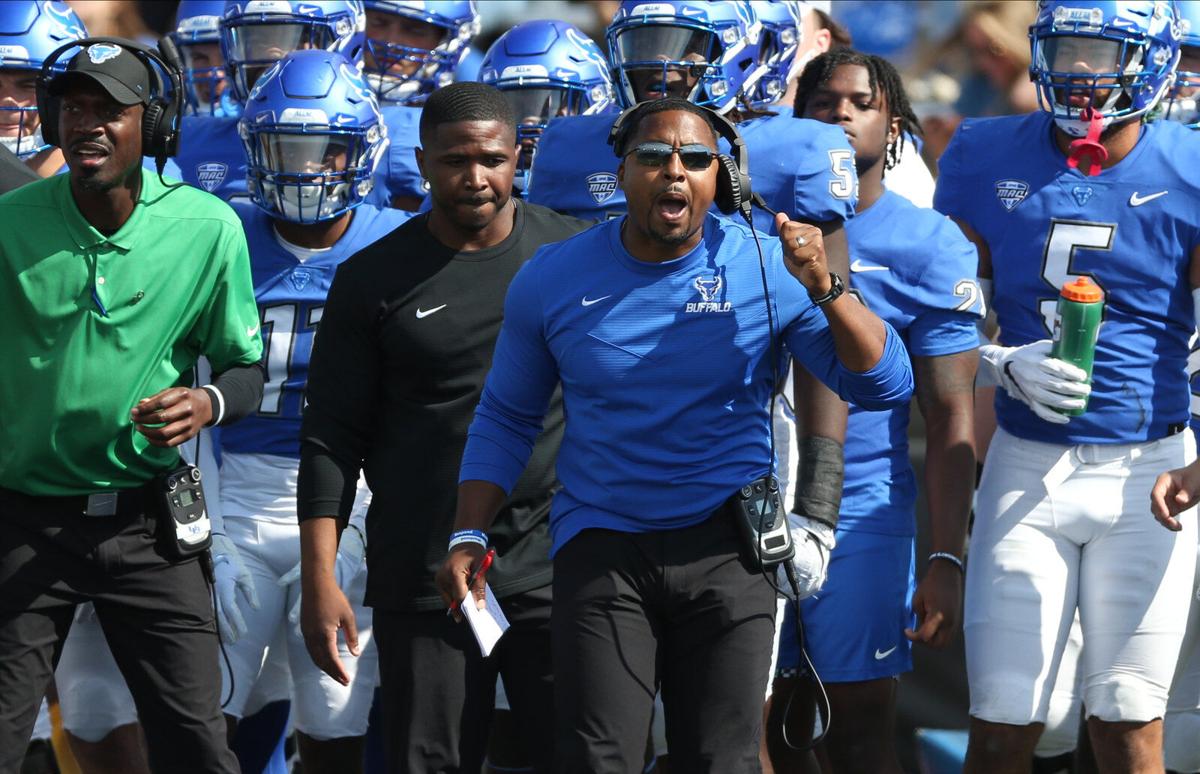 Maurice Linguist put the goal of his team in no uncertain terms, after the University at Buffalo football team lost its second Mid-American Conference game in as many weeks.
The Bulls have to finish games, particularly games like a 48-38 loss Saturday at Kent State, in which the Bulls roared back from a double-digit deficit.
The attempt to close out a victory fell short, after taking a lead in the final minute of the third quarter, and UB has now lost four of its last five games. Now, the Bulls (2-4, 0-2 MAC) are at the halfway point of the season and prepare to face Ohio at noon Saturday at UB Stadium.
"I think the word for us right now, is to finish," Linguist told reporters Saturday, after the loss. "I think it's to make the plays that need to be made when the game is on the line. We have to call the right plays. We have to put the right people in the right situations. And then we need our best players to play their best. I think we had a lot of guys step up in the second half to put us back in that position, but it's hard when you deal with the result of not getting what you want after you battled the way you battle.
"We have a lot of conviction. I believe the guys still believe in one another. What we have to do is keep battling our butts off and continue to choose our daily grind and our daily hard, and make the right decisions."
The Golden Flashes (3-3, 2-0), the preseason favorite to win the MAC East Division, and the Bulls combined for 1,182 yards of offense, including 549 for UB. UB, though, produced only 167 yards on five drives in the first half, and trailed 31-10 at halftime.
However, the Bulls scored four touchdowns in the third quarter, and led 38-34 with 43 seconds left in the third on Dylan McDuffie's 10-yard touchdown run.
UB's Alex McNulty missed a 24-yard field goal attempt less than six minutes into the fourth quarter that would have tied the game at 41-41. He made one of three field goals at Kent State, and is 5 for 11 on field goals this season, but Linguist wouldn't give an indication if he would make a change at placekicker.
"We have confidence in Alex," Linguist said. "It's easy to say, 'You missed a field goal, so pull the plug on everything.' That's an immediate response. We've got to challenge Alex to play up to his ability but at the same time we're always in evaluation, on a daily assessment in practice of how guys are doing and how guys are playing, and ultimately making decisions at the end of the week to what we have to do and who we feel like is going to be in the best position to be successful.
"Alex is no different. If he made the field goal, I would tell you the exact same thing."
Then, with 8:24 left, Dante Cephas (13 catches for 186 yards) scored his third touchdown on a 40-yard pass from quarterback Dustin Crum to open Kent State's lead to 48-38. UB made a last attempt to narrow the score, but Kent State linebacker Matt Harmon intercepted a pass by UB quarterback Kyle Vantrease (23 for 44 passing, 229 yards, touchdown, two interceptions) that deflected off the hands of a defender with 1:24 left.
Linguist, though, continues to maintain faith in his team, even as the Bulls left Kent State without their first conference win of the season.
"Kent State is a good football team, but I believe we're one, too," Linguist said. "As hard as that is to digest, I believe we're better than what our record is. I believe we have what it takes to get ourselves in postseason play but I believe we just have to continue to choose the daily, hard decisions, to choose to do the little things daily, the right way, and I believe that when all the dust is settled and the smoke is cleared, we're going to be in a very healthy place, as a program, although things are difficult right now."