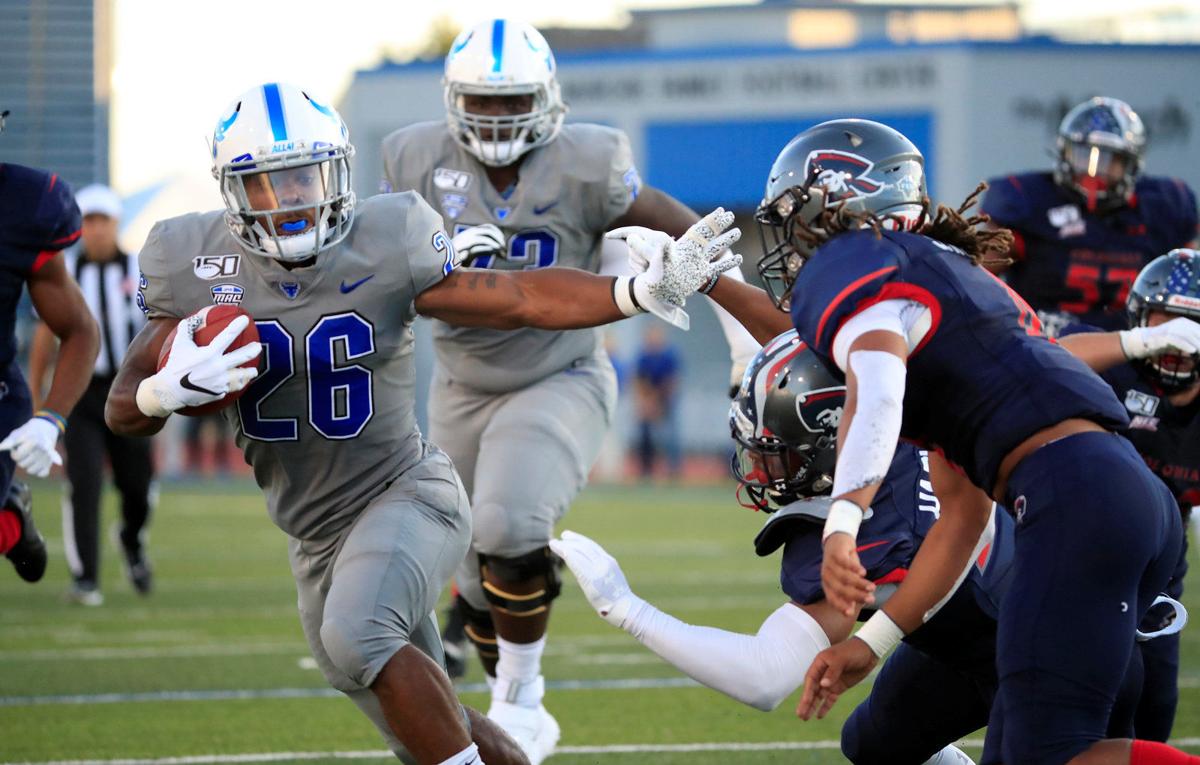 As the University at Buffalo football team opens its three-game home schedule Tuesday against Miami (Ohio), the Bulls are aiming for more consistency in its offense.
Not that UB wasn't consistent in its season opener, but the key this week is to maintain a balance in production between the running and passing offense, as the Bulls (1-0 Mid-American Conference) host the RedHawks at 8 p.m. at UB Stadium.
The Bulls ran for three touchdowns and 182 yards in a 49-30 win last week at Northern Illinois, including 137 yards and two touchdowns by running back Jaret Patterson. UB quarterback Kyle Vantrease threw for 175 yards and a touchdown, while utilizing four receivers. The Bulls only twice in 2019 had games in which their offense was as proportionate: The Bulls ran for 186 yards and threw for 197 against Ohio, and ran for 197 and threw for 179 against Central Michigan.
UB also benefited from long-yardage plays against Northern Illinois. Vantrease averaged 15.9 yards per pass against the Huskies; the Bulls averaged 6.5 yards per pass last season.
"We've talked many times about using our weapons a little more," UB coach Lance Leipold said Friday, on a video conference with local reporters.
"Now we've got to continue to work in some of the other receivers, as well. I think that makes teams defend the whole field and also, hopefully, we'll balance that running game and take a little pressure off Jaret and Kevin (Marks)."
While the offense looks for more balance, the defense aims to refine its depth, particularly in the secondary, which will be challenged by a team that thrives on its passing game.  
The RedHawks (1-0) are the defending MAC East Division champions and likely the biggest in-division challenge to UB's pursuit of a spot in the MAC championship game.  
Miami opened the season last Wednesday with a 38-31 win against Ball State. Quarterback AJ Mayer replaced Brett Gabbert in the second quarter, and threw for 212 yards on 16-of-24 passing, with three touchdowns. Jack Coldiron caught two touchdowns for the RedHawks, and Jack Sorenson caught seven passes for 139 yards.
"He's one of those guys you've got to contain," Leipold said of Sorenson. "He's an excellent route-runner, very disciplined. He's got great timing with his quarterbacks. Fundamentally, he's very sound in his techniques and his routes. We've got to mix things up and be ready to give our corners some help, again, mixing up our coverages and how we play him and try to get a beat on it, it's going to be difficult."
Miami will challenge a UB secondary that has already been impacted by absences, and allowed 241 passing yards at Northern Illinois. Cornerbacks Aapri Washington and Ali Abbas did not play against Northern Illinois.
Roy Baker and Isaiah King are listed on UB's depth chart as starting cornerbacks against Miami. King is a converted wide receiver whose fumble recovery midway through the third quarter against Northern Illinois became a 42-yard return for a touchdown – one of five turnovers by the Huskies – and helped the Bulls take a 35-16 lead.
"We had a lot of guys step up," Leipold said. "To have guys like that, it takes a little of your depth away but to have guys that were in the two-deeps step up and play and play well, it gives them that type of experience that they're going to need for the following weeks, if the other guys don't return."
Defensive end Taylor Riggins also did not play against the Huskies. Leipold has not specified the nature of their injuries or their absences, but said Friday that Riggins is "day to day."
Abbas, Leipold said, "went through some things (Friday), so hopefully he'll be available." but that Washington is "probably the furthest away from returning."
Patterson earns MAC weekly honor
Patterson was named the MAC East Division co-offensive player of the week, along with Miami quarterback AJ Mayer. Patterson's second touchdown of the game against Northern Illinois, a 56-yard run, set a program record for rushing touchdowns (35).
Patterson needs 51 rushing yards to gain 3,000 in his career. If he reaches that mark against the RedHawks, it would be the fastest in program history that a back has ran for 3,000 career yards.
Be the first to know
Get local news delivered to your inbox!