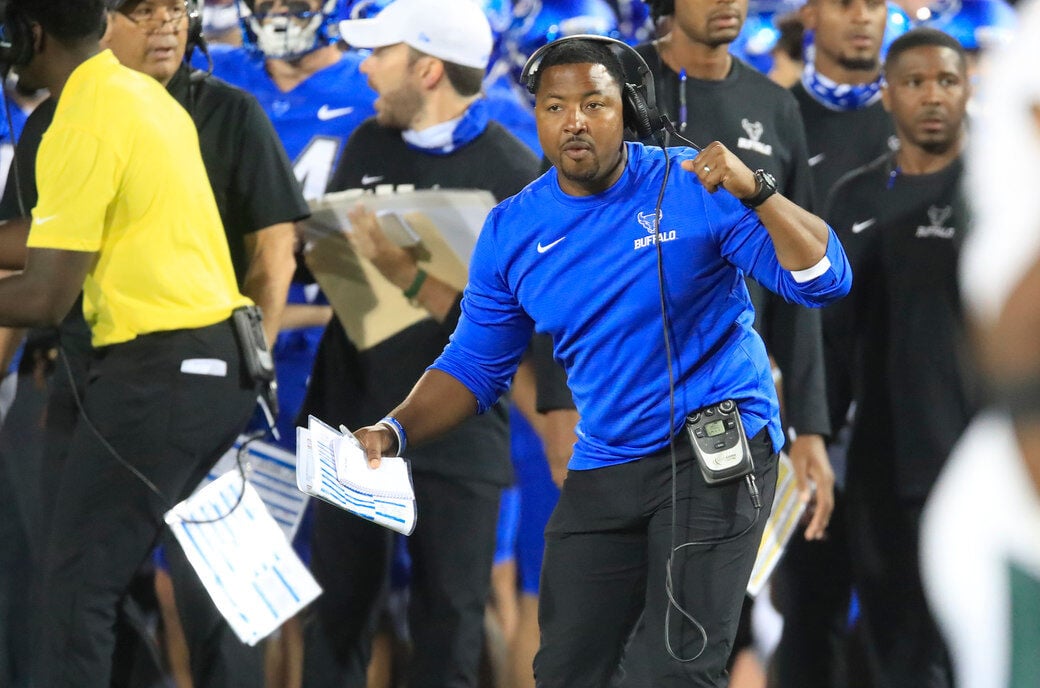 In Maurice Linguist's debut as the University at Buffalo's head football coach, the Bulls made so much look so easy. At times, it appeared too easy.
Whether it was UB's multiple options at running back, quarterback Kyle Vantrease picking his receiving targets with precision, or UB's defensive line running roughshod over an overwhelmed opposing offense, the Bulls appeared to handle Wagner with dexterity.
Even the backups got involved in UB's 69-7 rout of Wagner on Thursday at UB Stadium. In relief of Vantrease, West Seneca West/Bishop Timon product Matt Myers completed his first pass of the game and season to Marlyn Johnson for a 26-yard touchdown, which helped the Bulls open their lead to 52-0 midway through the third quarter. And former Starpoint running back Tajay Ahmed – who has a knack for long runs upon entry into a game – ran for 29 yards on his first carry in the fourth quarter, then scored on a 6-yard touchdown four plays later.
Against Wagner, though, the Bulls showed few signs of rust after more than eight months away from football, and made a seamless transition in the first game of the Linguist era. Part of that stemmed from how Linguist rubbed off on his players in the week leading into the game.
"For him, he did a great job of being himself," Vantrease said. "It was like that from the offseason to game day. He doesn't have to pump himself up for a game day, because he does it every day. He is consistent in how he leads this team, and he brings energy and the juice, everyday. I'm really excited to be playing for this coaching staff and this team."
Now, UB's second major task awaits. The Bulls handled – and, at times, manhandled - the Seahawks. In eight days, though, the Bulls will face a loftier opponent when it plays at 3:30 p.m. next Saturday at Nebraska.
Given that the Huskers limped through a mistake-riddled, 30-22 loss last weekend at Illinois, the game at the Big Ten opponent could become a better early-season gauge of UB's capabilities.
"Every live game setting is going to be a test for you and you're going to be able to break down the film and see what you did well and what you've got to get better at," Vantrease said. "As we prepare for the next game, no matter the opponent, you've got to attack every day with the one-percent-better mentality and getting the guy next to you better mentality so that all 11 guys on the field can be better."
Linguist stood at a podium inside Murchie Field House on May 10 -- 115 days before Thursday -- and outlined his vision for the Bulls. That they would make opponents uncomfortable with their physicality, that they would play with intense effort, and with confidence. And that his team's multiple, pro-style system would accentuate his team's strengths and shroud its shortcomings.
Against Wagner, the Bulls fit that design. But Linguist acknowledged there's still room for improvement, especially with Nebraska next on the docket.
"It's good to see guys play hard and play fast and play well and play for one another and have fun doing it," Linguist said. "We have mistakes that were made that we have to clean up, and we'll watch the film as a coaching staff and see what details we need to change or adjust, and continue to find out how we can continue to improve this team.
"A lot of the things we laid out in our initial vision, you saw those tonight, but we're certainly far from any finished product. We're going to continue to work."  
UB scored nine touchdowns, including two each by Dylan McDuffie and Kevin Marks Jr. The Bulls finished with 569 yards of offense, including 231 yards on Kyle Vantrease's 15 for 19 passing efforts, and wielded five different running backs who combined 309 yards.
Ron Cook Jr. led UB's rushers with 94 yards on 14 carries, and Marks added 72 yards on 13 carries. Marks' two rushing touchdowns moved him into fourth all-time in rushing touchdowns at UB with 30; his second touchdown, about six minutes into the third quarter, moved him ahead of Lee Jones and Anthony Swan, who each had 29 rushing touchdowns for the Bulls. Branden Oliver is third with 33 touchdowns.
With 2:14 left in the first quarter, Marks' 2-yard carry moved him into sixth among UB's all-time leading rushers; Marks now has 2,693 yards, one game into his fourth season with the Bulls. Marks passed Anthone Taylor, who had 2,651 yards from 2011 to 2015.
But the biggest milestone of the day belonged to Linguist, whose first game at UB ended with a flourish in the locker room, in what he dubbed the "Motor City Club," a celebration that players described as confetti being thrown, water being sprayed, and a red carpet rolled into the locker room.
"It's good, clean fun," said Linguist, his voice still raspy after more than 3 1/2 hours in command on the sidelines. "I was just letting the guys celebrate. Winning a game is hard. You want to play well and play hard, and it happened to be against Wagner this week."