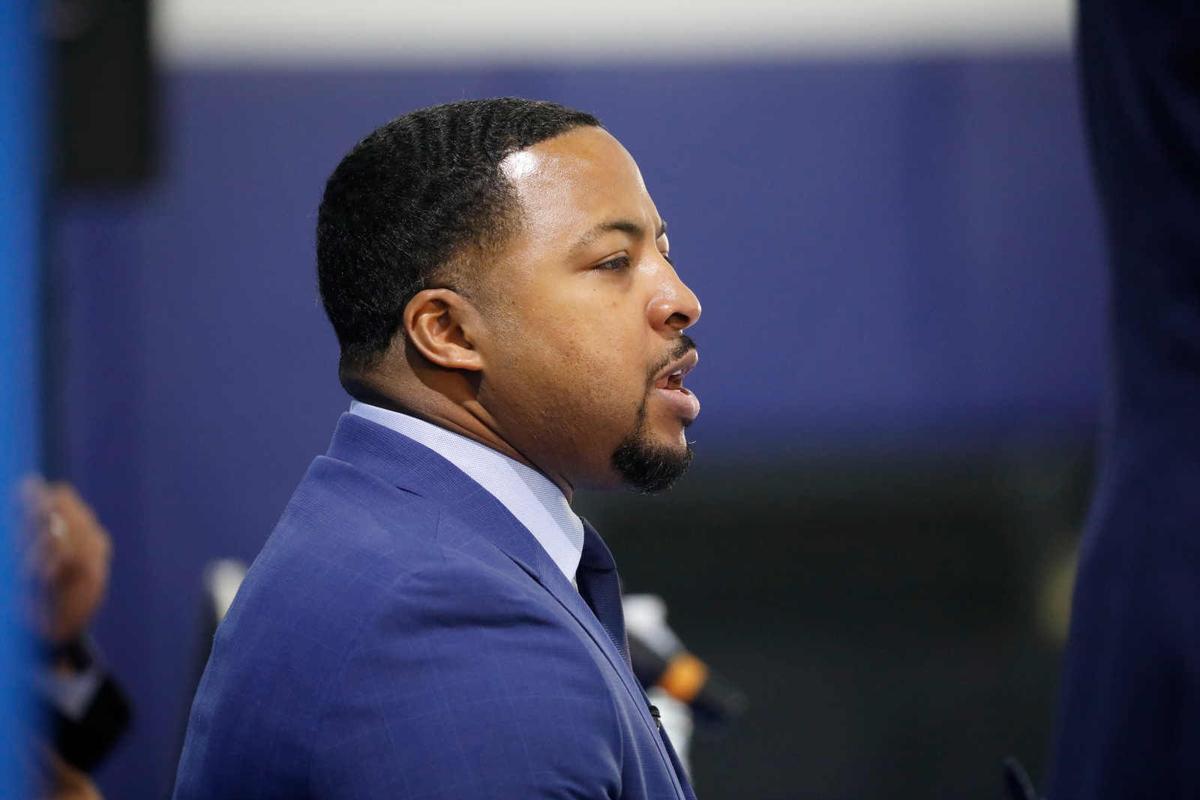 DETROIT – Maurice Linguist didn't bristle when he saw where the University at Buffalo football team was ranked in the Mid-American Conference preseason media poll.
Less than three months into the job, the first-year Bulls coach knew he could react or respond when he saw that the Bulls were picked to finish fourth in the MAC East Division.
"I don't know if it's the right thing to say but for us, it's about focusing on us, and our daily approach," Linguist said Tuesday at MAC Media Day at Ford Field. "If you're picked first, if you're picked last, go play the game. Get yourself prepared, get yourself the trust and connection and the confidence built up. You have to earn the right to be confident, about how you prepare, and then go play the game.
"That's our reaction and response to a poll."
The MAC announced its 2021 preseason media poll Tuesday morning, and the projection for the Bulls comes less than seven months after they won the MAC East, the Camellia Bowl and finished the season ranked 25th in the Associated Press Top 25.
Twenty-two media members voted in the poll. Kent State was picked to win the MAC East with 112 points and earned 11 first-place votes, ahead of Ohio (96 points, two first-place votes), Miami (Ohio) (94 points, five first-place votes) and UB (93 points, four first-place votes). Akron (39) and Bowling Green (28) were picked to finish fifth and sixth.
Ball State, the defending conference champion, was picked to win the MAC championship and the MAC West. 
UB opens its preseason practices Aug. 4. Under Linguist, who was hired in May to replace Lance Leipold, UB has to recover from a number of notable losses after last season, starting with Leipold's departure to Kansas on April 30.
Record-setting running back Jaret Patterson turned pro in December after three seasons at UB, and the Bulls lost three starters from their offensive line. Additionally, six players transferred to Kansas, including starting center Mike Novitsky and wide receiver Trevor Wilson, whose departure further thinned a wide receiving corps that also lost Antonio Nunn to graduation. Nunn was UB's leading receiver last season with 584 yards and two touchdowns.
While Linguist takes a measured approach, UB linebacker James Patterson understands the poll is a singular set of rankings, but also finds a level of motivation from it.
"It's OK, you know, because it's their opinion," Patterson said. "I'm going to have to respect it, but at the same time, I'm going to have to prove them wrong. As a collective (defensive) unit, I'm really going to have to stress, 'OK, they picked us fourth, but they don't really believe in what we have and what we're doing.'
"When it's time for them to see what's going on, that's when we'll shock the world."
Patterson has helped the Bulls win two MAC East championships and reach three bowl games in the last three seasons, and is conditioned to an established mantle of success.
"I have a feeling a lot of people have already seen (the poll) and they have that mode in their mind of where we have to get to," Patterson said. "When we get back, a lot of guys, like me and Jake (Fuzak), are going to stress that maybe people don't believe in us. When you get there, it's time to go."
Fuzak, a sixth-year offensive tackle, didn't put too much stock in the preseason poll. He understood what could have factored in the decision to rank the Bulls in the middle of the pack.
"It's a vanilla answer, but I'm not surprised," said Fuzak, a Williamsville South graduate. "New coaching usually means it's a rebuild year, and that's what people think. There's a feeling-out process. It's like dating, it's a little awkward at first."
There wasn't much awkwardness between Fuzak and the new coaching staff at UB. He deferred entry into film school and returned to UB to use a sixth year of eligibility, granted to players after last season due to the Covid-19 pandemic. Linguist's leadership and the staff he assembled played a significant role in Fuzak's decision to return.
"The coaches run conditioning with us," Fuzak said. "They'll run the runs and I had never seen that before. I'd never seen that before. It's weird to see a coach bleed and sweat with you, but you can tell this staff did everything they needed to do this summer, to get us in a place to compete and win the MAC. They delivered, tenfold."
Linguist was one of the last Football Bowl Subdivision coaches hired in the offseason, after Kansas hired Leipold. Ohio announced Tim Albin as its new coach last week, after Frank Solich announced his retirement.
Linguist has had to maximize one of the smallest windows of preparation for this season, which begins at 7 p.m. Sept. 2 against Wagner at UB Stadium. The Bulls open their MAC schedule at noon Oct. 2 against Western Michigan at UB Stadium.
"We know we're trying to do something that's never been done in the history of (Division) I-A football, which is walk in the door, 115 days before you play, and establish a culture and a mindset, and an identity and a connection to go out and play championship-level football," Linguist said. "That's really where we feel like where things are right now.
"We're certainly aware there's a big task ahead of us, just because of the timing of things, but it doesn't mean we're not going to do it the right way and that it can't be done. We have to be that much more efficient with the time we have."
2021 MAC Football Preseason Media Poll
First place votes in parentheses
1. Kent State (11), 112 points
3. Western Michigan (4), 103
Rocket Mortgage MAC Football Championship Game Winner: Ball State (7), Toledo (5), Kent State (4), Western Michigan (3), Buffalo (2), Miami (1).
Rachel Lenzi's ballot for the 2021 MAC Football Media Preseason Poll