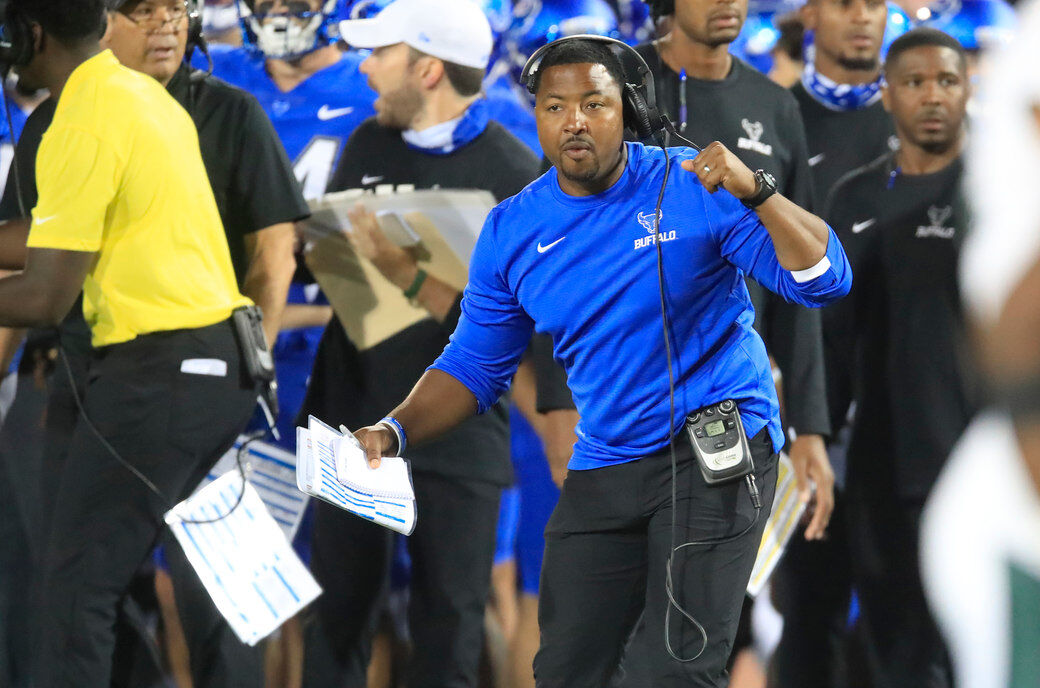 Maurice Linguist wastes no time outlining the benefits of the University at Buffalo football team getting national exposure.
The Bulls (1-1) host Coastal Carolina at noon Saturday at UB Stadium and Linguist, the Bulls' first year coach, makes like a UB admissions brochure when explaining the benefits of having his team play a game that will be nationally broadcast on ESPN2.
"We're excited about any time we can get national exposure," Linguist said during his weekly press conference Tuesday at the Murchie Family Fieldhouse. "Especially to the recruits out there. Buffalo's a big-time program. We send guys to the NFL.
"Any time we can put the football team on a national stage and a national level, and play at a high level, we think that's great exposure for our university, for the athletic department and for our players."
A game against the nationally ranked Chanticleers (2-0) will put a few more eyeballs on the university and on the football program. Coastal Carolina is No. 16 in this week's Associated Press Top 25 poll, and this is the first time in seven years the Bulls will host a ranked opponent; Baylor, then No. 8, defeated UB 63-21 on Sept. 12, 2014, at UB Stadium.
The Bulls, though, have only a few days to plot a turnaround after its 28-3 loss Saturday at Nebraska. The loss exposed some of the shortcomings the Bull need to correct as they prepare for the Chanticleers.
UB had 359 yards of offense at Nebraska, including 224 passing yards, but its 14 drives produced only Alex McNulty's field goal in the third quarter that ended an eight-play, 49-yard drive.
UB's defense gave up three big-yardage plays that led to touchdowns for the Huskers: quarterback Adrian Martinez's 71-yard run in the second quarter that set up Gabe Ervin Jr.'s 2-yard touchdown run on the next play, and Martinez connected with Samori Toure for a pair of 68-yard touchdown passes.
On defense, players admitted Monday that communication was an issue, and an area that needed quick improvement as the Bulls prepare to face Coastal Carolina, a team that wields a productive, spread-option offense that confounds opponents, some whose coaching staffs spend months preparing to defend it.
"It's communicating, and making sure we put an emphasis on that, because it really hurt us last Saturday," UB defensive tackle George Wolo said.
Coastal Carolina is fourth in the nation in scoring (50.5 points per game) and averages 535 yards per game; the Chanticleers are tied with Maryland for 13th in the nation in total offense.  
"Practices are a lot more physical this week because the run reps go up a lot more," Wolo said. "It's focusing on an assignment base because when you've got an offense that does a lot of movement, you've got to focus more on your gap and what you're doing, on top of everything else, because that's when guys get confused."
The Chanticleers' offense creates misdirection, produces off quarterback reads and blocking, and requires opposing defenses to be diligent in their individual assignments. The Chanticleers had 460 yards of offense in a 49-22 win against Kansas on Friday in Conway, S.C., including 245 passing yards from quarterback Grayson McCall.
"It's unique," Linguist said of Coastal Carolina's offense. "They attack you in all three layers of the defense. They're going to put pressure on the line in the run game. The element of the option is always about eye discipline and assignment football and they have a very sound and very potent throwing attack and passing attack that you saw last week against Kansas, when they were able to get some big plays down the field."
The Chanticleers also have become one of the Group of Five standard-bearers. Coastal Carolina was 11-1 in 2020, including an upset of BYU, won the Sun Belt Conference title and finished at No. 14 in the final 2020 AP poll in January.
"They're a very confident team, a very well-coached team and their quarterback makes things go," Linguist said. "It's going to be a good challenge and a test for us. This is a team that's won a lot of football games over the last year and a half, and they have a lot of confidence coming in here."