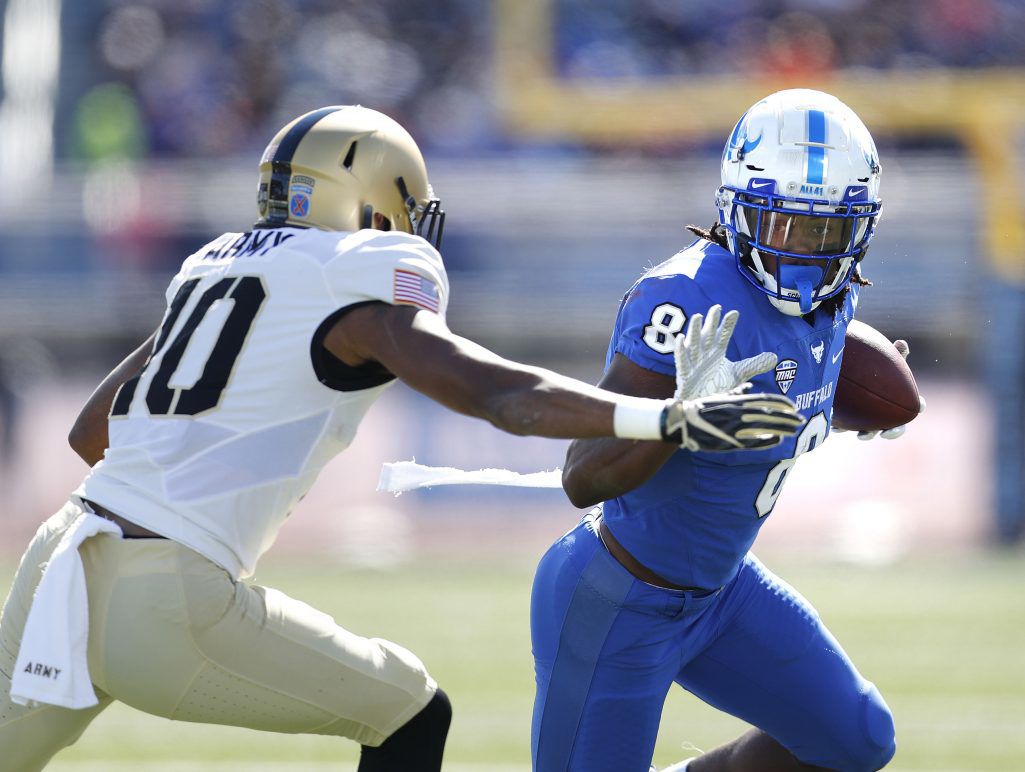 Saturday college football is no longer the norm in the MAC.
The MAC began its annual slate of weeknight games Thursday, and the University at Buffalo plays for the first time on a weeknight this season when it hosts Miami (Ohio) at 8 p.m. Tuesday at UB Stadium.
The Bulls (7-1, 4-0 MAC) play three midweek games in November. Shifting to a weeknight schedule is the norm for UB coach Lance Leipold. But the fourth-year Bulls coach remembers the initial challenges that came with planning for November games in the MAC.
Some of his initial preparation wasn't foolproof.
"As a head coach, I made some mistakes my first year because we'd developed some injuries and tried to get guys ready, but at the same time, other guys were wearing down," Leipold said. "We had some injuries on the offensive line and were practicing probably longer than we needed to. That probably hurt us later that year.
"Those are things you have to balance and know where your team is completely at. There was a learning curve there, and I think we have a better balance now, as a staff and as a program."
Leipold is 5-2 and Buffalo is 13-9 in weeknight MAC games. Leipold learned how to manage his team's schedule during rearranged abbreviated game weeks that are a staple of college football.
The MAC has played midweek games since 1999, and has developed a cult following in college football known as "MACtion." The MAC agreed to a contract extension with ESPN in 2014 that runs through the 2026-2027 school year; Brett McMurphy, formerly of ESPN, reported in 2014 that the contract is worth about $8 million a year.
Leipold isn't the only coach who has to deal with a shuffled schedule. Every coach in the MAC has to accommodate games on Tuesday, Wednesday or Thursday nights. That means combining certain days of practices and meetings, and being cognizant of rest for players who are nursing injuries and the wear and tear of the season.
Kent State coach Sean Lewis, whose team plays Nov. 6 at Buffalo, plans to take advantage of the nine days between its game at UB and its Nov. 15 game against Toledo.
"That extra time off is good," Lewis said. "We're going to have a lot of treatment for our players, and we're going to wear out our athletic trainers."
UB has Saturday off, but a Tuesday night game in November means the seven-day football week began Wednesday.
Yet a short week – working in the parameters of five days between games, as opposed to seven, for instance – meant drills designated for one day and meetings designated for the next were combined into one day.
UB had windows of six days between their three weeknight games in Leipold's first season at UB, rather than the regular seven days.
"We look at length of practices and how we do them. We try to do things developmentally with our younger players, as well," Leipold said. "Each week kind of presents itself slightly different, based on the amount of days, but we do tinker with that schedule."
The Bulls have 10 days between a 31-17 win Saturday at Toledo, and a MAC East Division game Tuesday against Miami (Ohio), then have seven days between their first two night games (Oct. 30 against Miami and Nov. 6 against Kent State). After that, the Bulls have eight days before they play Nov. 14 at Ohio.
Other MAC teams don't have the same berth as Buffalo. Northern Illinois plays three games in 11 days; the Huskies play Saturday at BYU, then at Akron on Nov. 1 and host Toledo on Nov. 7.
Ohio had four days between two games this week: Oct. 20 against Bowling Green and then Thursday against Ball State. Akron also plays two games in five days, Saturday at Central Michigan and Thursday (Nov. 1) against Northern Illinois.
Ohio coach Frank Solich has become strategic in his preparation for weeknight games, especially those that fall on either side of a short window.
"That's something that every coach faces, every staff faces, and you have to look at how you practice and how long your practice," Solich said. "You just can't wait until the week of a short game. We've got only four days in between games You can't wait until this week and approach it and say, 'Now we're going to lighten up a little on how we do things and be fresh.' You've got to start that in advance of the actual game week.
"But coaches in this league are smart coaches. They get things figured out."
Be the first to know
Get local news delivered to your inbox!