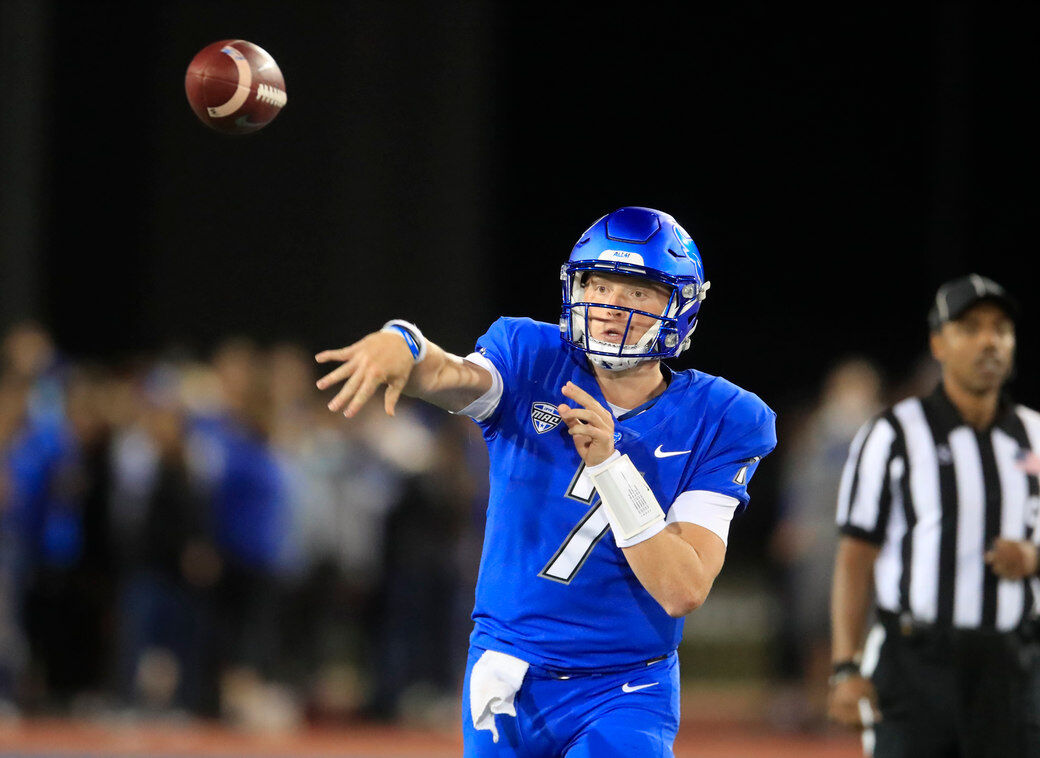 Maurice Linguist is fully aware of the task ahead of him and the University at Buffalo football team as they prepare to face Nebraska.
The Bulls must pivot from the spoils of a 69-7 rout of Wagner on Thursday and prepare for a Big Ten team. The charge is there, and it's obvious.
When UB faces Nebraska at 3:30 p.m. Saturday at Memorial Stadium in Lincoln, Neb., it has the chance to prove it can compete with a Power Five program that has been mired in an identity crisis in recent years. Nebraska hasn't had a winning season since 2016, when it finished 9-4. Turnovers and special-teams mistakes foiled the Huskers in a 30-22 loss Aug. 28 at Illinois, but Nebraska answered last weekend with a 52-7 win against Fordham, a Football Championship Subdivision program.
On the surface, Nebraska's recent struggles should give Linguist and the Bulls some hope for the game to be competitive and to help continue building Linguist's brand of football, centered on physicality and confidence.
Facing Nebraska also means ignoring the outside noise that comes with facing a team that in the 1980s, 1990s and early 2000s was known as a perennial power.
In a 69-7 win against Wagner, the Bulls got a pair of quick scoring strikes out of their first five plays, then utilized a 15-play drive to open its lead to 21-0 early in the second quarter.
"We let the narrative of being the underdog, and all those other things, get taken care of outside of our four walls," Linguist said. "We go back to our systematic approach and put ourselves in the best position and mindset to play our brand of football."
For the Bulls (1-0), that means not worrying about what the Huskers (1-1) can do, but what the Bulls are capable of.
"We've got to do our job and take advantage of (Nebraska) when they make mistakes or when they're out of position," said UB quarterback Kyle Vantrease, who threw for 231 yards and a touchdown on 15 of 19 passing against Wagner. "Throughout a game, things like that are going to happen, but it's up to us to take advantage of that and make those opportunities."
Nebraska, though, is a far cry from Wagner, an FCS program that finished with 97 yards of offense against UB and hasn't won a game since Sep 28, 2019, when it beat LIU 24-14.
Linguist called Nebraska quarterback Adrian Martinez the "heartbeat" of the Huskers' offense, and noted Martinez's explosiveness and arm strength. Martinez has thrown for 486 yards and two touchdowns on 33 of 55 passing in the first two games of the season.
Jaret Patterson will always have a foot – or at least a pair of cleats – on the ground with…
Nebraska's run defense allowed Illinois and Fordham 296 rushing yards and one touchdown on 76 carries. Its pass defense allowed 322 yards and three touchdowns.
Linguist's team is a 13.5-point underdog as of Tuesday, and he acknowledged this: Nebraska is a significant challenge.
"A Big Ten opponent, a very physical team, and coach (Scott) Frost does an outstanding job," Linguist said. "Right now, those guys are playing hard and fast and physical, and we are recognizing the challenges ahead of us."
"We definitely feel we have a big task, a big uphill battle in front of us. Our job is to get ourselves prepared to play our best football."
Either way, UB will get a better gauge of where it stands, skill-wise and as a whole under Linguist, who enters his second game as a head coach.
"Riding the rollercoaster means ignoring whether we're the underdog or the favorite," he said. "We believe in our culture and our process and our way of doing things, and a systematic approach. The opponents are going to change. There's always going to be someone new. But what we want to do is play the game the way we play the game, with our identity and our brand of football, regardless of who's on the other side."
Linguist believes in the power of relationships. The essence of coaching is connecting with and working with people in order to maximize their abilities to peak performance.
UB will get a sizeable payout for playing at Nebraska. According to the contract between the two schools, obtained by The News through a public records request, Nebraska will pay UB $1.32 million.
This is UB's first nonconference game on the road since Sept. 14, 2019, when the Bulls lost 35-17 at Liberty in Lynchburg, Va. UB was scheduled to play last season at Kansas State and at Ohio State, but both games were postponed to a later date after the Big 12 and the Big Ten canceled its nonconference games in 2020 due to the Covid-19 pandemic.
The Ohio State and Kansas State games would have garnered UB a payout of $2.7 million last season: $1.8 million from Ohio State and $900,000 from Kansas State.
Ksiezarczyk joins WFT practice squad
Evin Ksiezarczyk (West Seneca East) has been signed to the Washington Football Team's practice squad. Ksiezarczyk is an offensive lineman from UB who was a 2019 All-MAC selection at left tackle. Ksiezarczyk most recently was in training camp with the Minnesota Vikings, and originally signed as an undrafted free agent with the Atlanta Falcons in April 2020.