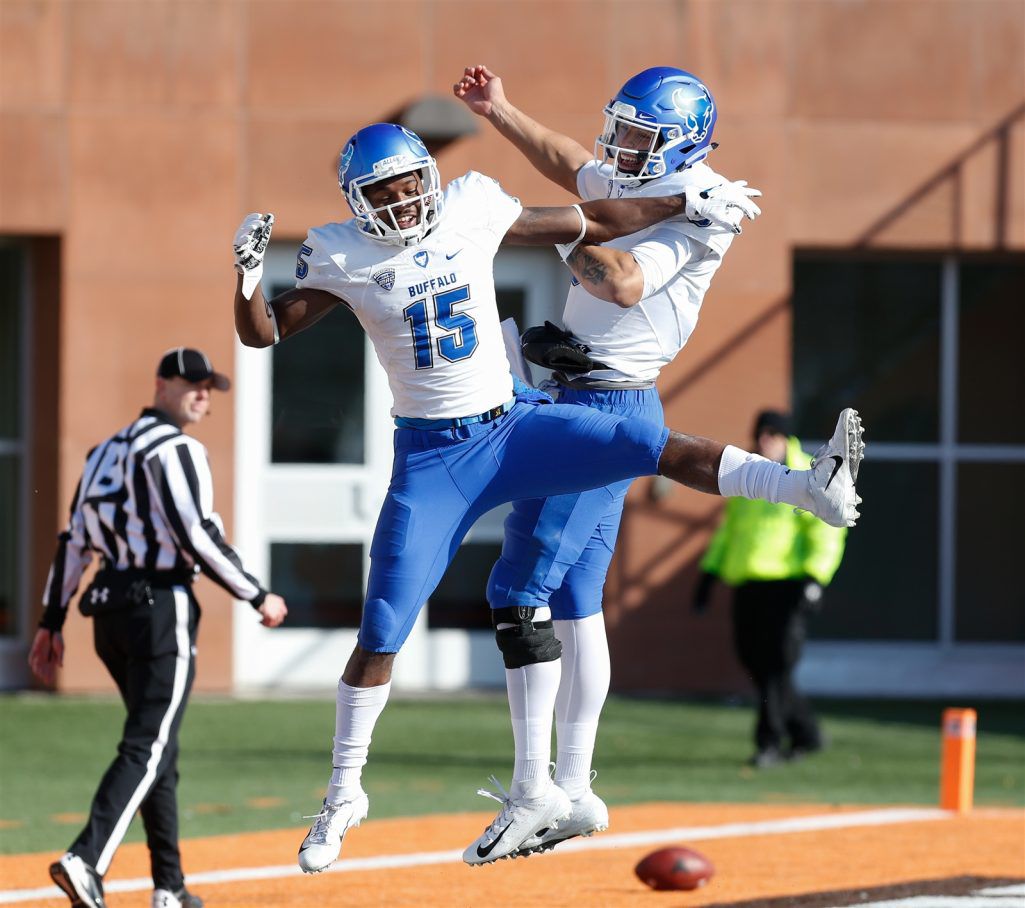 BOWLING GREEN, Ohio – The University at Buffalo football team's route to the Mid-American Conference championship game started before Sept. 1, when the Bulls opened the season with a 48-10 win against Delaware State.
It started before preseason workouts in August, when the Bulls sweated through an uncharacteristically hot August in Western New York, and before spring practices.
It began nearly a year ago, when the Bulls found out they had been snubbed for a bowl bid, nine days after they won their sixth game in 2017.
Now, the Bulls prepare for another step in the path. The Bulls (10-2, 7-1 MAC) won the MAC East Division title Friday with a 44-14 win at Bowling Green, and face Northern Illinois (7-5, 6-2) for the MAC championship at 7 p.m. Friday at Ford Field in Detroit. UB plays for its first MAC title since 2008.
"Last year, the ups and downs and the close losses and the injuries, especially at the quarterback position, they saw the old, 'what could have been' happen," Bulls coach Lance Leipold said. "They battled when we asked them to, to get us that if we win the last three, we'd be a bowl team. We do it. We get left out and it's another punch in the gut. This group came back second semester with a new strength coach, a new winter conditioning program, everything, motivated more than ever. It shows the ability of them to be able to do these things."
The sting of losing out on a bowl bid in 2017 doesn't seem like it came that long ago. Seven MAC teams earned at least six wins to earn bowl eligibility last season, but the MAC only had agreements to send teams to five bowl games. The Bulls weren't one of those teams.
But that hunger motivated the Bulls for nearly 12 months.
The Bulls became bowl-eligible this season when they earned their sixth win Oct. 13 against Akron. That wasn't enough for UB, which continued to steamroll through its MAC schedule, save for a 52-17 loss Nov. 14 at Ohio.
"We stayed motivated throughout this season," running back Kevin Marks said. "Not just this one game, we were motivated though camp, through training camp, waking up at four in the morning, having to run sprints. Having to compete. We were always motivated. We stayed with it and trusted the process."
The loss to the Bobcats forced the Bulls into a must-win situation Friday at Bowling Green, and the rout of the Falcons gave the Bulls one more game, in addition to their 12-game regular-season slate and their bowl game. The Bulls are expected to learn their bowl destination and their bowl opponent Dec. 2, two days after they face the Huskies for the first time since Oct. 14, 2017, a 14-13 win for NIU at UB Stadium.
"We're going to try not to make this game too much bigger than what it is," UB linebacker Khalil Hodge said of the MAC championship game. "It's another game, another opportunity and we have to turn the page early. We're going to get back to Buffalo, start watching the film, and we definitely have some work to do this week."
In the moments after the Bulls closed the win Friday at Bowling Green, running back Kevin Marks reposted an old tweet that Hodge posted, which became a prophecy for the Bulls.
"This time next year UB will be playing in the Mac Chanpionship game...save the tweet," Hodge posted on Dec. 2, 2017.
This time next year UB will be playing in the Mac Chanpionship game...save the tweet 🤷🏾‍♂️🤞🏾

— K.Hodge(Channel4️⃣) (@Khalil_Hodge) December 2, 2017
The Bulls fulfilled that goal.
Now, UB has to go a step further against NIU on Friday in Detroit.
"I told our team that the people outside of the program don't know them very well, or their makeup very well," Leipold said. "They don't know how hard they've worked since January. How they've been able to bounce back, whether it be from losses or other things. But their ability to turn the page and to work, those are the things, for them to do it for each other, that was important."
Be the first to know
Get local news delivered to your inbox!