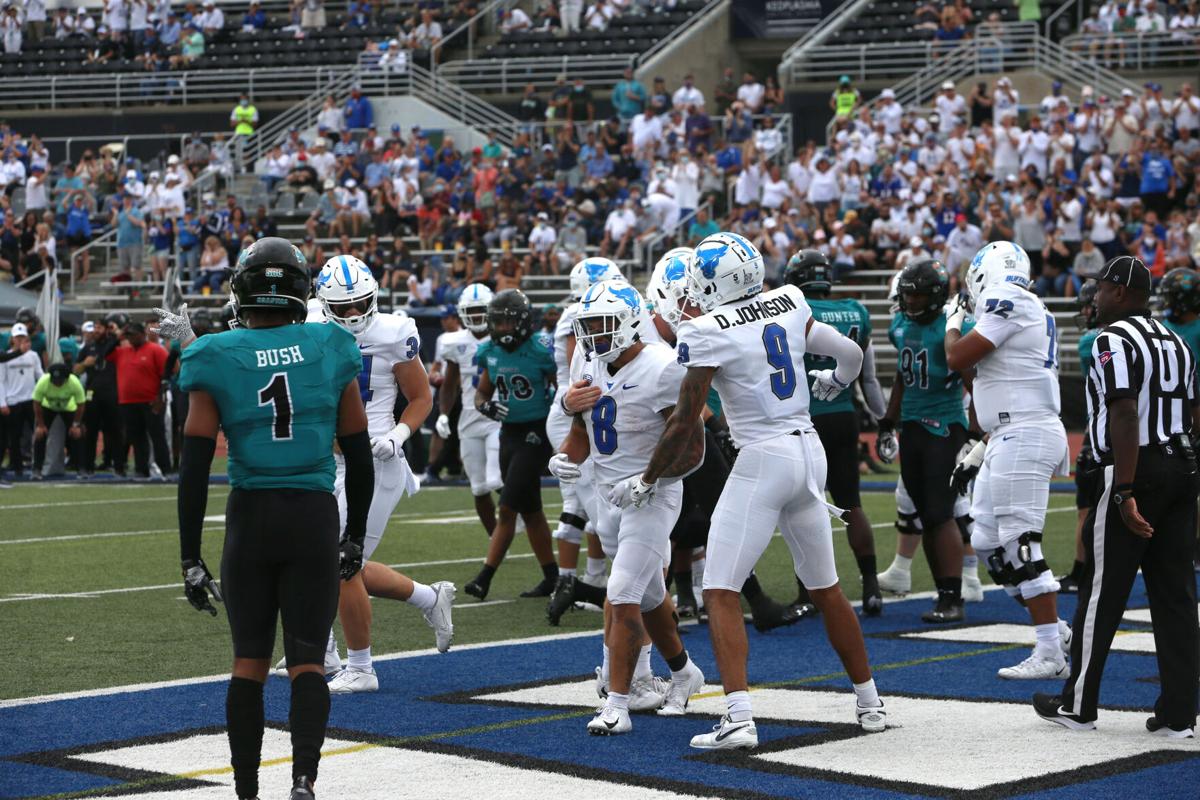 Kevin Marks Jr. and Isaiah King have had this weekend circled on their calendars for years.
Khamran Laborn, meanwhile, said he didn't realize until only a few weeks ago that he would return to his hometown to play in a college football game.
Marks, King and Laborn can help give the University at Buffalo football team a necessary lift in its final nonconference game, and they can do it in their own backyards. All three are from Norfolk, which is in the Hampton Roads/Tidewater region in southeastern Virginia.
Marks, King and Laborn return to their hometown this weekend when the Bulls (1-2) play Old Dominion (1-2) at 6 p.m. Saturday at S.B. Ballard Stadium in Norfolk. It's the first meeting between the teams, and the first game of a two-game series that is scheduled to continue in 2023 in Norfolk.
"This is actually a big thing for me," said King, a cornerback and a fifth-year senior for the Bulls. "I've got a lot of family down there, a lot of friends that have never seen me play, since I've been in college, so that's very exciting, to be able to perform in front of them."
Marks and King went to high school at Norview in Norfolk, about six miles east of Old Dominion's campus, and Laborn – a wide receiver who is Marks' cousin – went to Matthew Fontaine Maury, which is two miles southeast of the Old Dominion campus.
"It's always good you can have somebody from your hometown to talk to, about anything, one-on-one, and feel comfortable," Marks, a running back, said. "You feel comfortable around those guys, in any situation."
While all games are must-win for any team, the Bulls need a win Saturday at Old Dominion to take positive energy into its Mid-American Conference schedule, which begins Oct. 2 against Western Michigan.
Old Dominion needs a win for a very similar reason; the Bulls are its final nonconference opponent before opening its Conference USA schedule Oct. 2 at UTEP.
"It's very important to get this win," said Marks, UB's leading rusher this season with 221 yards and three touchdowns on 54 carries. "It's going to be a lot of noise in that stadium on Saturday, a lot of trash-talking, a big game. Both teams need a 'W.' We need this momentum going into MAC play."
King carries an edge into every game, but said the idea of playing in his hometown and against some of his friends from high school raises his intensity level a little more.  
While it's good to go home to play a game, UB coach Maurice Linguist wants a high level of play to be a baseline for his team, and not just an extra push from knowing you're playing in front of friends and family only a few miles from where you grew up.
"When you can go home and play in front of family, it always is a plus," Linguist said. "But we want to take that attitude wherever we are, and not say, 'Just because we're going home, we're going to play a little bit better.' We play well because that's what our culture demands and that's what you have the ability to do."
The hometown connection factored into Laborn's decision to transfer to UB after a year at Garden City (Kan.) Community College, where he caught 26 passes for 460 yards and four touchdowns during its eight-game spring schedule.
"I'd seen how well Kevin Marks and (former UB wide receiver) KJ Osborn did here, and I saw what it was about here, but didn't know much about it," said Laborn, who has three catches for 16 yards in two games. "But I saw how Kevin built his stats and I thought, 'Why can't I do the same?' "
One of Marks' tasks during a busy Wednesday afternoon was to procure tickets. Players are given four tickets for guests to attend games, and Marks estimated that he'd gotten at least 30 requests from family and friends to attend the game Saturday.
"I'm just scraping up tickets," Marks said. "Any tickets they don't use, I'll take those."
King and Laborn have the same problem: Too many ticket requests and not enough tickets. It happens when your team makes a rare appearance in your hometown.