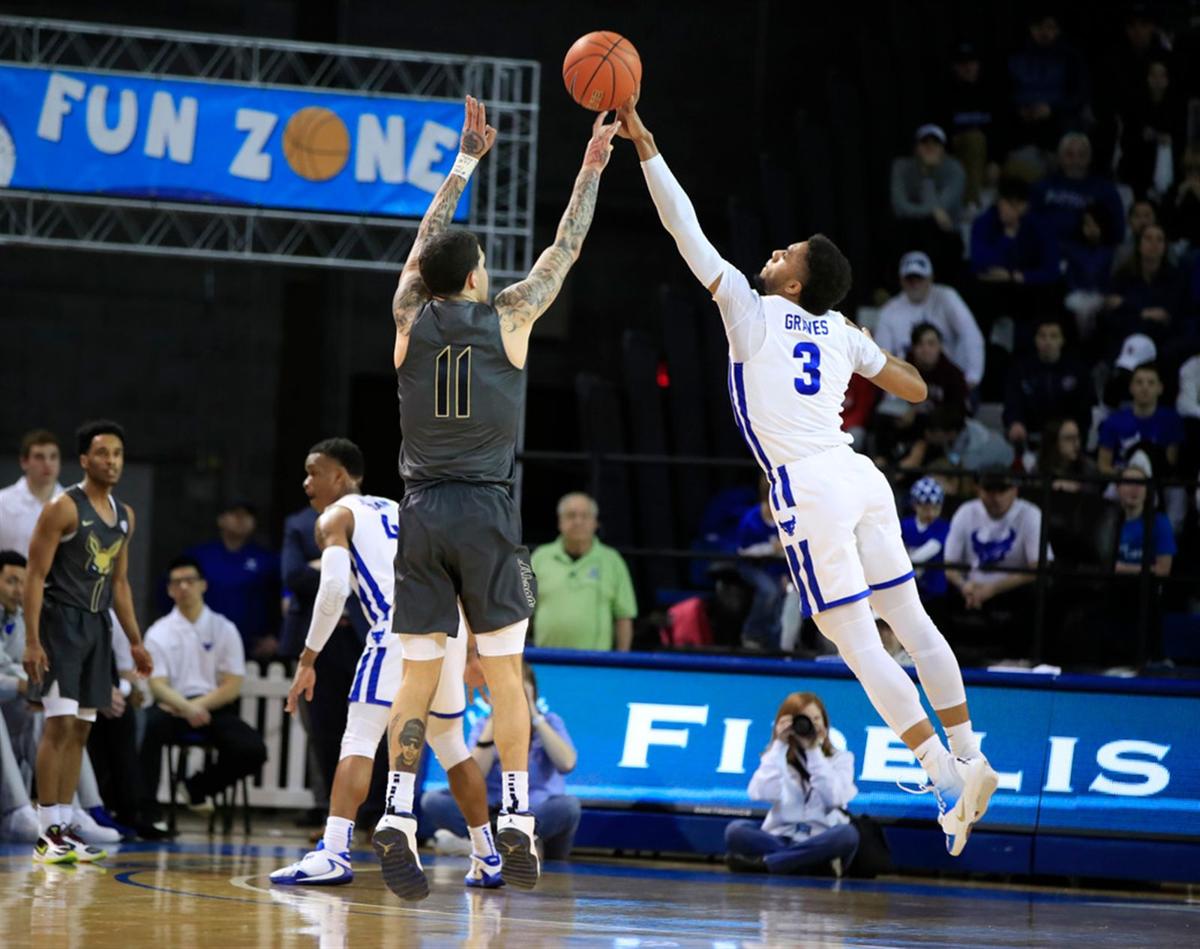 The first day of preseason practices for the University at Buffalo men's basketball team came with plenty of anticipated excitement.
But the time that led into the first day of practices brought changes that have been building since March, when the NCAA Tournament and conference basketball tournaments were canceled because of the Covid-19 pandemic.
College athletics remained in a state of limbo until very recently, and in the months leading up to UB's 2020-21 season, the Bulls and their coaching staff have adjusted to a regimen that continues to change because of the pandemic.
"We're grateful to have this opportunity," second-year UB coach Jim Whitesell said Wednesday. "Six months ago, we were wondering, what's going on, and this summer we were wondering what's going on. So, it's great to get there, and you feel like the season is upon us now."
UB's 2019-20 season ended abruptly in March with a loss to Miami (Ohio) in the first round of the Mid-American Conference tournament.
The loss and the time away from basketball planted a particular resolve in the Bulls.
"We want to be better at home this year and win the tournament," senior guard Jayvon Graves said. "We don't see a reason why we shouldn't win, and we want to keep getting better chemistry throughout the year and keep improving.
"That loss motivated us a lot. We're learning from the things we didn't do well and doing better with the things we did do well."
When players returned to campus in early August, many had to quarantine for 14 days because they had come from states that were on New York's travel advisory list. When offseason workouts on campus began, those were done in small groups and in phases, and basketball drills were confined to half-court activities.
Even now, masks are required when players and coaches are in the basketball facilities, which have been restricted to players, coaches and athletic department personnel.
"It was very challenging and, at times, very frustrating, because you're so out of your norm," Whitesell said. "The good thing was, most of the guys came back in pretty good shape, but the hard thing was with quarantine, you're not as active. It's much different. Also, mentally, it was a challenge, for anyone."
UB's basketball players are undergoing surveillance testing for Covid-19, and they will be tested three times a week when the regular-season schedule of games begins.
"You've got to be on top of your stuff," junior forward Jeenathan Williams said. "You've got to make sure you're making the right decisions, staying out of the way and following protocols.
"Everybody's trying to get on the same page. Following protocols so we can play this year and have a successful season."
UB is scheduled to open its 20-game MAC schedule Jan. 2 at Akron. UB's nonconference schedule, however, has not been released but Whitesell anticipates that UB's seven-game nonconference schedule should be finalized by the end of next week.
The Bulls withdrew from the Paradise Jam, which was scheduled for Nov. 20-23 in the U.S. Virgin Islands, and Stadium.com reported Wednesday that the Bulls will play in an multiteam event with Iona and Vermont from Nov. 30-Dec. 2 at Mohegan Sun in Uncasville, Conn.
"But now, you have practice and you have something to look forward to," Whitesell said. "Once the schedule's set, they'll see it on paper and on screen and it'll hit home a little bit more."
Be the first to know
Get local news delivered to your inbox!