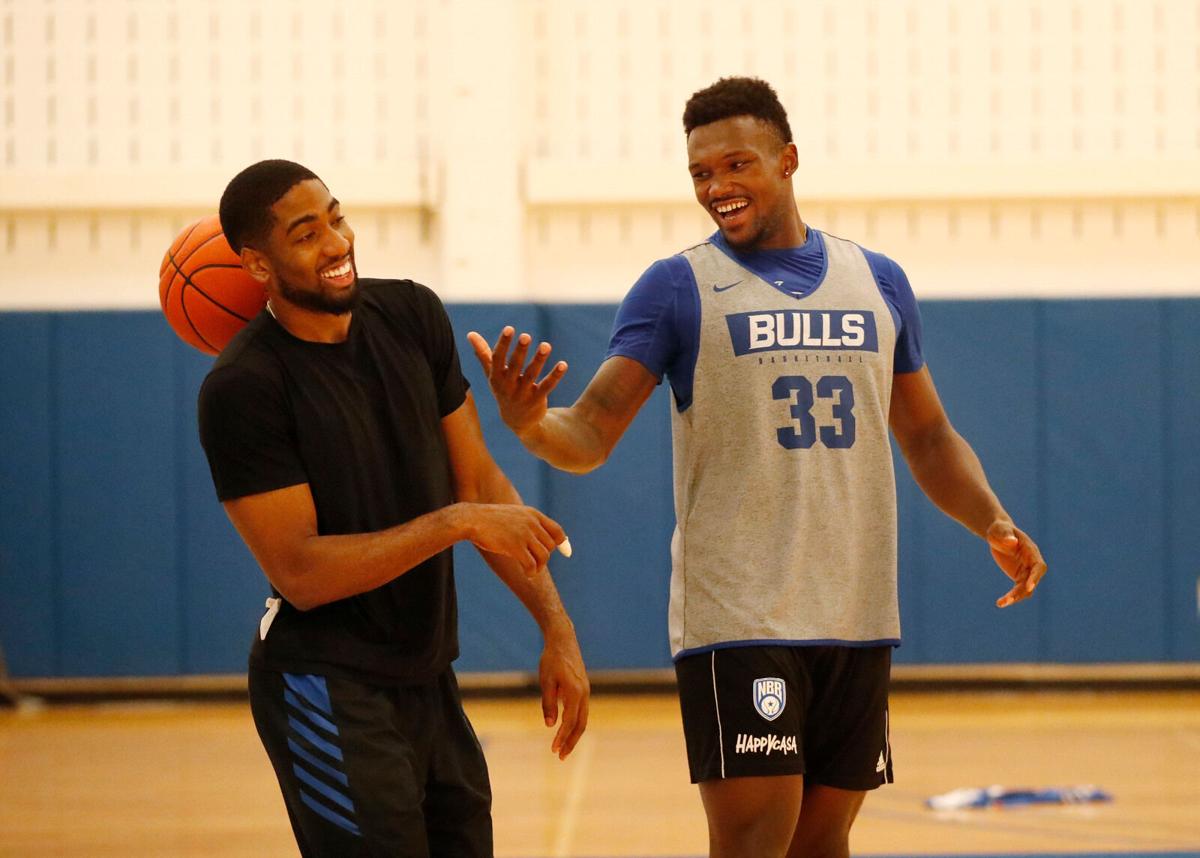 COLUMBUS – In the two years since C.J. Massinburg left the University at Buffalo, he's learned what it takes not just to be a professional basketball player, but what it takes to thrive as a professional basketball player.
Massinburg has learned the value of being a consistent contributor, as a guard with Long Island of the NBA's G-League. He's learned the importance of being able to adapt. One night, he may score in double figures, but the next night, his role may change after an NBA player joins the team on an assignment.
Massinburg, however, is returning to his college roots this week, as part of Blue Collar U, a collection of former UB players who now play professional basketball.
Blue Collar U and Brown and White, whose roster is made up of former St. Bonaventure players, will play in The Basketball Tournament, a national tournament of 64 teams, whose rosters are made up of former college players who are now professionals or who have played at the professional level.
There's an incentive for the 64 teams, too: a $1 million, winner-take-all prize.
The University at Buffalo men's basketball band could be getting back together this summer.
"It's a bunch of really good former college players who are now professional coming together and putting together the best squad they can and going for a run at a million dollars," Massinburg said. "That's what makes The Basketball Tournament so exciting. Guys are playing for something. That money is really good at the end."
Both teams are in TBT's 16-team Columbus regional at the Covelli Center at Ohio State. Brown and White is a 13 seed and opens TBT at 4 p.m. Friday against Team Hines, a 4 seed. Blue Collar U – a nod to a UB tradition in which players are awarded "blue collar points" for plays such as drawing charges or grabbing offensive rebounds – is a six seed and opens TBT at 6 p.m. Saturday against The Nerd Team, an 11 seed.
Both Blue Collar U and Brown and White are independent of each school, but many of the players on each team have helped their college programs evolve into NCAA Tournament-caliber programs over the last 10 years. Former Bona forward LaDarien Griffin said the idea of having two teams from the same region in the tournament helps showcase the profile of college basketball in Western New York.
"It shows how, through the years, that rivalry didn't get as much love nationally, but you can see how much talent came from both of those schools, throughout the years," said Griffin, who played professional basketball in Finland this season. "It's a treat for Bonaventure fans and Buffalo fans that they can take pride in that."
Blue Collar U's roster includes several notable Bulls alumni, including forward Nick Perkins, point guard Wes Clark, and small forward Jeremy Harris. Two former members of UB's coaching staff who are now at Alabama are in coaching and administrative roles: Adam Bauman, UB's former director of basketball operations who now has the same role at Alabama, is the head coach, and Crimson Tide assistant Bryan Hodgson, who was an assistant at UB, is Blue Collar U's general manager.
The 2010s were the greatest decade in the "modern" history of Big 4 men's college basketball. The University at Buffalo made four appearances in the NCAA Tournament and St. Bonaventure made two. Big 4 teams had combined to make only four NCAA appearances in the three previous decades, since the Division I schools in the East split into distinct
Brown and White's roster includes guard Marcus Posley, and forwards Da'quon Cook, Demetrius Conger and Dion Wright. Dave Moore, a former Bona assistant who now coaches at West Georgia, is Brown and White's head coach.
"I'm class of 2013 and some of these guys are class of 2018, so we're sort of bridging the gap," said Conger, who has played basketball overseas since he graduated from St. Bonaventure. "I'm one of the older guys and I try to pass on the knowledge I have. Any questions guys have, I try to answer them.
"Everybody's going to bring their experiences to the team, and our coach is bringing it all together and making it Bonaventure-style basketball, with a few tweaks."
One twist of TBT is that it utilizes the Elam ending for each of its games. The game clock is shut off at the first dead ball with less than four minutes left in the second half. A target score is set by adding eight points to the leading team's score, and with no game clock in play, it focuses on a defensive game to create offensive chances off transition, rather than intentional fouling.
"One thing that is going to play advantage is how good we are on the defensive end," Massinburg said. "Say we're down 4-6 points, once we hit that four-minute mark, we can lock in on the defensive end and make our run, and keep up on that target."
TBT also brings together basketball players who, like Perkins and Griffin, have gone overseas to pursue professional opportunities, but have returned to the United States to take part in TBT.
"A lot of people think, if he doesn't make the NBA, he's not good," said Perkins, who played in Italy this season. "But only 300 players make the NBA. That's it. That's a cutthroat business. There's so much talent in the world. It's a big eye-opener because people get to see there is a lot of good basketball, whether someone plays in Italy, Germany or Greece, and you get to see talent. That's important for the culture of basketball. It's big time. This is a way for guys who play in college to play at home and show what they have accomplished."