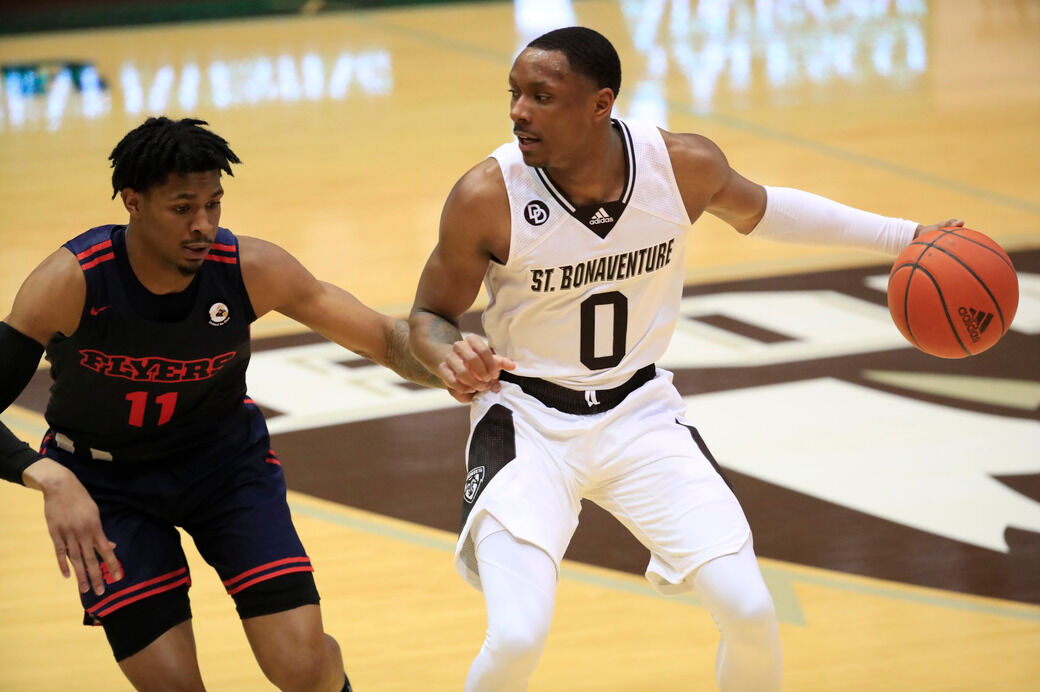 The St. Bonaventure men's basketball team now knows the path it has to take to defend its crown as the Atlantic 10 Conference's tournament and regular-season champion.
The Bonnies open their A-10 schedule Dec. 30 at George Washington and Jan. 2 at Dayton, according to the conference schedule released Wednesday. Tipoff times are to be announced at a later date.
Then, Bona opens its home conference schedule at 7 p.m. Jan. 5 against Fordham, the first of nine conference games at the Reilly Center in Allegany.
The Bonnies play VCU in a rematch of the Atlantic 10 championship game Jan. 14 at the Reilly Center, then face the Rams on March 1 at the Siegel Center in Richmond, Va.  
Thirteen of Bona's 18 Atlantic 10 games are scheduled to be broadcast on a national television platform, including five on ESPN2 (Jan. 14 at VCU; Jan. 21 at Duquesne; Feb. 4 at Richmond; Feb. 11 at Saint Louis; and March 4 vs. Richmond) and six on CBS Sports Network (Jan. 2 at Dayton; Jan. 8 vs. St. Louis; Feb. 1 vs. Davidson; Feb. 22 vs. Rhode Island; Feb. 26 at St. Joseph's; and March 1 at VCU).  Two more games also will be assigned to either NBC or ESPN platforms at a later date this season.
Bona opens the regular season at 7 p.m. Nov. 9 against Siena at the Reilly Center, will play Nov. 18-21 in the Charleston (S.C.) Classic. The Bonnies will face Connecticut on Dec. 11 in the Never Forget Tribute Classic in Newark, N.J., and will play Dec. 17 against Virginia Tech in Charlotte as part of their 12-game nonconference schedule. 
Illinois guard commits to Niagara
Bryce Moore, a 6-4 guard from Illinois, announced Thursday on social media that he has committed to the Niagara men's basketball program. Moore averaged 13 points, seven rebounds and three assists a game as a junior in 2020-21 at Carmel Catholic in Mundelein, Ill.
Moore is the third player to join Niagara's 2022 freshman class. He joins 7-foot center Harlan Obioha from Kansas, and center Donovan Hill from Philadelphia. The early national letter of intent signing period for basketball is Nov. 10-17.
A men's college basketball doubleheader Dec. 18 at KeyBank Center has grown into a tripleheader as Daemen College will host Franklin Pierce at 11 a.m. in a nonconference game. 
Niagara faces Albany and Canisius plays the University at Buffalo in the other games. 
Ticket information will be released soon, according to a news release.