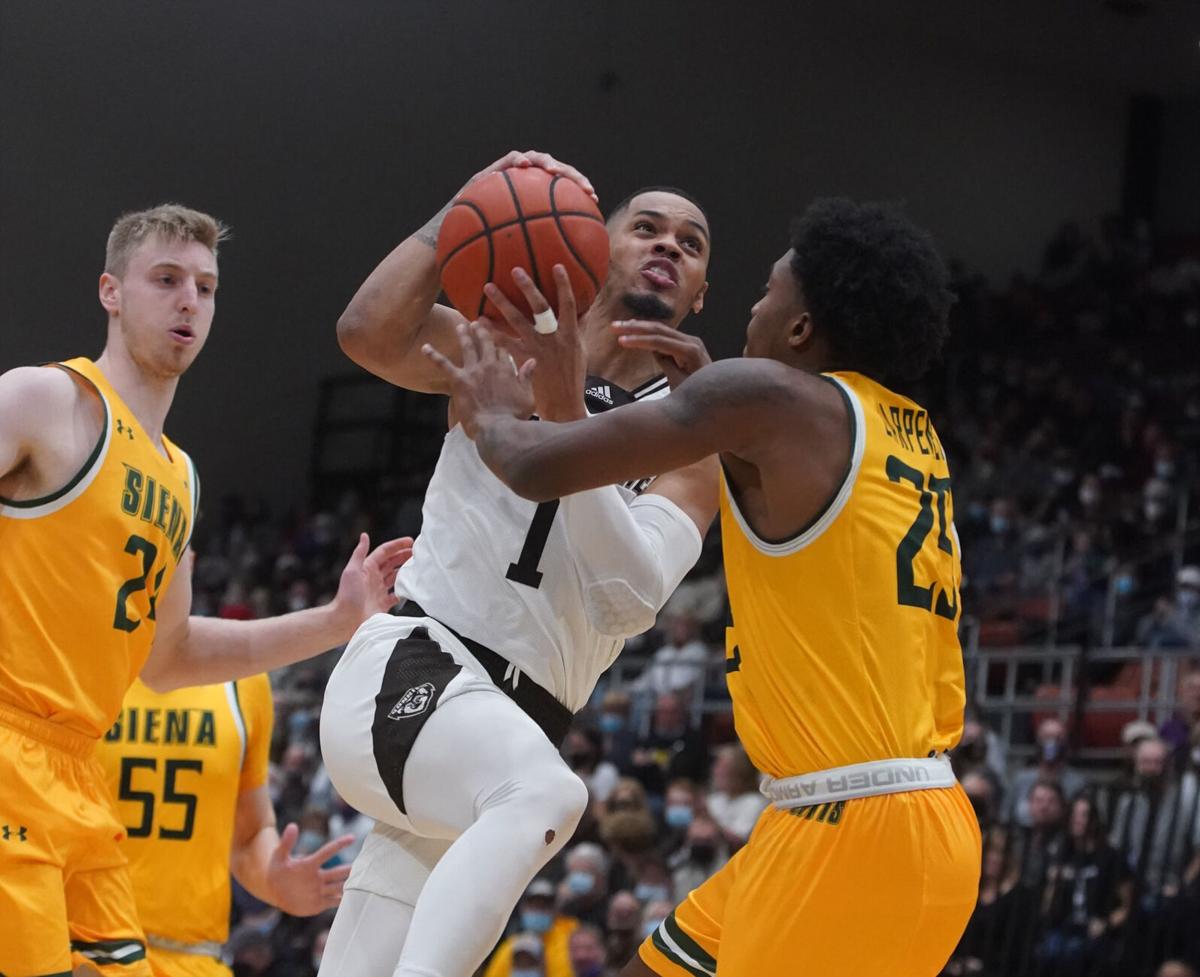 The St. Bonaventure men's basketball team believes it deserves to be in the Charleston Classic, even if the Bonnies are by no means a finished product.
After his team earned a 69-60 win against Canisius on Sunday at the Reilly Center, coach Mark Schmidt knows there's room for growth, particularly as the No. 22 Bonnies continue a nonconference schedule that includes games against teams from the Power Six conferences.
"We're playing one of the most difficult schedules that we've played in years, at least since I've been here, but our guys deserve that," Schmidt said. "Fifteen years ago, we would have never been invited to a tournament of this caliber. ... 
"We've got to get better. It's important to get off to a good start and not get behind. Play it even."
The Bonnies (2-0) fell behind early in their first two games against Metro Atlantic Athletic Conference opponents Siena and Canisius, and recognize a fast start will be imperative when they open the eight-team tournament Thursday against Boise State (1-1) at TD Arena in Charleston, S.C. (2 p.m., ESPN2).
The Bonnies and Broncos join a field that includes teams from four of basketball's Power Six conferences: Clemson of the Atlantic Coast Conference, West Virginia of the Big 12, Marquette of the Big East and Ole Miss of the SEC.
The quality of opposition could help boost the Bonnies' nonconference résumé.
"This is a great honor, not only for us as a team and as a program, but for players moving forward and a team moving forward," said guard Jaren Holmes, who is averaging 17 points and 6.5 rebounds in the two games. "For us to be nationally televised, every single game, putting Western New York on the map, its not only important to me but it's important to this community.
"We deserve those type of events, because we busted our tails to be there. We're grateful, but we also know we deserve to be there."
Showing up for the tournament and representing the Atlantic 10 Conference is one thing. Hanging with programs from larger conferences is another. That will require not getting behind early in games.
Bona is 52-for-111 (46.8%) from the floor, but was 22 for 57 in the first half of both wins, including just 2 for 16 on 3-pointers. Still, the Bonnies have held their first two opponents to 32.8% shooting.
"You're going to have your good nights and your bad nights, shooting," Schmidt said. "I always say, 'Jump shots are fickle, you win by playing defense.' Especially early in the season, and the offense is usually behind the defense on every team. Hopefully your shooting comes along. We have good shooters but right now, in the first two games, we've really struggled."
Boise State returns four starters, including guard Marcus Shaver Jr. (14 points per game) and 6-foot-7 forward Abu Kigab (10.5 ppg, 6.5 rebounds per game). Schmidt said the Broncos take an aggressive offensive approach, particularly in utilizing the first 10 seconds of the shot clock to set up scoring chances.
"They're a team that loves to play the open court, they're a team with a big guy inside (Kigab) and they go inside and surround him with four athletic skill guys," Schmidt said.
The most significant question, though, for the Bonnies, is the health of center Osun Osunniyi. The 6-foot-10 senior has blocked nine shots in his first two games, but he played less than 14 minutes in the win against Canisius after aggravating a back injury.
If Osunniyi is unavailable or limited against Boise State, the Bonnies will go inside with Karim Coulibaly, a 6-foot-9 transfer from Pittsburgh.
"We're hoping that he's going to be able to play," Schmidt said of Osunniyi.
Bona will play either Clemson or Temple in a second-round game Friday; the winner will play in a semifinal at either 2 or 2:30 p.m., and the losing team will play in a consolation-round game at noon.
"You can't have a good showing if you don't show well in the first game," Schmidt said. "All the preparation goes into Game One, and we'll make adjustments after that game.