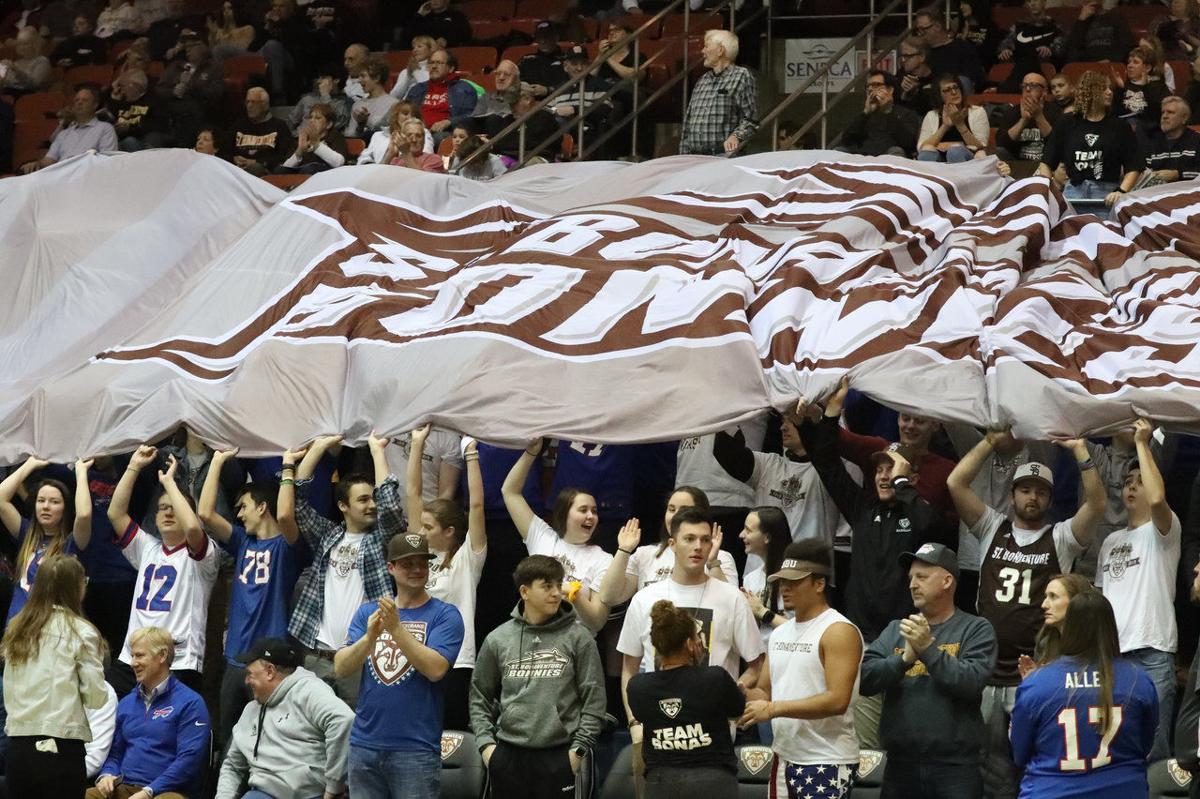 Mark Schmidt has a list of goals for the St. Bonaventure men's basketball team: Win the Atlantic 10 Conference's regular-season and tournament championships. Play in the NCAA Tournament. Win an NCAA Tournament game.
Schmidt also has a short-term expectation when the No. 23 Bonnies host Siena in their season opener at 7 p.m. Nov. 9 in Allegany: He wants his team to play in a sold-out Reilly Center.
"Really looking forward to playing a game with fans," Schmidt said. "The Reilly Center's going to be sold out, and it'll give our guys, especially our younger guys, a chance to see what it's really like, to play in the Reilly Center. And for our veteran guys, who didn't have that chance last year, to get that feeling back."
St. Bonaventure is closing in on Schmidt's goal. The athletic department has sold nearly 2,800 season tickets between the start of season-ticket sales in August and the beginning of November. As of Monday, about 400 single-game tickets remained for the season opener.
Bona did not allow spectators for its men's or women's basketball games last season. The season opener against Siena will be the first time since March 4, 2020, that spectators will get to cheer on the Bonnies in the Reilly Center, one of the Atlantic 10's most raucous arenas.
The demand comes as the Covid-19 pandemic continues to linger, but it hasn't discouraged fans from renewing season tickets or clamoring for single-game seats. Kathy Parmentier, the ticket office manager for Bona, told The News that as of Monday, 2,794 season tickets have been purchased – an uptick from 2019-20, when Bona sold 2,621 season tickets.
The demand for single-game tickets has been brisk. In addition to sales for the Siena game, less than 100 tickets remained for the game against the University at Buffalo on Dec. 4 at the Reilly Center. About 100 seats remain for each of the home games Jan. 21 against Duquesne and Jan. 29 against Saint Joseph's.
"We weren't sure what the arena was going to look like, and we didn't know if we were going to only allow spectators in if they were vaccinated, or allow spectators who weren't vaccinated in," Parmentier said. "You get to a point where you've got to do something, and in July, we put out an option for people to put a deposit down on season tickets."
In the first three weeks of sales, Parmentier said Bona sold as many men's basketball season tickets as it did in a three-month span in recent years. The rush on ticket sales came even as prices rose, due to an incremental raise in cost that takes place every two to three years.
While some season-ticket holders opted not to renew, due to Covid-19 concerns, it didn't discourage others from buying tickets, either.
"There was no waiting list, but there was a deposit, and people wanted in on this because of the excitement of the season," Parmentier said. "We did have to tell people, though, that we are working on this and that you will be in line once we have a plan."
Bona requires all students, employees and visitors to wear masks inside campus facilities, including the Reilly Center, but Bona will not require spectators in the building to be vaccinated.
However, while fans will return, the capacity of the building will be smaller, due to regional Covid-19 guidelines regarding indoor facilities.
In years past, the Reilly Center has held a capacity of 5,480. It will hold around 5,000 this season, and that change will impact Bona's student section, one of the more colorful in the Atlantic 10.
Capacity will be controlled this year at the Reilly Center, including attendance in the student section; 850 seats this season will be reserved for students, due to reconfiguration.
While Bona averaged 660 students in attendance for game in the previous two seasons (2018-19, 2019-20), there was no previous set capacity for student attendance.
Students must claim a game ticket, show their student identification and be scanned into the facility.  
Bona guard Jalen Adaway got the Reilly Center effect from the bench as he sat out the 2019-20 season as a transfer from Miami (Ohio). However, he could never get used to playing in empty arenas.
"Just seeing how electric this place can get is something I've always looked forward to," Adaway said. "To think going into this season I got the opportunity along with the rest of my teammates, especially the new guys, they're going to enjoy it. That's something that you can't really put into words, but we've been working as hard as possible and ready for it. We prepared for it. It's something that's going to be really exciting."
Schmidt labeled the Reilly Center as "one of the greatest places to play in college basketball," and said the community's support helped make the arena into a rambunctious environment.  
"Our community supports us 100%," Schmidt said. "They live and die Bonaventure basketball. Not just the community but the students, the administration, the alumni, and for them not to be able to experience what we experienced was terrible. It was awful."
This year's demand and response to ticket sales wasn't just about seeing a nationally ranked basketball team. Parmentier, Bona's ticket sales manager, gauged the value of the program to the Allegany-Olean community.
"People didn't get to watch the games last year, except on TV," Parmentier said. "That was a hard thing, for a lot of fans. People haven't been out for a year, and haven't done much. They'll do anything to get out. This is a smaller community, and St. Bonaventure basketball is where it's at."
This story has been updated to reflect student capacity at the Reilly Center for basketball games.