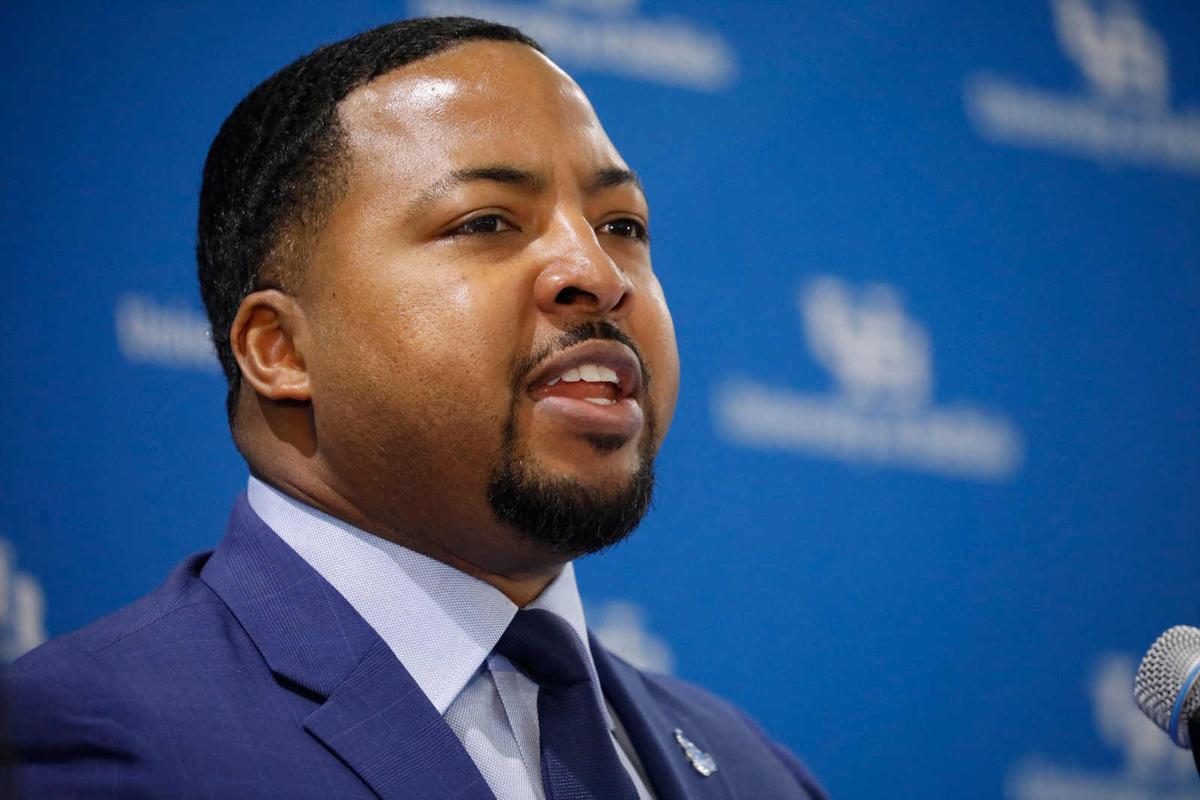 The new football coaching staff at the University at Buffalo continues to round into shape.
ESPN.com reported Wednesday that UB is set to hire Shane Montgomery as the offensive coordinator on Maurice Linguist's staff. UB on Friday named Linguist as its head football coach.
Linguist said Thursday on Sirius XM's ESPNU Radio that he is in the process of assembling his coaching staff, including coordinators, but did not disclose any candidates or potential hires. 
Montgomery is the offensive coordinator and quarterbacks coach at James Madison, a Football Championship Subdivision program, and helped the Dukes to the FCS playoffs this spring. Sam Houston State defeated the Dukes on Saturday, 38-35, in an FCS semifinal.
Montgomery is a former North Carolina State quarterback who has a long coaching resume, which includes stops as an offensive coordinator at the FBS and FCS levels.
Montgomery has some familiarity with the Mid-American Conference, too. Montgomery was on staff at Miami (Ohio) from 2001 to 2008, first as the RedHawks' offensive coordinator and then as their head coach.
As Miami's offensive coordinator from 2001-04, Montgomery worked with Ben Roethlisberger, who prepares for his 18th season with the Pittsburgh Steelers, and Montgomery was a two-time finalist for the Frank Broyles Award, which recognizes the top assistant coach in college football.
As Miami's head coach from 2005-08, he led the RedHawks to a share of the MAC East title in 2005 and 2007, but finished 17-31 and 14-18 in the MAC.
Montgomery has been a coordinator at Akron, Charlotte and at Youngstown State. He helped the Penguins to the 2016 FCS championship game, where they lost to James Madison.
Citing sources, FootballScoop.com reported Thursday that Linguist will add Akron running backs coach Mike Daniels to his staff at UB, as the Bulls' running backs coach and recruiting coordinator. Daniels joined the staff at Akron earlier this year, and was UB's running backs coach and academic liaison in 2010.
Linguist is also expected to add Joe Cauthen as the Bulls' defensive coordinator and Jeremy Cole as the program's strength and conditioning coach.
Cauthen spent the last two seasons as Houston's defensive coordinator and linebackers coach, but was let go by the Cougars in January. He was hired in March at Arkansas as a defensive analyst.
Cole has been the assistant strength and conditioning coach at Minnesota since 2017. Linguist, the head coach at UB, was a defensive backs coach for the Golden Gophers in 2017.
UB has not announced any of Linguist's hires.
Montgomery would replace Andy Kotelnicki as the Bulls' offensive coordinator. Kotelnicki split those duties with quarterbacks coach Jim Zebrowski last season. Both Kotelnicki and Zebrowski will join Lance Leipold's coaching staff at Kansas, which was announced Wednesday and will include five former UB assistants or coordinators.
Kotelnicki is Kansas' offensive coordinator, while Zebrowski is its quarterbacks coach. Former UB co-defensive coordinator and linebackers coach Chris Simpson will become the Jayhawks' linebackers coach, former defensive coordinator Brian Borland will become Kansas' defensive coordinator and former offensive line coach Scott Fuchs will be the Jayhawks' offensive line coach.