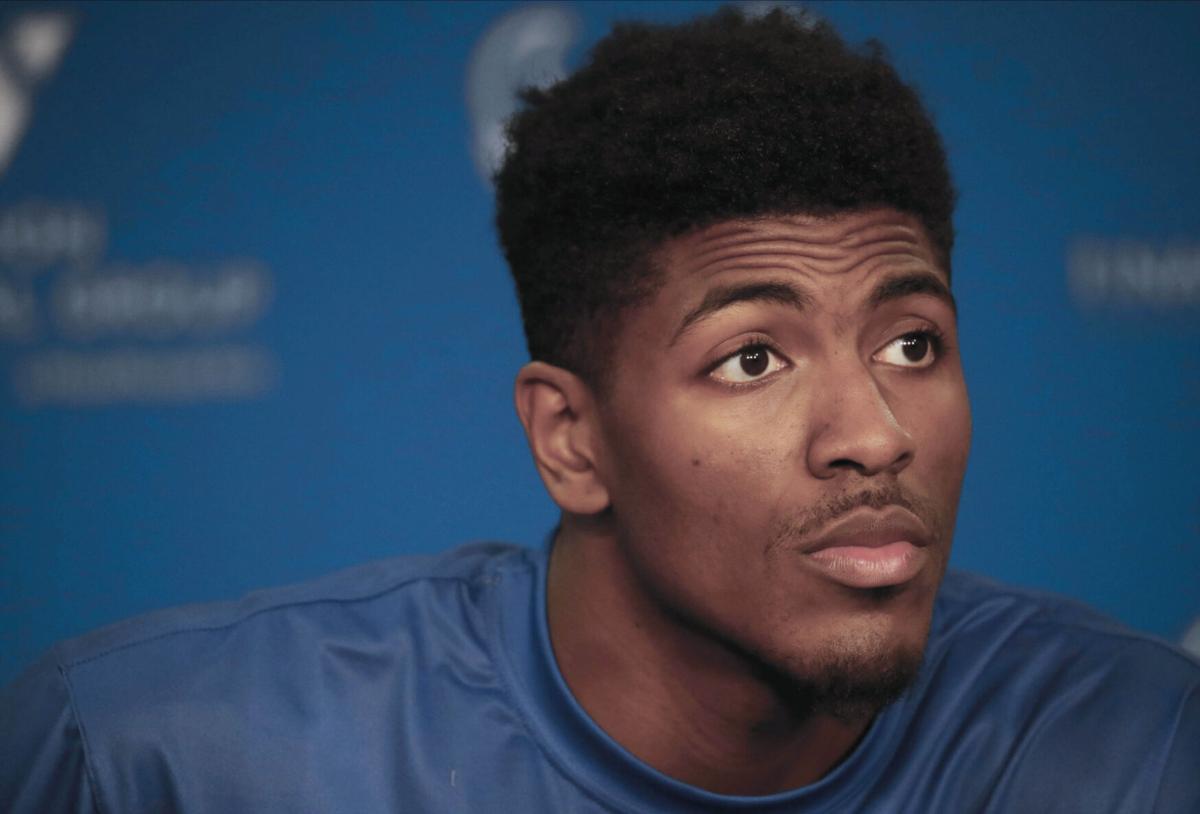 Jeenathan Williams listened carefully to the advice Ben McLemore gave him during a training session this summer in California.
Be aggressive. Don't hesitate. Be sharp.
"Never show any weaknesses on the court," Williams recalled. "Be sharp and stay mentally polished. That's all he harped on."
Williams, a 6-foot-7 senior forward on the University at Buffalo men's basketball team, spent his offseason fine-tuning for his fourth season and for an eventual chance at the professional level. He met McLemore through one of the many pickup games he played against college and pro players, but the advice of McLemore, the veteran NBA shooting guard from the University of Kansas, resonated with Williams the most.
"Ben, he taught me a lot about the game, and how to expand my IQ and things to do, things on defense," said Williams, who goes by "Nate" among friends. "Being around that high level of basketball helped me grow."
Williams scored 19 points in an 87-65 win Saturday against Rider at Alumni Arena, in a first-round game of the Cancun Challenge, which moves to Mexico next week. The Bulls face Stephen F. Austin at 6 p.m. Tuesday.
He scored a career-high 32 points in UB's season opener, an 88-76 loss at No. 4 Michigan on Nov. 10. Williams' point total was the most points Michigan has allowed to a nonconference opponent since the start of the 2010-11 season.
Williams is averaging 21.7 points in UB's first three games, and could be an early favorite for the Mid-American Conference Player of the Year.
He's come a long way from his freshman year, when he was on the bench on a senior-heavy team and wondering if and where he would fit into UB's scheme.
Williams averaged 3.2 points and 1.7 assists, and nine minutes a game. Watching, rather than playing, humbled him.
"We had an excellent team with really good players and for any player, it's humbling," said UB coach Jim Whitesell, who was an assistant for that team. "He really had to fight through the immaturity part of it and I was really proud of him because he kept getting better."
It also motivated Williams to make a long-term investment in himself and in the Bulls.
Two years later, he'd actively pursue advice from NBA pros, and test the NBA draft waters.
Williams' entry into the NBA draft process last summer was quiet. Realistically, he wasn't going to get drafted last summer, but he wanted feedback from NBA scouts on what it would take to get to the pros after this season.
Williams recited the points: improve on reading defenses, improve efficiency in the assist-to-turnover ratio (he had 61 assists and 63 turnovers last season), and make more methodical decisions as a primary ball-handler and playmaker.
"You almost have to be your biggest critic," Whitesell said. "He took the good and the bad with it, areas of improvement. I always encourage guys and say, 'If you want to get that feedback, get it.' But that feedback's going to be pretty dead-on honest. Those are the best in the world. You want to join that swimming pool of guys, you've got to be that level of player on both ends."
That's also Whitesell's goal for Williams this season, to be a more well-rounded player, despite the noticeable scoring numbers in UB's first three games.
As Williams wowed at Michigan, James Reaves, Williams' former coach at University Preparatory Charter School for Young Men in Rochester, tried to watch the Bulls, but his online connection kept dropping. He called Williams' father, and the two stayed on speakerphone as the game went on.
"I kept asking, 'How's he doing, how's he doing?' " Reaves said. "And his dad kept saying, 'He's killing it!' To see him play at that high level, he has always had that drive."
Five days later, Williams scored 14 points and had six rebounds and six assists in UB's 69-66 victory at North Texas.
Reaves was the same coach who didn't want to see Williams leave UPrep after the 2016-17 school year and go to national power Prolific Prep in Northern California. In retrospect, Reaves acknowledges he was selfish.
"Part of me felt like I hadn't done enough as a coach to provide him with a bigger platform or get him to a better schedule," said Reaves, who played college basketball at Niagara from 2000-04. "Did I do enough? I took a little bit of that personally, but I knew he had to go somewhere and get out of his comfort zone. And Rochester will always be here for him.
"I was thinking, Hey, maybe he wants to get away from New York, but he came back home. He wanted to be where he wanted and a place where he wants to be Nate."
By now, though, he has played in so many high-energy environments that it doesn't overwhelm him or even fuel him.
"When I'm in big arenas and big stages, I really don't feel anything," Williams said. "It's like I've been there before. I've been in all types of gyms, and I've put in all types of work. It's just like another game for me. I don't see it like, oh, it's Michigan or it's this team. I trust what I can do on the court and I put in the work and I let it show."
He doesn't say it arrogantly, either. These are simply work environments. The gym, Williams explained, continues to be his safe haven, whether it's long days in the summer or in a span of 40 minutes under arena lights.
"It keeps me out of trouble. it keeps my mind sharp," he said. "I just feel great. I love basketball. This is what I want to do with my life. This is something I take seriously."