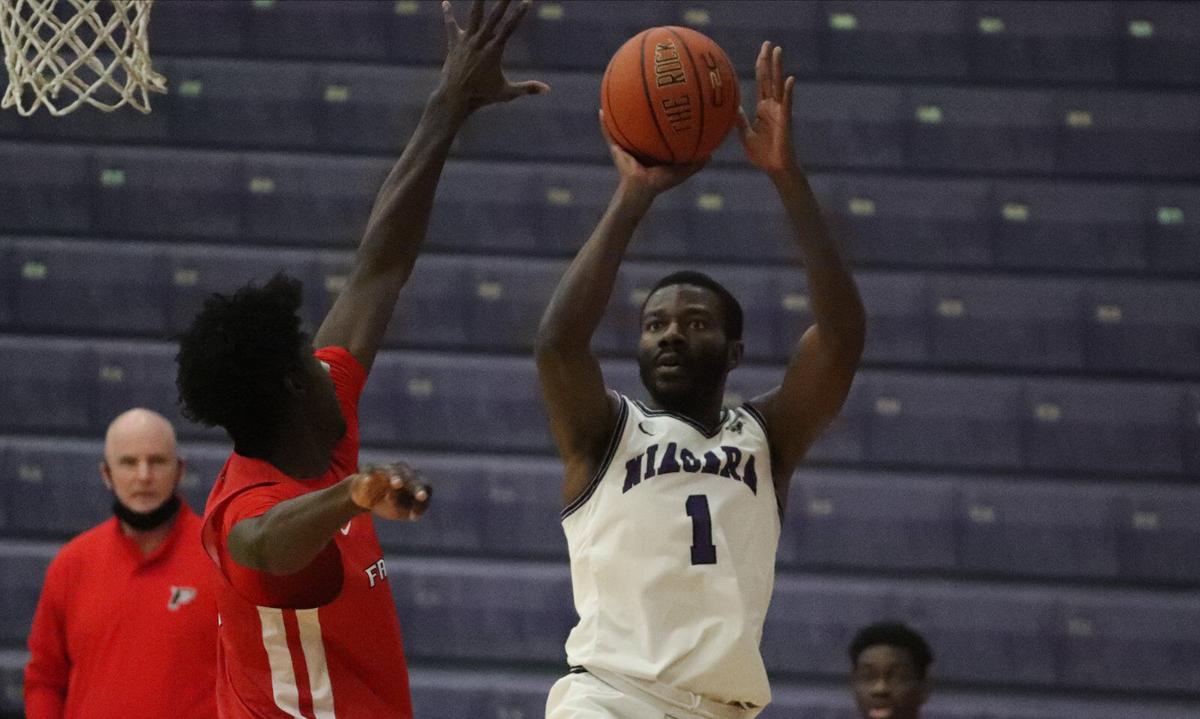 Senior transfer Kobi Nwandu got a taste of winning basketball at his two previous collegiate stops. So, it should be no surprise he is making a positive contribution to the Niagara University men's team.
The 6-foot-6-inch forward from York, Pa., scored 14 of his season-high 21 points in the second half as Niagara pulled away for a 66-55 victory over Rider on Saturday afternoon at the Gallagher Center in the second game of the Metro Atlantic Athletic Conference series between the teams. The victory evened Niagara's record to 5-5 overall and 4-4 in the MAAC. Rider is 3-8 overall and 3-5 in conference play.
Nwandu followed former coach Patrick Beilein from Le Moyne to Niagara in 2019 after helping the Dolphins to a Northeast-10 Conference title at the NCAA Division II level. Before that he played for an NCAA Division II Atlantic Region championship team in the two years he spent at East Stroudsburg University in Pennsylvania.
After sitting out 2019-20, Nwandu has been making a steady contribution for coach Greg Paulus' Purple Eagles. He's scored in double figures for nine straight games for Niagara after scoring two in the season opener at Syracuse.
Rider, which defeated Niagara, 76-70, in the series opener on Friday, led 29-23 at the half in Saturday's game. Then Nwandu and the Purple Eagles began to find their rhythm after shooting only 29.4% (10 of 34) in the opening half. Nwandu scored six straight points for Niagara as it closed to 39-38. His old-fashioned three-point play tied it at 44. Two free throws by Marcus Hammond and a layup by Nwandu gave the Purple Eagles a 48-44 lead and they stayed on top the rest of the way.
Nwandu added two more foul shots for a 50-46 lead with 7:23 left. Niagara held the Broncs to 28.6% (8 of 28) in the second half and 1 of 11 from outside the 3-point arc. Meanwhile, the Purple Eagles were 13 of 21 (61.9) and 2 of 5 (40.0) in the second half.
Hammond finished with 12 points for Niagara. He also had 10 rebounds to lead NU for his third career double-double and had eight assists, a career high. Greg Kuakumensah had nine points for the winners.
Rider was led by junior guard Dwight Murray's 17 points. Ajiri Ogemuno-Johnson, a 6-foot-8-inch junior forward, junior guard Jeremiah Pope had 10 points each for the Broncs. 
Most impressive was the way Niagara took care of the ball. For the second in the last three games Paulus' team turned the ball over only four times. In between, the gave it up only seven times in Friday's loss and they are averaging only 9.6 turnovers a game for the season.
Next for Niagara will be a road series against Manhattan in Riverdale on Friday and Saturday.