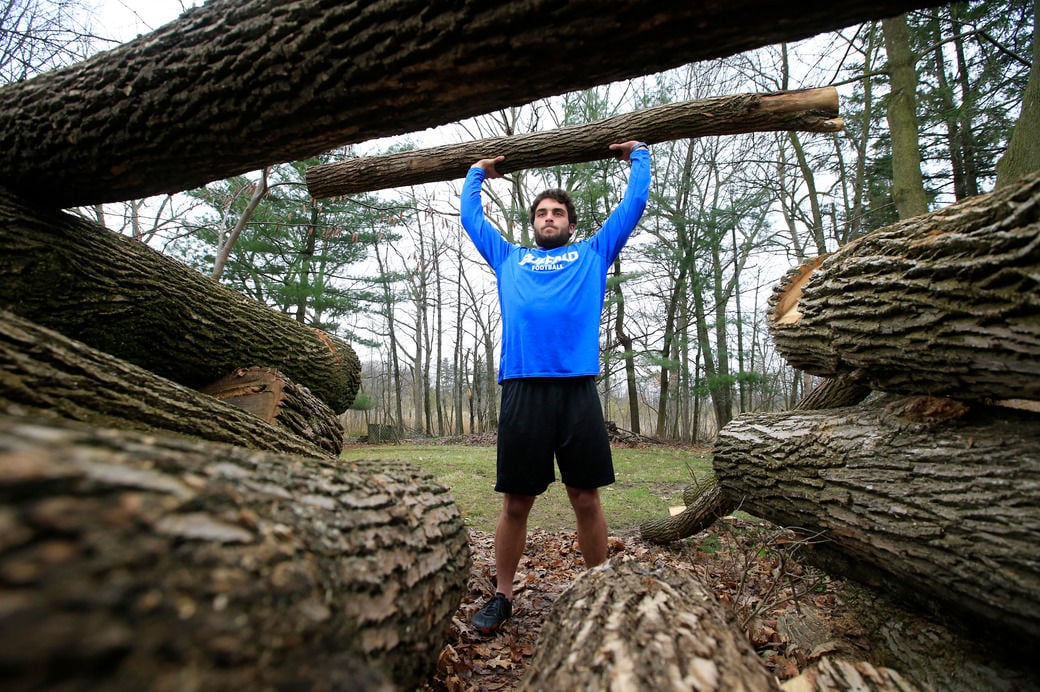 Each time Alex McNulty checked his social media accounts, he saw videos of his teammates training. Some of those videos were of the University at Buffalo's football players doing pushups, or running routes, or walking through their kicking motions.
They toted large jugs of laundry detergent or water as they paced across an empty field. They were finding ways to be creative with the items they had immediately at hand, as weight rooms, gyms and training centers aren't in their immediate access because of the Covid-19 outbreak. Many of the Bulls are home, as UB has moved to online classes and distance learning as a result of the pandemic.
McNulty, a kicker for the Bulls, is at home in Caledonia, and while he doesn't have access to a gym, he's not going to miss a workout. He can say with confidence that he's logged a few good workouts, and he has the video to prove it.
In lieu of a traditional gym, McNulty has the pile of tree trunks in his backyard, from when his family had trees on their property cut down last summer.
"We set some of those tree trunks up so it creates a rack," said McNulty, who also throws the javelin on the UB men's track and field team. "For squats, an overhead press, a deadlift and a couple other weight exercises. It was more because we were stuck at home and didn't have a weight room. The pile was already there, so we made use of it."
The redshirt freshman, though, concedes he's not necessarily one to be in front of the camera. He was initially hesitant to even post a workout video to social media. However, his track teammate, Danil Chernov, insisted on filming one of McNulty's training sessions.
Then, Chernov insisted McNulty post video of him lifting a 250-pound tree trunk above his head with both arms. McNulty tagged the ESPN morning show "Get Up" in the video.
The network didn't bite, but Sports Illustrated did.
By midday Thursday, Sports Illustrated's retweet of the video of McNulty had nearly 19,000 views. The original video, which McNulty posted March 27, has nearly 7,000 views.
"I was surprised it got that kind of attention," McNulty said, laughing. "Danil videotapes everything, and we send the coaches videos every day, to show them that we're working out. He's the one who told me, 'You should put it on Twitter,' so we did it."
While McNulty has embraced the outdoors, he hasn't embraced the urge to build something out of the logs behind his family house. His video, though, has inspired a couple of jokes among McNulty's replies.
Evan Finegan, a punter for the Bulls, posted a response with a photo of a manual titled "How to Build and Furnish A Log Cabin."
"Alex, let me know if you want to borrow this," Finegan wrote.
The viral moment didn't just illustrate a feat of strength. It also showed how some college athletes are improvising, as a means to continue their training. Resourcefulness is a necessity.
"The message we're sending to players – and this comes down to physiology – is that power output and speed are the first things to do," said Matt Gildersleeve, UB's head football strength and conditioning coach. "Endurance and strength can stick around for three to four weeks, and everybody has somewhere to go, where they can go out and run. The biggest thing we've tried to reiterate is that they need to sprint, jump, run and do explosive movements. Those are the first variables we lose, and that's been the big message.
"But it's been fun to watch the players get creative with those things. Overhead squatting, using propane tanks for curls, filling milk crates with weights … they're adapting in adversity. There's so many things in life that are 100% out of your control and if you dwell on that, you will never evolve. Being able to adapt and still make something a great situation is a key to success."
Jacco Fritz, a freshman forward on the Canisius men's basketball team, has remained on campus instead of going home to the Netherlands. He cannot access any of the Golden Griffins' facilities to train, but he joins his teammates each night on FaceTime or Zoom for a pushup challenge. Fritz and a group of his teammates each have to do at least 100 pushups a night.
"We're trying to get up to 200, 300, even 400 pushups a night," Fritz said. "I'm also trying to do some ab work, and smaller workouts here and there."
Summer Hemphill, a forward on the UB women's basketball team, is continuing rehabilitation after she underwent knee surgery in January, but she's doing it in her apartment instead of on campus with UB's athletic training and medical staffs.
She stays in contact every day with a team trainer, who texts her exercise plans. Hemphill also looks around her house to see what she can incorporate into her rehabilitation.
"If you have an open mind, you can make anything out of something," Hemphill said. "We have a lot of things in the apartment, including weights, a mini weight ball, stretching bands, and even laundry detergent."
While the pandemic kept McNulty away from campus, and from typical training facilities and equipment, it also gave him more time to focus on his studies and to take advantage of the free time he has, to prepare for football season, which is scheduled to begin in August with preseason practices. UB is scheduled to open the season Sept. 5 at Kansas State.
"I have more time to train," McNulty said. "I have more time to get in shape for next season, and the guys who haven't taken this time seriously, then they're going to be behind."