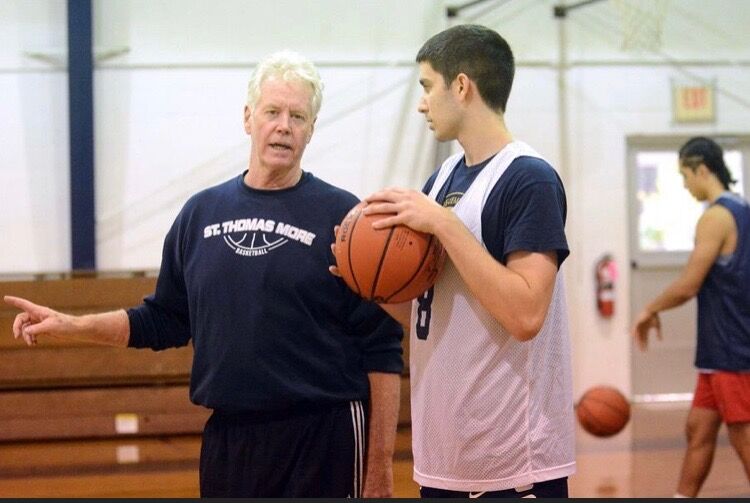 Nick MacDonald made a decision while considering his next step in basketball when he was a senior at Canisius High School.
He could take the sure thing and join his father's team at Daemen College in the fall of 2018. Or, he could take another year and play basketball at a prep school with the goal of earning a scholarship to play Division I basketball.
MacDonald took the sure thing this year. He earned the opportunity to play Division I basketball. MacDonald announced earlier this month that he will sign with Niagara University.
Niagara, he said, was the only Division I program to offer him a college scholarship after he played a season at St. Thomas More, a prep school in Oakdale, Conn.
"There was nothing against Daemen, and I would have loved the opportunity to play for my dad," said MacDonald, whose father, Mike, will enter his sixth season as Daemen's coach. "But my goal was to play Division I basketball, and I said, 'I'll take that prep year to get better and assess my options.' If I'd have gone to Daemen, I'd be fine with that, too, but I wanted to play Division I, and that was my goal."
MacDonald, 19, is a 6-foot-5-inch, 180-pound guard who averaged 13 points, three rebounds and two assists last season at St. Thomas More. He committed to Niagara on May 3 and was the first incoming freshman to commit to first-year coach Patrick Beilein.
Per NCAA guidelines, college coaches cannot comment on a recruit until after receipt of a signed national letter of intent.
"As a player, I'm a really good knock-down shooter," said MacDonald, who plans to study sports management at Niagara. "I feel like I'm a threat because I want to be the best shooter on the floor, and on offense, I know how to play. I know I have a good IQ, and I know my awareness and I know to make the right play, all the time. And I feel like, over time, I'm going to get better at creating something off the bounce and improving my defense."
Mike MacDonald was the top assistant for John Beilein, Patrick's father, during the elder Beilein's five seasons as the Canisius College men's basketball coach. When Beilein left the Golden Griffins to become coach at Richmond in 1997, Mike MacDonald succeeded him as Canisius' men's basketball coach, a position he held for nine seasons.
When Nick MacDonald was deciding whether to sign with Niagara, Mike MacDonald looked at his phone and noticed he had missed four calls during a workout. The calls were from John Beilein, his former supervisor who was hired as coach of the Cleveland Cavaliers on Monday.
"John called me after Nick committed to Niagara," Mike MacDonald said. "He asked me, 'Are we getting this done, or what? It's unbelievable to think your son is playing for my son.' But it's funny to think how things work, sometimes, and I've known Patrick since he was five, six or seven years old."
Nick MacDonald also continues a family tradition of playing college basketball. His oldest brother, Matt, was a captain of the University of Pennsylvania men's basketball team for two seasons (2016-17 and 2017-18), and his second-oldest brother Patrick, scored 1,532 career points from 2014 to 2018 at SUNY Maritime College. His younger brother, Mark, is a seventh grader who also plays basketball.
Nick MacDonald joins an incoming class that includes two transfers, Shandon Brown, a guard from George Washington, and Kobi Nwandu, a 6-foot-6-inch forward from LeMoyne. Brown and Nwandu are expected to sit out next season because of NCAA transfer rules, barring an eligibility waiver.
"At Niagara, I'm joining a unique environment, and that's what Coach (Patrick) Beilein sold me on," Nick MacDonald said. "He told me, 'You're going to come here as part of a whole new foundation.' "
Be the first to know
Get local news delivered to your inbox!