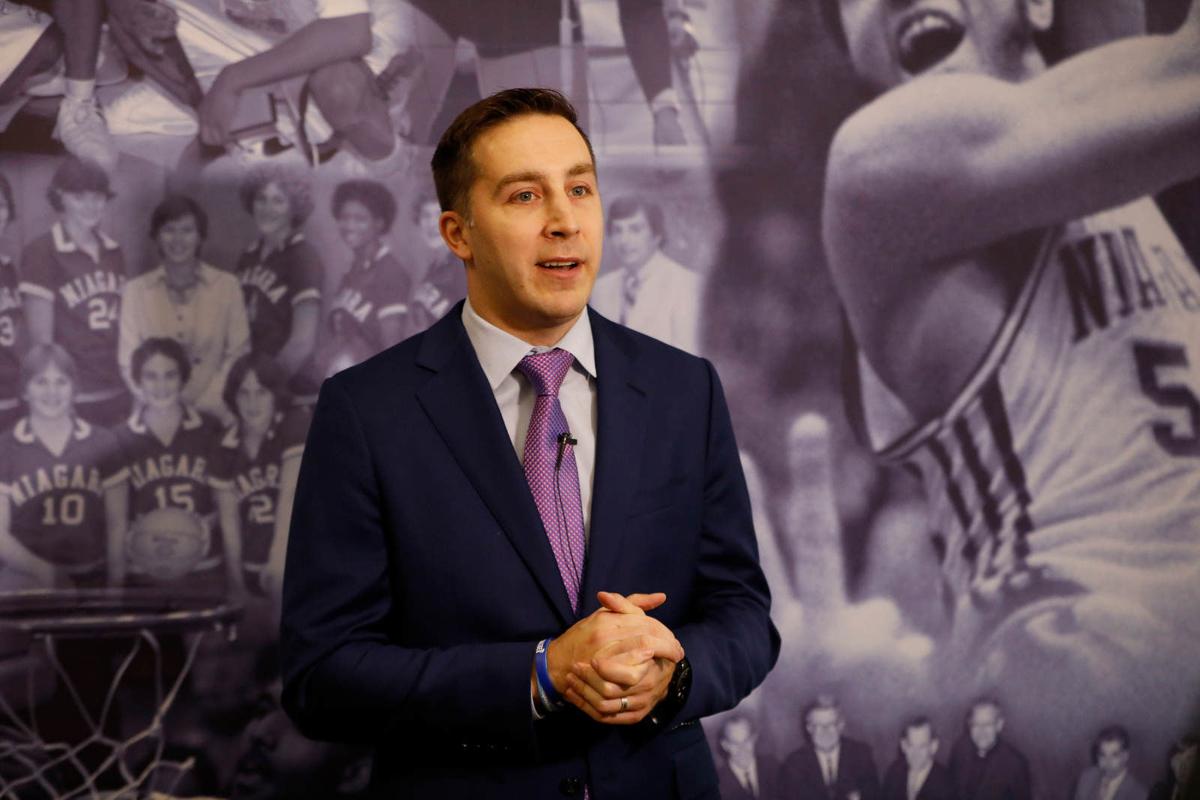 As his 13-month-old son Preston cooed nearby, Greg Paulus explained one of the ideals he wants to instill in the Niagara men's basketball program.
"We want this to be a family atmosphere," Paulus said Thursday in Lewiston after Niagara formally introduced him as its head coach.
Paulus joined Niagara in May as an assistant coach and recruiting coordinator. He became Niagara's interim head coach for two weeks after Patrick Beilein resigned because of personal reasons Oct. 24, and then Niagara evaluated him as a candidate for the full-time job.
"We did an extensive search during our transition following last season," Niagara athletic director Simon Gray said.  "We also did a thorough search for Greg's position, originally. With the current position, we were focused on Greg, having known him from his time as an assistant, and considering the time frame."
But part of instilling the concept of family means involving and embracing the men's basketball alumni who helped Niagara earn its first NCAA Tournament berth in 1970 and sparked a resurgence in the late 1990s and 2000s.
"The alumni I've spoken to have been supportive," said Paulus, who makes his head coach debut when Niagara plays at Drexel at 7 p.m. Friday. "We've invited some of the alumni back, we're going to see some more here on the road and we'll continue to reach out to them, but we want to welcome them back with open arms. This program, with the tradition, is built because of what they've done before us."
Yet some of those alumni have felt isolated from the program in recent years, and want to have stronger ties with Paulus and his team.
Cleaven Royster, who was a men's basketball captain at Niagara in 1974, calls himself a "proud Niagara graduate." Royster lives in Virginia and said that in recent years, he has had minimal to no contact with Niagara. He wants to see the program use its network of basketball alumni.
"Niagara needs to get people in there that are former players and graduates, who understand the culture," Royster said. "They don't have any idea what it was like in Niagara's heyday, when they played Big East opponents. They've got to get one or two people who are coaches in the program to understand the culture, and to help transition in with Greg Paulus.
"Greg Paulus has a great background and I want him to do the best he possibly can. That's what Niagara graduates want."
Roy Beekman played at Niagara from 1973 to 1978 and is now an associate head men's basketball coach at Nassau Community College in Garden City, N.Y. Nassau Community College played in the NJCAA Division III national championship game in 2018.
Beekman said the last Niagara men's basketball coach he communicated with on a regular basis was Joe Mihalich, who coached the Purple Eagles from 1998 to 2013, and who is in his seventh season as head coach at Hofstra.
"I don't even think Niagara knows about my success or what I'm doing, as far as basketball goes and junior college recruiting," Beekman said.
Robert Churchwell was a tri-captain at Niagara with Calvin Murphy and Mike Brown when it made the 1970 NCAA Tournament. Churchwell said that while he was mystified by Beilein's departure, he wasn't surprised by Niagara's recent lack of success. The Purple Eagles were 64-129 in six seasons under former coach Chris Casey, who was fired in March after the Purple Eagles finished 13-19 and in a three-way tie with Saint Peter's and Fairfield for last in the 11-team Metro Atlantic Athletic Conference.
"Niagara hasn't refocused on rebuilding their program for a period of time," said Churchwell, who was on campus in 2018 when Niagara inducted the 1970 NCAA Tournament team into the school's Athletics Hall of Fame. "I've been down in the Washington, D.C., area since 1971. I've been to a few games here, but I have not had one coach reach out to me regarding any basketball recruit or any who are interested in basketball.
"There hasn't seemed to be interest in connecting with those who came before."
Niagara, Churchwell said, needs to focus on creating a different environment.
"A family environment," he said.
Churchwell's words fits Paulus' philosophy, and Gray said it is critical to have the basketball alumni engaged in the program as it moves forward.
"The program is built off them," Gray said. "The dedication, the time they spent and the care and the passion they have put into Niagara basketball.
"I speak with basketball alumni all the time and they've been very supportive of Greg Paulus and his vision and the leadership of this program. I expect that to continue."
Paulus also wants to bring Niagara alumni back into the fold.
"We're hoping to continue to have more and more of them be a part of this program, because this is their program," Paulus said.
"It's a part of our story. We want our story to be told. We're very proud of being a part of something special and they helped make it special. We would love to have them around and we would love for them to reach out. I will continue to reach out and the more they are around, the better it is for us. We want to encourage that and make sure our current players build relationships with the former players."
Paulus said he will retain the current staff of assistant coaches Brett Ervin and Bryan Smothers, and director of basketball operations Madison Hahesy.
"The staff, yes, all are present and working," Paulus said. "We are all … I don't know what the right term is, but, yes."
Paulus also plans to fill an opening for a third assistant coach.
"We're going to work through the process on that," Paulus said. "As time goes on, hopefully we can have a better picture of what we'll do with that."
Be the first to know
Get local news delivered to your inbox!