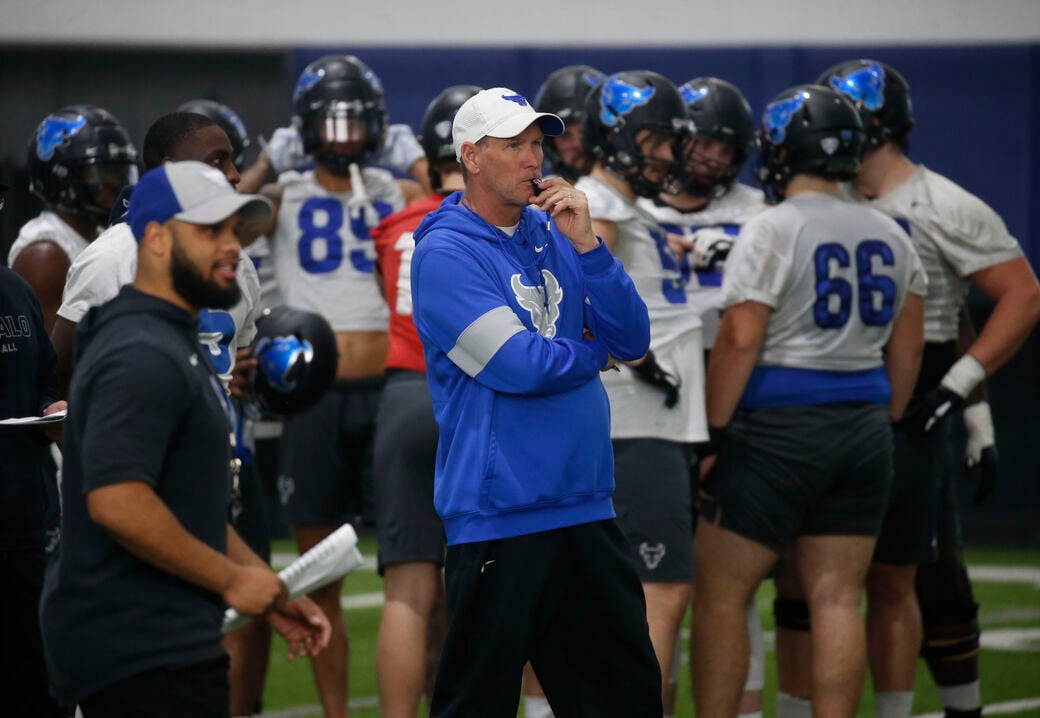 The University at Buffalo football team's season opener is less than three weeks away, and Bulls coach Lance Leipold still isn't sure how the season is going to shake out, given these uncertain times. 
The Mid-American Conference has not announced its in-season guidelines for postponements and cancellations of football games due to Covid-19 issues.
"The best way to assume in this thing, because it's a straight six-week schedule with the championship, you're just going to miss the game," Leipold said Thursday on a video conference with local reporters. "I haven't been told that, and how is it going to play out, if there's a five-game record versus a six-game record and how that would play out for any seventh-game opportunity in the (championship) game in Detroit. It's best, stay in your lane right now and find out later, because you can't control it."
But with the Bulls scheduled to open the season Nov. 4 at Northern Illinois, and with another Football Bowl Subdivision game postponed Thursday because of Covid-19, Leipold continued to ask questions.
"If you lose a game and you're not in the championship game, do you have the opportunity to get that sixth game made up on that last weekend so you can give your student-athletes the opportunity?" he said. "We have not been told those. That's a very good question, one I should ask my bosses as we move forward, or the league office."
A MAC spokesperson told The News in an email that the conference is continuing to work on its policies, which should be in place before the season starts.
As the Bulls continue their preseason practices, the Covid-19 pandemic continues to impact other areas of college football.
The American Athletic Conference announced Thursday that the Cincinnati-Tulsa game has been postponed from Saturday to Dec. 5 because of positive tests in the Cincinnati football program. As of Thursday morning, the Cincinnati-Tulsa game was the 30th FBS game to be postponed or canceled.
Alabama announced Wednesday that head coach Nick Saban and athletic director Greg Byrne had tested positive for Covid-19; Saban is asymptomatic.
Even UB is feeling the impact of Covid-19. The athletic department announced Sept. 29 that 25 athletes, including 19 football players, tested positive for Covid-19, which paused offseason football activities.  
Leipold is honest about the collective health of his team.
"It's probably below average of what we've been, in the past," Leipold said. "We've had some soft-tissue injuries. We've had some players who are coming off injuries. The rules, between state, county, and other things, on isolation and quarantine (for Covid-19), that's the part of bringing people back.
"I don't know if I'd call those injuries, but it's still getting them up through the protocols for allowing them and us to be as close to full-force as we've been. Because of that, sometimes our report is a little longer than its been, but we're probably on par for what a fall camp is: bumps, bruises, strains and sprains and pulls are. I'm confident we'll get ourselves into the position where we need to, before we head to Illinois."
The Bulls return the bulk of their starting lineup from last season, but have clear competition at quarterback, where Matt Myers and Kyle Vantrease are the top contenders to start this season; on the offensive line, which gave up just eight sacks in 2019 but lost its starting guards and starting left tackle from last season; and in the secondary, which lost two starters.
However, Leipold said it's too soon to announce any starters.
"It's slowly coming together," Leipold said. "I don't think we've had enough installed yet, and I think we may take a bigger step with that this weekend and early next week to start giving us some understanding. That's day-to-day consistency.
"But at the same time, every day is a daily evaluation within our program, it always has been. But it's not quite where it needs to be, and we aren't going to make any statements yet." 
Be the first to know
Get local news delivered to your inbox!