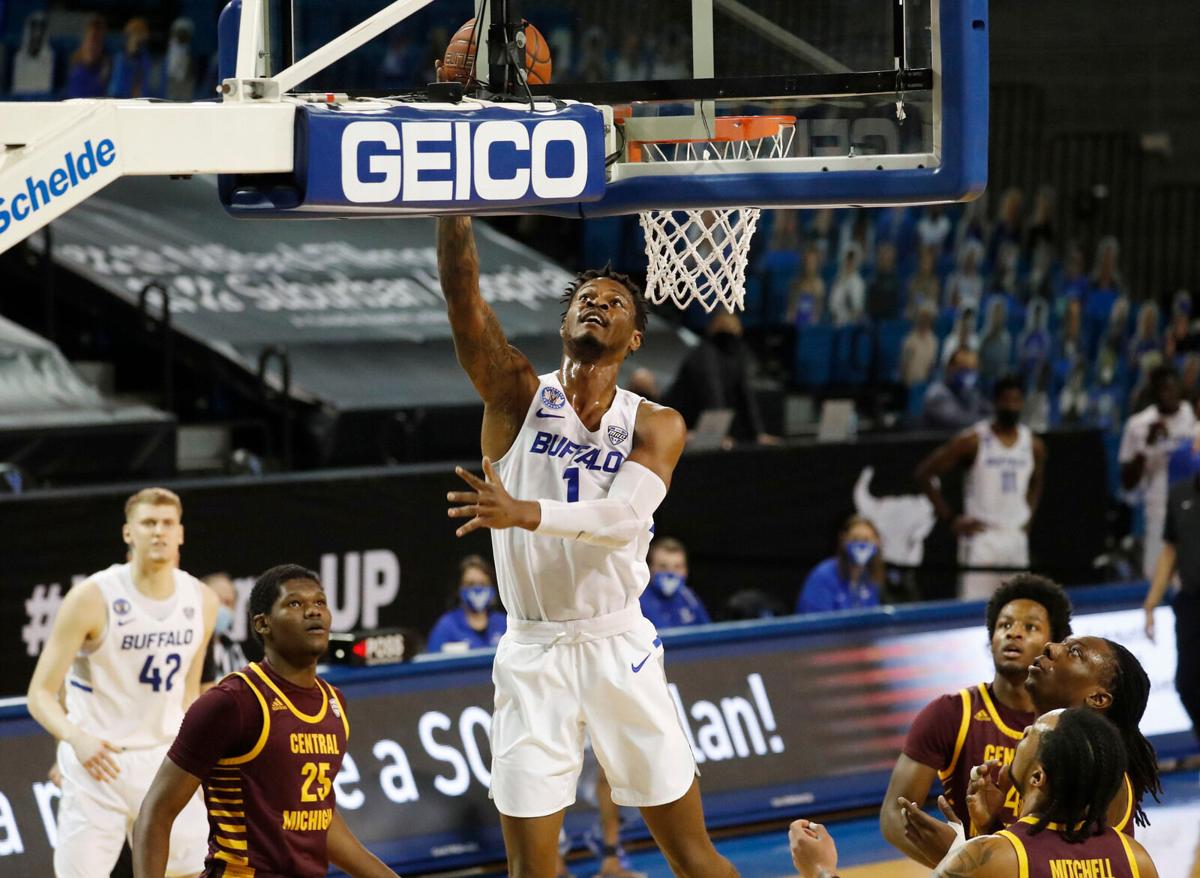 Right now, LaQuill Hardnett simply can't miss.
The 6-foot-8 forward on the University at Buffalo men's basketball team continued his consistent scoring pace, even as the Bulls struggled to find their 3-point shooting touch in an 85-73 win against Central Michigan on Thursday at Alumni Arena.
Hardnett scored 20 points for the Bulls – marking the second consecutive game in which he's scored in double digits – and had 10 rebounds for his first double-double at UB.
"I'm just playing as hard as I can, playing defense and rebounding, and it's just working out for me right now," Hardnett said.
"Everybody is always worried about the other four guys I'm out there with, some prolific scorers, and I'm usually one-on-one, and I just gotta keep my head on the rim and finish. We've been working on finishing all week, these past weeks, and we had a tough game against Toledo, finishing, so we've been working on finishing, a lot. It's just paying off right now."
Hardnett finished 6 for 6 from the floor against the Chippewas, and in his last three games, the redshirt sophomore has been a perfect shooter. He went 3 for 3 in an 80-70 loss to Toledo on Feb. 19 and 5 for 5 in a 102-74 win Tuesday at Northern Illinois.
"Kind of like a junkyard dog, he's doing all the little stuff that we need him to do and he's the first person that's taking initiative to stand up and be like, 'I'm going to do all the little things,' " said UB guard Ronaldo Segu, who had 14 points and 11 assists for his first double-double this season. "He's surrounded by a lot of great players, so he's just taking advantage of the opportunity he has. He's doing a very good job, and I want to continue to see his success grow."
Hardnett was one of five players to score in double figures for the Bulls (11-7, 9-5 Mid-American Conference), along with Segu, Jeenathan Williams (17 points), Jayvon Graves (15) and Josh Mballa (11).
Hardnett's performance highlighted a game in which the Bulls finished 5 for 22 on 3-pointers, including an anemic 1 for 14 in the first half. The Bulls, however, opened the first 2 1/2 minutes of the second half 3 for 3 from behind the arc, which helped them open an 8-point halftime lead to as many as 18 in the second half.
"We didn't shoot the three well, and LaQuill finished well, and Jeenathan finished well in the lane," UB coach Jim Whitesell said. "A lot of the threes, our footwork, just stepping into the shot a little bit quicker, or change it. We took a couple hard ones.
"It's a work-in-progress. I wasn't happy with the way we shot it, but I liked the way we finished the first half."
The Bulls have won five of their last six games, and clinched a spot in the MAC Tournament, which is scheduled to begin March 11 at Rocket Mortgage FieldHouse in Cleveland. The Bulls are currently fifth in the MAC and now pursue seeding in the MAC Tournament.
UB is scheduled to play at 2 p.m. Saturday at Ohio in a game that could impact MAC seeding. The Bulls are then scheduled to close the regular season with home games at 2 p.m. Tuesday against Akron and at 6 p.m. March 5 against Kent State.
The Bulls opened 0 for 7 on 3-point attempts in the first eight minutes, and Central Michigan (6-14, 2-11) cut UB's lead to 16-14 midway through the first half on Caleb Huffman's layup off a fast break, before Williams' bucket ended a shooting drought of 3:25 for the Bulls. UB went 0 for 7 from the floor in that span, including two blocked shots by the Chippewas.
Seventeen seconds after Huffman (24 points) cut UB's lead to 30-29 with 1:42 left, Tra'Von Fagan hit Buffalo's first 3-pointer, part of a 7-0 run that included Segu's layup just before the buzzer and helped the Bulls to a 37-29 lead at halftime.
"That gave us a lift, because we were struggling," Whitesell said of Segu's late first-half layup. "We weren't playing very well. We were a little bit out of sync. It was a good way to finish, going into the half up by eight."
UB opened its lead to 13 points less than 2 1/2 minutes into the second half, on account of its 3-point shooting. Hardnett's 3-pointer gave the Bulls a 48-35 lead and forced Central Michigan to call a timeout.
By that point, the Bulls had three players in double-figures in scoring – Hardnett, Williams and Segu – and led by as many as 15 points in the first five minutes of the second half.
"LaQuill, Rondo and Jayvon really got going in the first couple minutes of the second half," Whitesell said. "We had some defensive lapses, but we were able to cover them up with some good offensive play. We weren't perfect, but we've got to keep building off this."
MAC announces tournament procedures
The MAC announced Thursday that it will seed its men's and women's conference tournaments on the basis of win-loss record. 
The MAC women's tournament is scheduled for March 10-13, and the men's tournament is scheduled for March 11-13, both at Rocket Mortgage FieldHouse in Cleveland. The MAC will announce its eight-team men's tournament field March 5, and its eight-team women's field March 6.
The MAC originally planned to seed its conference tournaments by team winning percentage.
If a team opts out of the tournament due to Covid-19 issues, the No. 9 team will be added to the tournament field, and seeds will be adjusted according to which team had to opt out.
The MAC's tournament champion will earn an automatic bid to the NCAA Tournament, but if a champion cannot be crowned, the automatic bid will go to the MAC's regular-season champion, as determined by its conference regular-season record. A tiebreaker will be used if there is a tie between two or more teams.
If the regular season champion cannot accept the bid due to Covid-19 issues, the automatic bid will then go to the second-place team. If the second-place team is unable to participate, the tournament bid will then go to the third-place team and so on until the bid is filled.