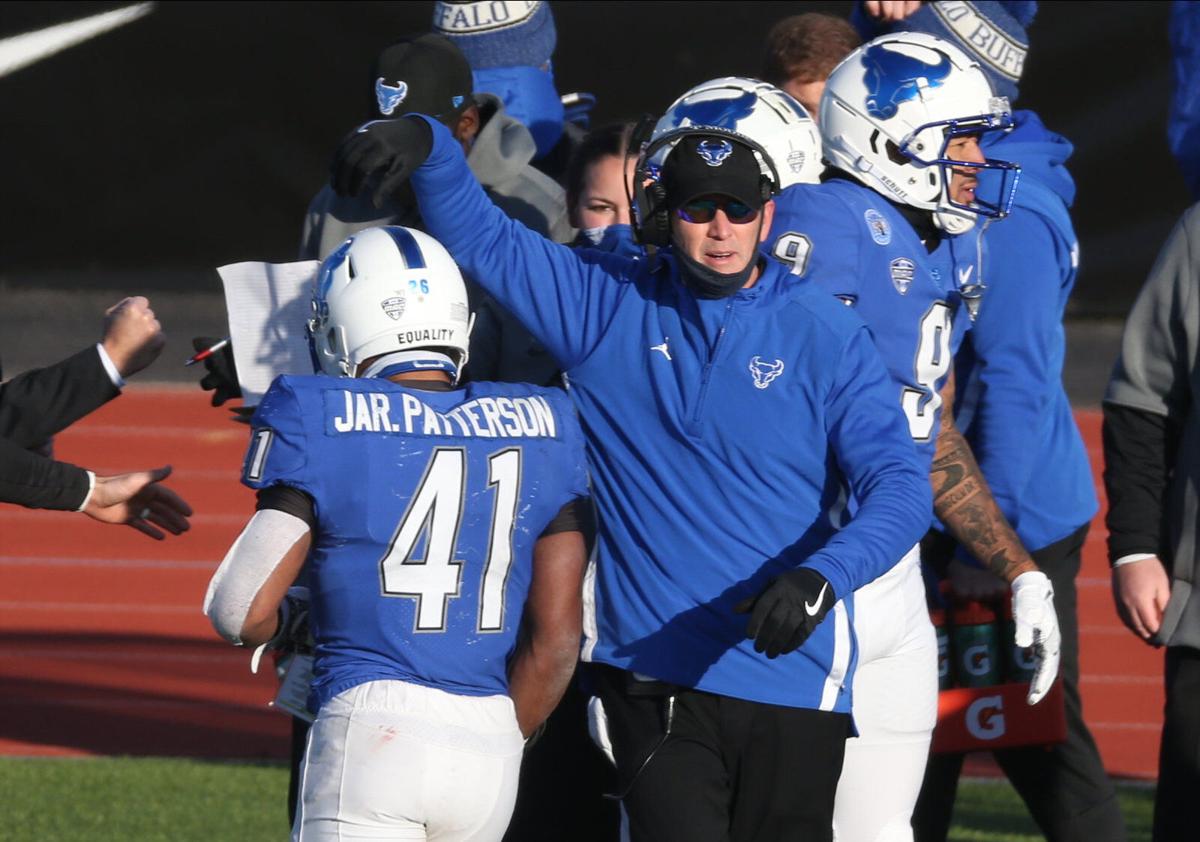 The timing of Lance Leipold's arrival at the University of Kansas was unique. Spring practices were about to wrap up for the Jayhawks, but about a month remained before the expiration of the NCAA's mandated recruiting dead period. 
None of that deterred Leipold, though, or the people who hired Leipold away from the University at Buffalo.
Kansas formally introduced Leipold as its football coach Monday in Lawrence, Kan., three days after it announced his hire. In his first formal public remarks as Kansas' coach, Leipold outlined his goals and also reflected on his path to coaching a Power Five program, after spending the last six seasons at UB.
"Our plan is to win, and win with the players that are here right now," Leipold said. "This isn't a situation we're going to look for when we get our players in. I said the same thing at the last job, and I feel very strongly about that."  
Leipold, whose teams at UB won two MAC East Division titles and were bowl-eligible in the last four seasons, also emphasized patience. The Jayhawks haven't won more than three games in a season in the last 11 seasons, and their last season with a winning record was in 2008, when the Jayhawks finished 8-5 under Mark Mangino.
Leipold also acknowledged the challenge of turning around a program; he did the same at UB.
"We've got to be able to find ways to get better here today, and that will translate," Leipold said. "When we continue to go through the daily process of improvement, and establishing what we want to be, the wins and losses are going to take care of themselves."
With regards to the timing of the process, Kansas athletic director Travis Goff joked during Monday's introductory news conference that he might have bombarded Leipold with a number of video calls through the process. Goff, who was hired April 7 as Kansas' athletic director, had the immediate task of hiring a football coach after the school mutually parted ways with former coach Les Miles in March.
That hire came together in a matter of three weeks, and Goff was confident in his hire on Monday and confident in the process and the timing that brought Leipold to Kansas.
"We've got the right guy," Goff said. "There's just no question. That's based on who he is as a man, and that's based on an incredibly well-built, proven track record of success and program-building, and care for the young men he leads, which has been well-documented, every step of the way."
Leipold did not give specifics regarding the potential makeup of his coaching staff at Kansas, but said the staff could come together quickly. Leipold said he is open to retaining coaches on the Jayhawks' current staff. 
"As we put this staff together, this isn't for one season," Leipold said. "We are going to put a staff together for the future. Back to the words about 'continuity' and 'consistency.'
"As I evaluate the situation, that's going to be first and foremost, fit and holistically.
As he prepared for his first full week of work at Kansas, Leipold leaned on a road map of sorts: the experience and perspective he gained at UB.
"Leadership becomes extremely important for consistent expectations," Leipold said. "One voice, many times. I think that was probably one of the things in the early days (at Buffalo) was different, and maybe not understanding everything. But definitely, those years in Buffalo, and what we went through and how we built it in different ways is going to help me through this, right now."
Leipold's contract at Kansas
At Kansas, Leipold will more than triple his most recent salary from his final season at UB.
According to his contract, obtained by The News through an open records request, Leipold will make $2.2 million in his first year – an annual base salary of $500,000, an annual multimedia activities payment that starts at $1.36 million and an annual publicity rights payment of $340,000.
At UB, Leipold earned an annual base salary of $474,300, with an annual additional compensation of $150,000.  
Leipold signed a six-year deal that runs through April 28, 2027, though the date the contract was signed was redacted by the University of Kansas. The multimedia activities payment will increase by $200,000 after each of his first two seasons, then increase by $300,000 after May 1, 2024. That payment will drop back to $200,000 through the remainder of the six-year contract.
If Leipold stays through the life of the initial contract, he is on schedule to make $3.3 million in the final year of the contract.
If Leipold leaves Kansas before Dec. 31 of this year, the buyout fee is $6 million, and it drops $1 million each year. If Leipold is fired without cause from Kansas, the school would owe him 70% of his remaining base salary, professional services and royalty payments.
Leipold will receive a $50,000 bonus if Kansas wins seven games in a season. He will receive a $50,000 bonus if Kansas is ranked in any of the Top 25 polls, $150,000 if Kansas plays in the Big 12 championship game, $100,000 if Kansas plays in a non-New Year's Six bowl game, $150,000 if it plays in a New Year's Six bowl game, $350,000 if Kansas makes the College Football Playoff and $500,000 if Kansas plays in the CFP national championship game.
Leipold also will receive a membership to the Lawrence Country Club, the Jayhawk Club, two top-of-the-line vehicles, four tickets to each Kansas basketball home game at Allen Fieldhouse, travel expenses to and from Kansas football away games for his family and $50,000 in relocation expenses.