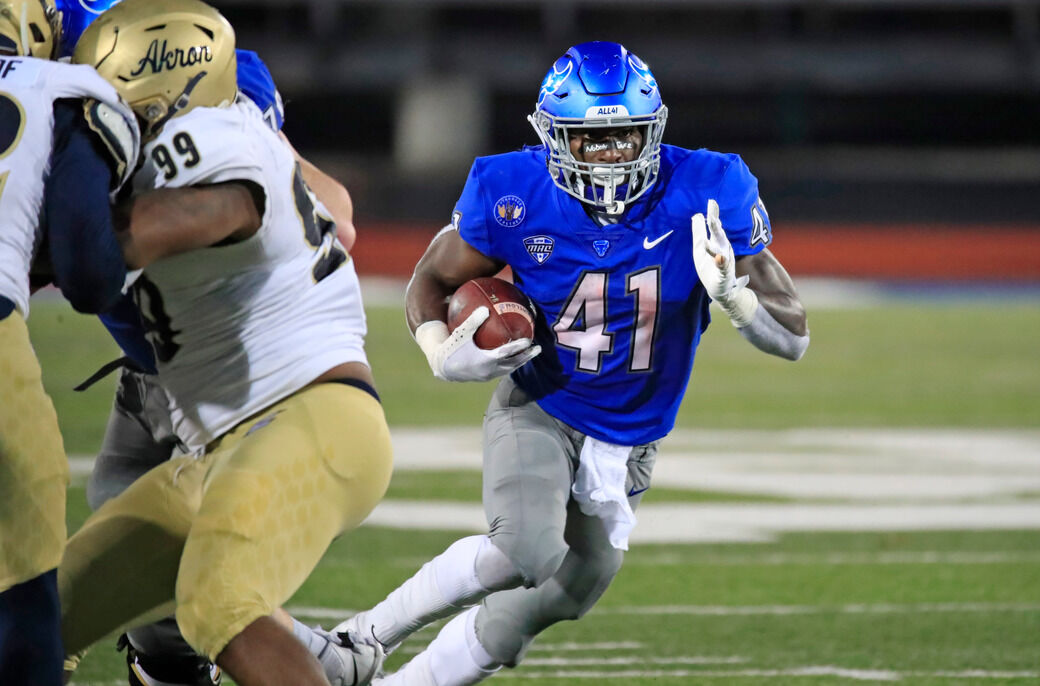 The jubilation coming from the University at Buffalo football team was palpable.
The Bulls needed a late-game defensive stop to secure a 17-10 victory against Marshall in the Camellia Bowl on Friday in Montgomery, Ala., and the celebration was deserved for the Bulls.
Marshall gave UB arguably its toughest defensive challenge this season. The Bulls had become accustomed to playing in high-scoring games that almost always ended in wins in their Mid-American Conference schedule, but UB's win against the Thundering Herd came down to the final seconds.
"I'm still in a blur, right now, with the win," UB running back Kevin Marks said. "But each possession of this game counted. Every possession was critical."
UB's win came down to Marshall's final offensive play.
Marks gave UB (6-1) a 17-10 lead on a 2-yard touchdown run with 1:09 left in regulation. But on the ensuing drive, the Herd (7-3) moved 44 yards on nine plays, including a pass interference penalty against UB safety Roy Baker midway through the possession that advanced Marshall seven yards.
But on fourth-and-11 from the UB 21, Marshall quarterback Grant Wells dropped back and began to scramble forward, but Bulls defensive end Eric Black pulled down the redshirt freshman four yards behind the line of scrimmage, thwarting Marshall's attempt at a comeback.
"We were just trying to make sure everything stayed in front of us," said UB linebacker James Patterson, who led the Bulls with nine tackles. "We didn't let anything get behind us. Everybody had a great move on the tackle, and he finished on the sack."
The Bulls won their final game of the season without two of their marquee players, running back Jaret Patterson and defensive end Malcolm Koonce.
Patterson, the nation's leader in rushing yards per game and a USA Today All-American selection, sustained an injury to his right knee last week in the MAC championship game, and James Patterson said after the game that his twin brother and their family decided that Jaret should not play in the game.
"We thought it would be the best for his future, and that's all that went into it," James Patterson said. "Nothing else.
"It was kind of emotional, going into it, but he had to be the leader that he is. He wasn't going to pout about it. But he was going to be the best hype man he can be."
UB coach Lance Leipold originally expected Patterson to play in the bowl game. Patterson, Leipold said, took reps on Wednesday, but when UB got to Montgomery, Patterson wasn't feeling as well as he did earlier in the week and wasn't progressing in his recovery.
"We all know that Jaret has a bright future," Leipold said. "We had to protect him, as well. His family was more, he shouldn't. He went out, put his cleats on, did some stuff and said, 'It really doesn't feel any better.'
"I would say since the time we arrived here, we knew it was a pretty slim chance he was going to play."
In Jaret Patterson's absence, Marks ran for 138 yards on 35 carries, and eclipsing 100 yards for the third time in seven games this season. His fourth-quarter touchdown set up Black's resounding shutdown sack of Marshall's quarterback.
"To come out here and do what we did against one of the top defenses in the nation is big time," said Marks, who was named the Camellia Bowl's most valuable player. "Trying to get JP ready throughout the week, but our best option was to keep him safe."
Koonce told the News in a direct message that he opted out to prepare for the NFL draft, and a UB athletic spokesperson told the News that Koonce did not travel to the bowl game.
Even without Koonce, UB's defense kept the Herd (7-3) in check, allowing just 112 yards on 22 plays in the first half, and sacked Wells (13-for-20 passing, 114 yards) four times.
"I thought it was a defensive battle, all along," Marshall coach Doc Holliday said. "That last drive, they made a couple plays there, and they just made a couple more plays than we did, at the end. We take it back down the field there, and, unfortunately, we had a couple sacks."
UB quarterback Kyle Vantrease (16-for-20 passing, 140 yards, interception) gave the Bulls a 7-0 lead a little more than three minutes into the second quarter on a 1-yard touchdown run, and Alex McNulty's 25-yard field goal – his first field goal of the season — gave the Bulls a 10-0 lead with 5:33 left in the first half.
But after a disorganized start in which the Herd couldn't get into UB territory on its first three possessions, the Herd strung together a 12-play drive, highlighted by Wells' 31-yard pass to Corey Gammage, which set up a 2-yard touchdown run by Knowledge McDaniel to cut UB's lead to 10-7 with 42 seconds left in the half.
Shane Ciucci's 21-yard field goal tied the game at 10-10 6:12 into the third quarter. Ciucci's 43-yard attempt with less than four minutes left in the third quarter went wide right.
Marshall safety Nazeeh Johnson (11 tackles) intercepted Vantrease at the Marshall 10 on UB's first play of the fourth quarter, which ended a six-play, 41-yard possession. A little more than seven minutes later, UB began the go-ahead drive that ended with Marks' touchdown.
Black's second sack of the game, with less than nine seconds left, wrapped up UB's second bowl win in as many years.
"It just showed the relentless team we have, and the fight, to never give up," Marks said. "And the will to win. And the passion we have for the game."