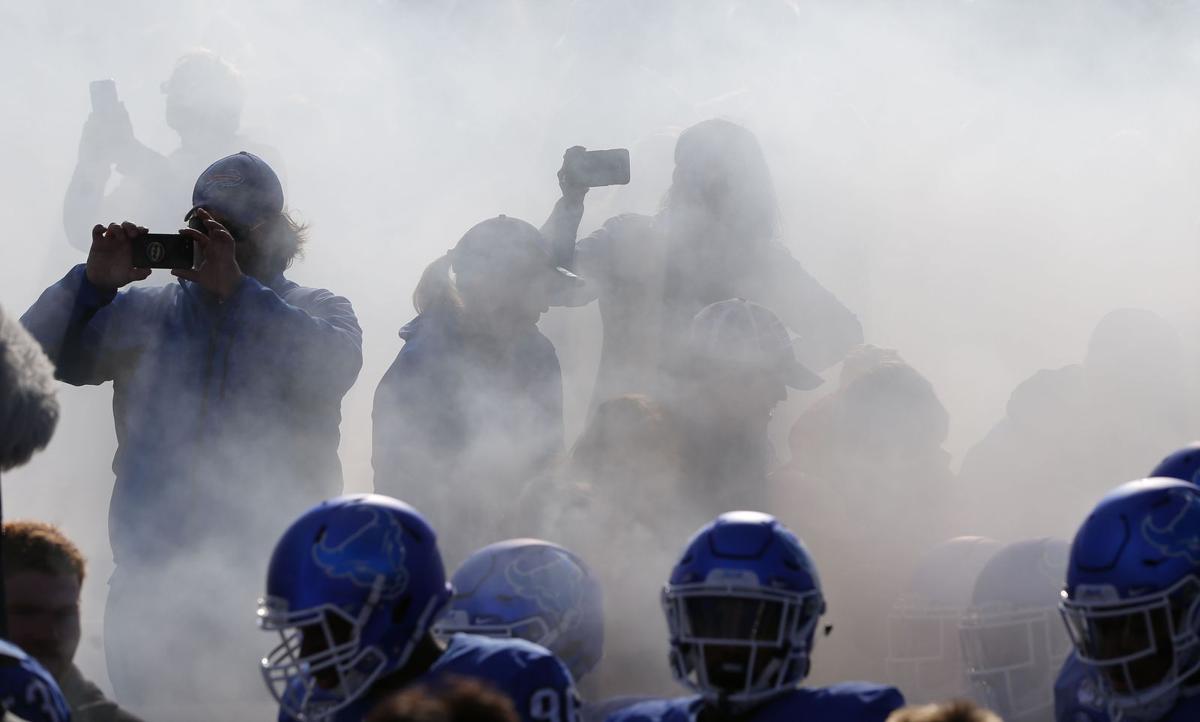 If Joe Licata were a quarterback on the University at Buffalo football team now, he'd want to return to campus to take part in offseason and preseason workouts.
But Licata is the football coach and athletic director at Bishop Timon-St. Jude. He's gained some perspective on organized sports in a pandemic. When asked if our society should be moving toward a college football season as the spread of Covid-19 continues, Licata acknowledged that while it's a yes-or-no question, it's also one that is heavy with many layers.
"Guys in the NBA are in a bubble; they're undergoing daily testing in Major League Baseball; they're probably not going to allow students to go back to campus, but (schools) want kids to go return to campus and play sports, to make money?" said Licata, who played at UB from 2012 to 2015. "You're telling college kids, you're going back when it's not safe enough? And we're still not going to pay you? It's a crazy, crazy thought to me.
"At the college level, it's one-sided. No kid is going to say no to playing football. If I was back in college, I'd want to play, too, but it's not fair of them to risk anything."
The Covid-19 pandemic has created an unlikely convergence of public health, player safety and economics in the multibillion-dollar industry of college football.
The NCAA's Board of Governors could make a decision regarding fall sports championships as soon as Tuesday, after delaying the decision July 24. Canceling or postponing fall championships wouldn't directly affect the 130-team Football Bowl Subdivision, which crowns its champion through the College Football Playoff and not the NCAA, though it could impact decisions that conferences with FBS programs make regarding their fall seasons.
But with the clock ticking toward the start of college football season, should the games be played, or put on hold for the sake of safety and public health? 
A public health scholar says the health of a community should be put before the fiscal interests of sports. A former athletic administrator fears the potential loss of revenue has become more important than safety. An economist says the impact of Covid-19 on human lives cannot be equated with the money college sports stands to lose. And a football star turned coach faces the challenge of how to explain the scope of what's happening to his players. 
"Has higher education lost its mind and its moral compass?" said Donna Lopiano, the president of the Drake Group and a former director of women's athletics at the University of Texas. "Everybody who is educated understands what is going on. They understand science has to prevail. They understand the health of a human being comes before anything else. ... 
"It's a no-brainer, in terms of what you shouldn't do. And everyone is doing the opposite – for money."
Rutgers, Michigan State and Colorado State announced in the last week that each program had paused its offseason football workouts after Covid-19 outbreaks.
They're three of at least 27 Division I teams at Football Bowl Subdivision or Football Championship Subdivision schools that have paused or delayed summer workouts, according to a Buffalo News database that is tracking Covid-19 cases at the FBS and FCS levels. Major League Baseball suspended the Miami Marlins' season Tuesday after 15 players (now 19 players) and two staff members tested positive for Covid-19 in a five-day span.
When Licata sees how Covid-19 impacts college and professional sports, it gives him some pause, as a coach, as an educator and as a former college athlete. But he also considers the different points of view that go into the decisions.
"Players are always going to want to play," Licata said. "They're competitive people. Coaches want to play. Administrators have to be rational and take emotion out of the equation, which can't come into play when we discuss health and welfare."
Licata has had conversations with college football players about returning to campus for preseason practices, and said their concerns are varied. Every player he talks to wants to play this fall, but they're also heeding concerns of their families.
Licata also has to balance the role of being an adult and a supervisor with understanding the perspective of teenagers, as he explains the value of preventative measures.
"A lot of people don't understand what's going on, but at that age, how do you tell a kid, 'Stay inside, wear a mask, don't go out and shoot hoops at the park?' " Licata said. "That age group hasn't suffered the most sickness from this virus. I don't think they have a full respect or understanding for the disease. But instead of me preaching, we have to understand that this is a tough age for them to grasp what is going on in the world. ...
"They're asking why they are forced to wear a mask and walk into a weight room, and that spikes your anxiety levels. Whether you have an awareness of what's going on or not, that's a scary thing."
Instead, Licata simplifies the message to his team at Timon, whom he speaks to regularly through Zoom: "I'm telling them, 'Please, make the right decisions.' "
Kathleen Bachynski, a professor of public health at Muhlenberg College in Allentown, Pa., sees the decision to host a college football season from an epidemiological standpoint.
"We have a high transmission rate across the United States," she said. "In the United States, we have a lot of regions where we do not have a contained spread. With college sports, you have a number of challenges. You don't have the resources professional sports has, and you don't have the ability to create a bubble, practically or ethically."
Students are traveling from across the country and across the world to college campuses, and entering areas that might have low transmission rates or to regions like New York that continue to flatten the curve.
"That is a challenging setup for a respiratory disease," Bachynski said. "It's very hard to socially distance in a college dorm. You have a lot of people in a small space. There are communal spaces like bathrooms, too, and you don't have the ability to easily quarantine or isolate if you test positive or if you are exposed to Covid-19. It's very difficult."
In addition, people from the community surrounding the campus come into the campus, including academic faculty and staff members, librarians, custodial staff, cafeteria staff, bus drivers and athletic staff.
Bachynski conceptualizes the close ties of a college campus as a chain. Each individual is a link in a community, and transmission works in multiple directions. If a football player takes a class with a professor who lives with a nurse who works in a local hospital, all three could be the source of an infection.
The biggest obstacle to a sports season, Bachynski said, is the transmission of the disease, one that doesn't have rapid and widespread testing and isolation, and no public infrastructure to lower the levels of transmission.
"I am concerned the community aspect of college sports is getting lost," Bachynski said. "The connection to the campus community and the connection to the community, as a whole.
"I don't want it to take a serious case, an athlete to be hospitalized, for people to make this happen."
Lopiano has been involved in athletics as a player, as an administrator and as an educator for more than 50 years. She can't remember any event on the scale of having to deal with Covid-19, save for the H1N1 virus outbreak in 2009.
At the time, she was consulting at a high school that was planning a trip to Europe for its students, and she immediately told the school to cancel. Lopiano was not about to put students at risk of contracting the disease.
"Why would you even think about sending your child on an airplane?" said Lopiano, who is also the president of Sports Management Resources. "No one knew at the time what we were dealing with, exactly, but we were fortunate. This, now, this is big-time serious."
As of Friday, 91 FBS athletic programs and 25 FCS programs had either confirmed or had reported positive Covid-19 cases among their programs, according The News' database.
The Metro Atlantic Athletic Conference, the Big West Conference, the Ivy League, the Northeast Conference and the Atlantic 10 Conference announced in July that they will suspend fall sports and/or play them in the spring. The Big Ten, Southeastern and Pac-12 conferences will play conference-only football schedules, including football, while the Mid-American Conference will play conference-only schedules in all fall sports except for football, whose format has yet to be determined by the MAC.
What concerns Lopiano is that as of Thursday, at least 21 states have rising case numbers of Covid-19 and are still in Phase 1 of the Center for Disease Control's three-step reopening approach, and a college football season is still on the table.
"Here we are, engaged in an interstate activity where teams come from all over the country, where fans come across state lines, and this is a non-essential activity," Lopiano said. "(The California Interscholastic Federation) has said, 'No fall sports.'
"What is happening at the college level is that they're putting money first – trying to fulfill college television contracts over the health of students."
Dr. Michael Leeds, an economist at Temple University in Philadelphia, quickly dispels a myth regarding college sports: it's not a money-making entity. Instead, it's a spending entity. Colleges spend money in order to keep up with deep-pocketed programs such as Alabama football or Duke basketball. Division I college athletic programs are in conferences that receive money from bowl games and NCAA tournaments. The conferences then distribute the money to the schools. 
UB's athletic department had total revenue of $45,977,952, including $9,724,780 for football, for the 2019 fiscal year, according to its 2019 NCAA Membership Financial Report, which was obtained by The News through a Freedom of Information Law request. UB received $1,735,291 in NCAA distributions and $1,508,000 in conference distributions (non-media, non-bowl game) during the 2019 fiscal year. UB also received $1,364,500 in guarantees, including $1,050,000 for football.
Is money solely driving these decisions at the college level?
Charles Clotfelter, professor of public policy, economics and law at Duke University and the author of "Big Time Sports In American Universities," said there's an intangible need for sports, too, which are commercial and financial operations, to a degree, but also a staple in campus and community life.
"Sports are cultural, institutional and devotional, something you can't put your finger on," Clotfelter said. "The people whose granddaddies went to the Minnesota-Wisconsin game every year, and now they're going, too. They have a feeling where they can't put a dollar figure on it.
"It's not all dirty money. It's the whole relationship between higher education and big-time sports. It's sort of paved with something that goes from puffery to hypocrisy. Universities ought to say, 'Yes! We do this! We're not ashamed of this, and we think these are tradeoffs.' "
But there will be a defined economic impact on college athletic programs because of the Covid-19 pandemic. Leeds says it will be "a major hit." ESPN reported in May that the pandemic could cost college football $4 billion if the season is canceled.
"You're seeing all these costs for programs without revenue," Leeds said. "This is one of the reasons you're seeing what I regard as unconscionable behavior of many institutions of higher learning. You have coronavirus cases at these schools, like Clemson, which is going online for everything but football. If it's not safe for students, then how can it be safe for the football players?
"An unpaid young man being placed in that situation? It is gut-wrenching."
If there is a debate to be had – public health versus fall sports competition – Leeds considers the debate to be on a larger societal scale, not on an economic scale. The country, he said, completely botched its response to Covid-19 because leaders at the state and national level placed a priority on the economy.
"They didn't want to see that if you don't have the virus under control, you can't reopen the economy," Leeds said. "Now they're paying the price. What we're seeing in college sports is the same thing. It's about the money. I think we've seen tens of thousands of people die in U.S. because of these decisions. As the parents of (University of Michigan football player) Chris Hinton said, 'Statistically, somebody's son is going to die.' That's a horrible thought.
"But it may well come down to that. And I think that's … patently horrible, but we as a society have already seen that happen to tens of thousands of people, unnecessarily. In some horrible, misguided calculus, why should this be any different?"