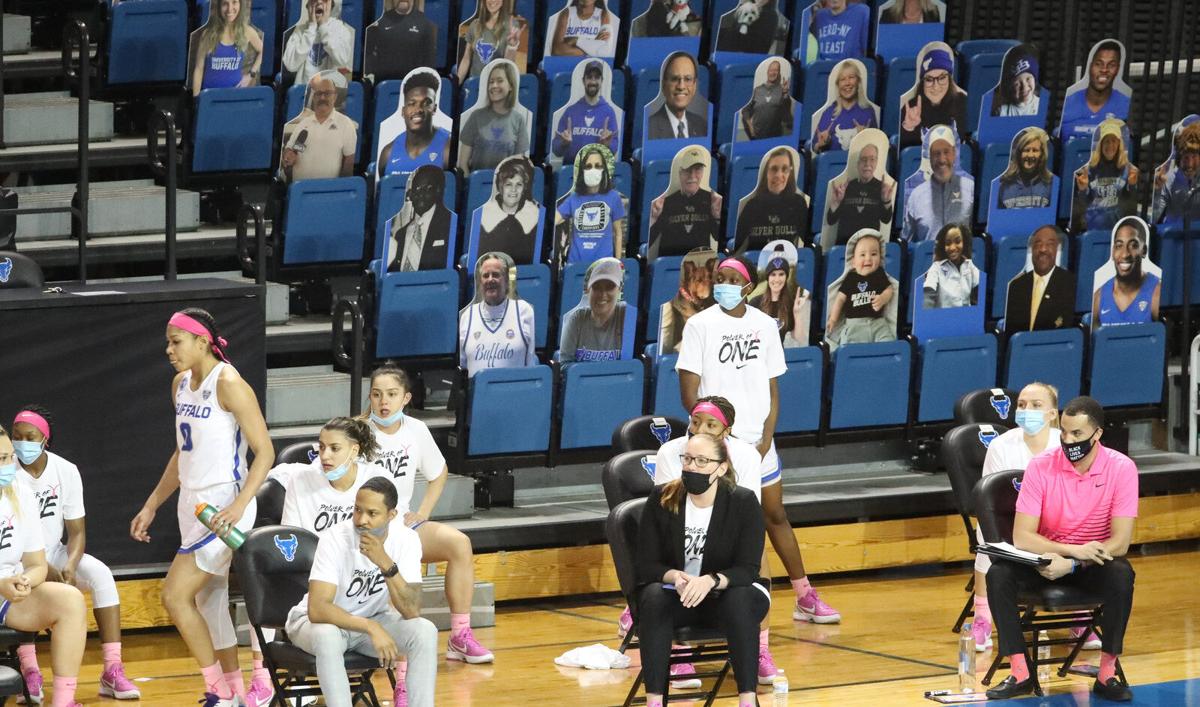 Anna Donnelly has been buoyed by being able to play her final college season with her parents in the stands at home games for the Niagara women's lacrosse team.
Niagara has limited attendance to two spectators for each home athlete at its spring sporting events as a Covid-19 precaution. But when the Purple Eagles have traveled to face other Metro Atlantic Athletic Conference opponents, Donnelly and her teammates notice that few, if any, spectators are allowed, which takes away from the atmosphere.
"Any athlete wants a support system there, in addition to having their team there, as well as athletes, family and friends at the game," said Donnelly, a Lancaster graduate who plays defense. "We do, absolutely, want that there, but moving forward, the school and the conference make those decisions, and some schools and conferences haven't been able to do that."
There's a reason for that, and for restrictions that still surround college athletics. The Covid-19 pandemic continues, more than 14 months after it was first identified, even with the ongoing vaccine rollout and declining case numbers and positivity rates across the country.
College administrators and coaches at the local, regional and national levels plan on fans returning in the fall, but they also understand getting back to normal – or creating a new normal – hinges upon multiple factors, including whether the pandemic wanes or waxes.
Many students already have had at least one shot, despite having access to it only for the past few weeks, according to local higher education administrators.
"The virus definitely has the ability to dictate our steps," Niagara athletic director Simon Gray said. "We'll be monitoring its impact, everywhere, and specifically in our region.
"We're all in a cautiously optimistic state. It feels good to be able to plan for more engagement in the future and in the immediate future, the fall of 2021. That's a welcome perspective. However, we still have to be mindful that there are so many ups and downs we have to prepare for."
Daemen athletic director Traci Murphy said it is too early to project what the 2021-22 school year will look like for athletics, but noted that any plans need multiple contingencies.
"We're very hopeful that it could be what we're used to," she said. "It may mean you show proof of vaccination when you arrive to an event. We've talked in broad strokes about what we can do."
But, she added, "I'm looking forward to getting back to some sort of normal."
"We're looking at an opportunity for students to come to a game," UB athletic director Mark Alnutt told The News.
How vaccinations could impact college athletics
The distribution of vaccinations is helping the proverbial light at the end of the tunnel grow brighter.
Of the schools whose administrators spoke with The News, none require students or employees to be vaccinated. However, many administrators point out they are "strongly encouraging" athletes, coaches and athletic staff members to get vaccinations.
The NCAA announced last week that athletes, coaches and Tier 1 personnel who are fully vaccinated and have no Covid-19-like symptoms are exempt from routine testing, as of Saturday. Athletes and other Tier 1 personnel who are not vaccinated must undergo testing at NCAA championship events this spring.
Athletes and Tier 1 individuals who are fully vaccinated also won't be required to quarantine or be tested if they are exposed to someone who has Covid-19 symptoms or who tests positive for the virus. 
Of the seven active men's and women's Division I basketball programs in Western New York only five have reached the 13-game threshold to qualify for NCAA Tournament consideration.
"We're hoping that we're in a position that the majority of faculty, staff and athletes are vaccinated prior to the fall season," UB athletic director Mark Alnutt said. "It's also about monitoring guidance from the state, from the county, from the NCAA. There are a lot of questions that need to be answered."
Lance Leipold, the former UB football coach who was recently hired at Kansas, said earlier this month that he is fully vaccinated, and that most of the football staff at UB has been vaccinated.
"As vaccination numbers go up, I think it gives everyone a feeling that we're turning a corner and we can get back to normalcy, whatever that new normalcy will be," Leipold said. "We've been able to operate in a healthy mode most of the year (in football), and there aren't lingering things going on. All those things are important.
"If we're going to be the front porch of the university, I would hope people have felt that it's worked for us and we've been able to operate in a productive way."
Some college athletic programs are considering mandating proof of vaccinations as standard for fans to attend events.
"That could be on the table, absolutely," said Barb Questa, St. Bonaventure's deputy athletic director. "We would be remiss not to look at that as an option if it gets people in the building. If you can have only 1,000 in the building, we have to figure it out, who are those 1,000 people? Are they students? Season-ticket holders? This is all part of the dynamic you have to look at.
"If a school chooses to go that route, and you have proof (of a vaccination), it's easy to let people in and figure out how to socially distance them. If we can have more people and incorporate alumni, that's great, too."
But there is also the issue of how to handle those fans who are hesitant to get inoculated.
"The vaccine has been a touchy subject, and it can tend to lean towards political ideologies," said Donnelly, the Niagara lacrosse player. "But if we feel that as student-athletes, this can help us move forward, and if an athlete makes the decision (to be vaccinated), I think it's the right thing to do.
"With fans so far, even though we've had limited fans, we haven't had any cases among them. A lot of our parents have been vaccinated, and I'm pretty sure almost everyone on my team has gotten the second dose."
Returning fans to the stands
Local college athletic programs have already started the process of scheduling games for fall and winter sports, including football and basketball, and will see variety in limitations on fans at away games.
UB is scheduled to play football at Nebraska in the second week of the season. Nebraska had an announced crowd of 36,406 for its spring game Saturday at Memorial Stadium, which has a capacity of 90,000. VCU, which is in the Atlantic 10 Conference with St. Bonaventure, is planning to host events at full capacity for the 2021-22 school year. The St. Bonaventure men's basketball team is scheduled to play in November in the Charleston Classic in South Carolina, which has lifted its mask mandate and loosened restrictions on large gatherings.   
At UB, Alnutt said a combination of vaccinations, compliance with Covid-19 guidelines and continued mitigation of the virus, as well as local, state and county guidance, will steer the terms of returning crowds to Alumni Arena and UB Stadium.
"We feel that with the information we have, we'll be in a good place," Alnutt said. "We also need to hope that the numbers are trending in the right way for us to be in a spot that, whatever guidelines the state hands down or what presents itself, that we can have fans.
"It's never going back to 2019. We understand that. But for us to provide that atmosphere will be a huge benefit."
Niagara did not allow spectators at its winter athletic events, including men's and women's basketball games at the Gallagher Center and hockey games at Dwyer Arena. The school is allowing two spectators per athlete at spring events, but pre-registration and on-site temperature checks are required.
"I would like to have fans back on our venues, because that is such a huge part of the experience for athletics, for the coaches and athletes and for the university," Gray, Niagara's athletic director, said. "I'd hope the situation continues to improve and we can implement policies. We had the shutdown (in 2020) and as life as come back in incremental steps, we've used the health department guidance as guidance for the approval of plans. I see a similar progression, as things become more possible, and I expect the athletic department will walk right alongside the campus and its decisions and (Niagara) County and its decisions."
Canisius' athletic department is also taking an inform-and-decide approach.
"Canisius is doing everything we can to get back to the normal college experience," Canisius athletic director Bill Maher said. "That's what our goal is, including having fans. We've been able to take small steps this spring by having family members and students attend games, and we're pointing towards opportunities to have fans back in the athletic facilities by the fall of 2021. But if there's a path forward and vaccines are a part of that, we want to take that into consideration."
Questa said bringing spectators back into facilities at St. Bonaventure will rely on a number of factors.
"It's a combination of where the area is at the time, with positivity rates, as well as how many students and staff are vaccinated," she said. "How do we socially distance? The Reilly Center is also undergoing renovations this summer, more behind-the-scenes things, but we are going to look to figure out within those guidelines and updates, how do we do this?"