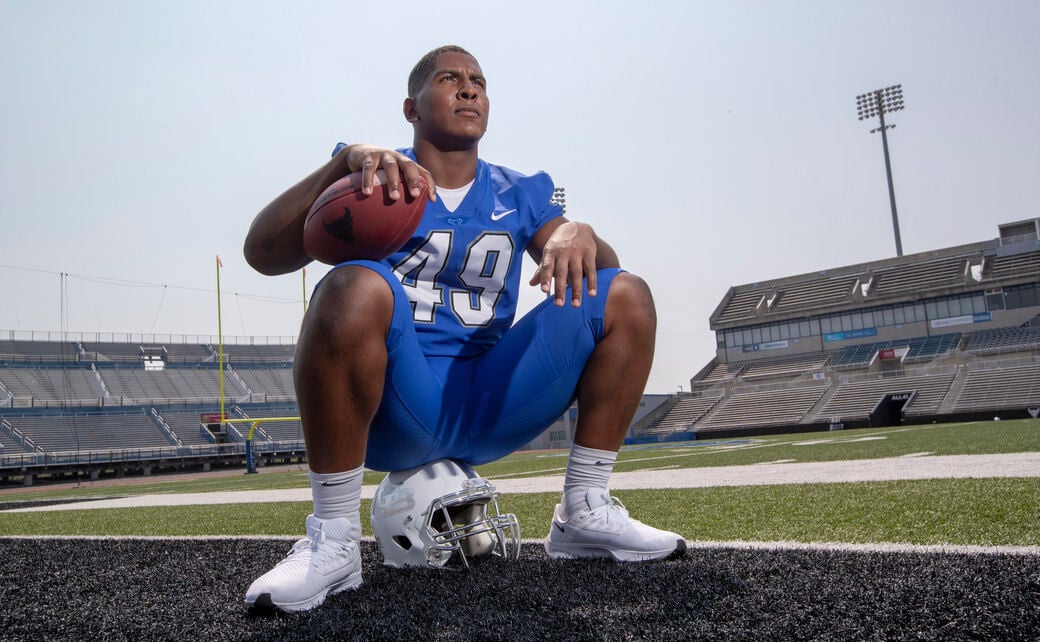 Taylor Riggins had no trouble rediscovering his place on the University at Buffalo football team's defensive line.
Playing in his first game since Dec. 20, 2019, Riggins tallied two sacks and six tackles, and helped the defense allow just 97 yards in a 69-7 win against Wagner in its season opener Sept. 2 at UB Stadium.
The task got tougher last weekend, in the Bulls' 28-3 loss at Nebraska. Defending against a higher grade of offense, though one that was still prone to making mistakes, the Bulls gave up 516 yards offense, including 220 rushing yards.
Like many teammates, Riggins can point out the breakdowns, and the usually reserved defensive end isn't afraid to speak up.
Riggins' return after missing all of last season with a lower body injury is a significant boost for the defense, because of his productivity and leadership. A fifth-year senior, he knows he has to use his voice to help the Bulls (1-1), who host No. 16 Coastal Carolina (2-0) at noon Saturday at UB Stadium.
Riggins noted that in the loss at Nebraska, one of the issues the Bulls faced was communicating – or not communicating. It's an area the Bulls need to rectify if they want to contend with Coastal's offense, which is averaging 535 yards per game, tied for 13th in the nation.
"The main thing we've talked about is communication, and echoing the call," said Riggins, who has 10 tackles in two games. "That's one thing we've practiced. Everything we do, whether it's weight room, practices, even stretches, it's about communicating so that mistakes aren't made. It's something that we're not done with yet."
Riggins' path to UB wasn't direct. He went to Aquinas Institute in Rochester and committed to play college football at Syracuse in January 2016, but flipped to Massachusetts after Dino Babers was named coach of the Orange.
Riggins, though, transferred to UB after a year at UMass, and after sitting out the 2017 season due to NCAA transfer rules, he also switched positions, from linebacker to defensive end. The transition was productive, for the Bulls and for Riggins.
Though slightly undersized for a defensive end at 255 pounds, he had 31 tackles, five sacks and three quarterback hurries in 14 games with the Bulls in 2018. He followed that by becoming one of the Mid-American Conference's top pass-rushers, with seven quarterback hurries, 8.5 sacks (second in the MAC in 2019) and 50 tackles, and was an All-MAC selection at defensive end.
He was poised to again be one of the MAC's more disruptive pass rushers last season – and, possibly, an NFL draft hopeful – but he sat out the entire year after he sustained a lower body injury during preseason practices. Neither Riggins nor UB has provided specifics of the injury. When asked, Riggins declined to elaborate, though he knew that he didn't have the luxury of time. He couldn't rush his recovery and return to UB's lineup, particularly in a season that was shortened to seven games.
Relegated to the sideline, Riggins made a point to expand his knowledge of an entire defense. As a player, he focused on the finer points of playing on the defensive line, but he looked at the defense as a whole when he wasn't on the field, and how it related to the defensive line's role and function. 
"It allows you to look at different coverages," Riggins said. "Overall, that helps you understand the game as a whole. It led to being more confident on more plays, and that helps teach the young guys, too, and get them up and running, as fast as they can."
He was a captain for the Bulls in 2019, and while UB is rotating its captains for each game this season, Riggins has used what he learned from that leadership role. He's made a point to foster better relationships among the defense, particularly among the defensive line, as a means to improve team camaraderie and to help players like defensive lineman George Wolo make the adjustment to playing college football. 
"It was a good group of guys who walked me in last season, guys who took me under their wing and showed me the ropes," said Wolo, a sophomore. "Seeing what they were able to do, I followed their steps."
This weekend, Riggins will lead a defense that has to prepare for one of college football's more intricate offenses when it faces Coastal Carolina.
"There's an element of carryover (from Nebraska), with the threat a running quarterback, in Coastal's quarterback (Grayson McCall) and (Adrian) Martinez from Nebraska," UB coach Maurice Linguist said. "There's elements that aren't the same but are similar, that we can build off of. There's a new scheme with a new opponent that we're going to introduce, but the option, with the element of the run, the pitch, the quarterback and the load option, those kinds of things that we saw last week, there's going to be carryover.
"But Coastal is unique in what they do. They present their own issues and formations and problems. We're putting a plan together to stop a very talented quarterback and a very good team."
The Chanticleers bring one of college football's more intricate offenses into UB Stadium, the spread option. It's a variation of the triple option, relies on movement and misdirection, and it's an offense that isn't common in college football. It's also one of the more productive, having accrued 101 points in its first two games.
"When you've got offenses like that, offenses that do a lot of movement, you've got to be focused in more on your gap and what you're doing, rather than trying to look at it too much, because that's when guys get confused," Wolo, a defensive tackle, said.
Riggins will see that offense firsthand, again. Riggins was a redshirt sophomore the last time the Bulls faced a team that played a similar scheme three years ago. Army, which runs the triple option, beat UB, 42-13, on Sept. 29, 2018, at UB Stadium. 
Riggins is quick to say what one of the keys is to defending the spread option.
"It's staying sound in your responsibilities," he said. "They're an offense that's good at what they do. The big thing for us is to stick to our assignments and keep the integrity and our responsibilities on defense."