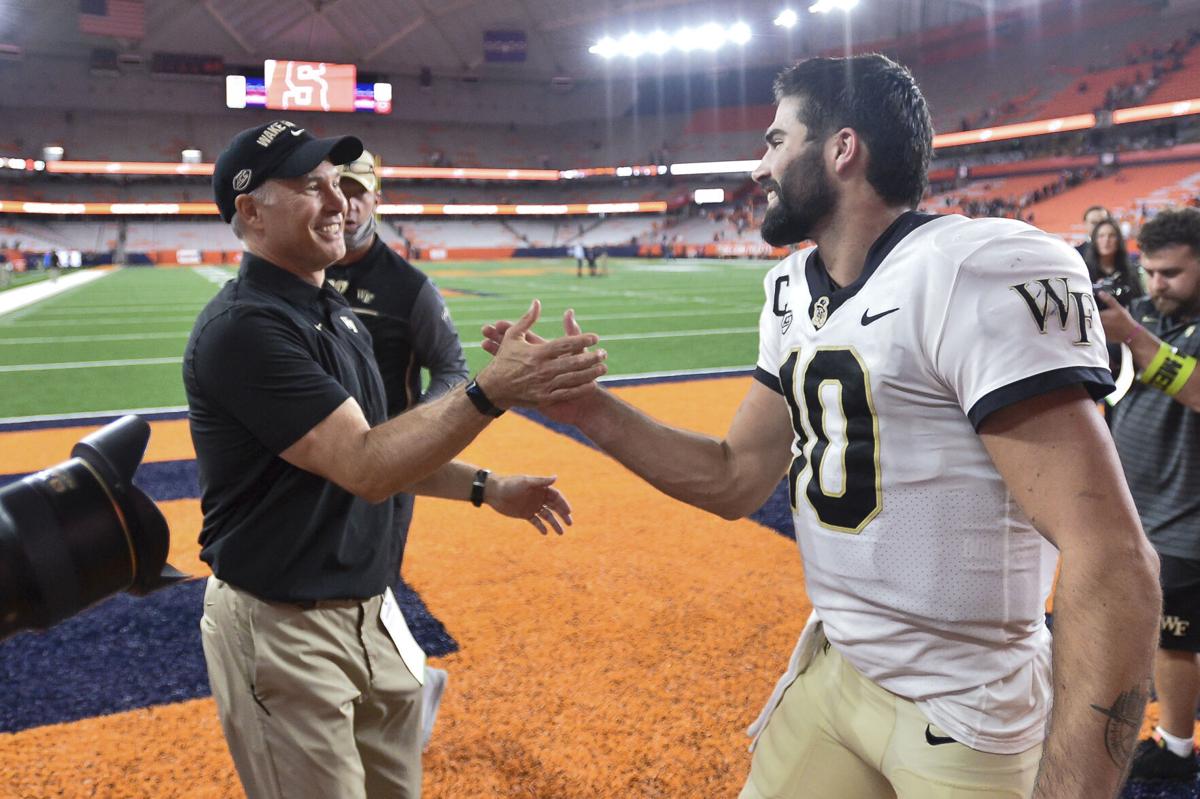 SYRACUSE – Nothing about remaining undefeated was easy for Dave Clawson and the Wake Forest football team.
But as Clawson met with the media after a 40-37 overtime win against Syracuse on Saturday at the Carrier Dome, it was hard to discern as much. The typically collected Clawson discussed the win with the same demeanor as he would in discussing doing a load of laundry, or getting a haircut.
Not too high, not too low.
Wake Forest is 6-0 for the first time since 1944. The win at Syracuse appeared to be another day at the office for Clawson, a 1985 Lewiston-Porter graduate who is in his eighth season as coach of the Demon Deacons.
Yet as referees reviewed footage for minutes to determine if A.T. Perry's game-winning touchdown in overtime, was, in fact, a touchdown – and it was – Clawson visibly kept his cool.
Underneath, though, Clawson sweated a little as officials reviewed if Perry had stayed in bounds.  
"I'd be lying if I didn't say I said a little prayer saying, 'please let it be in bounds,' " Clawson said after the game, with a wry smile. "That's what I was thinking."
Success is tangibly measured by wins and losses, but those closest to Clawson and those who have gone through Wake Forest in the last few years have followed his reclamation of the Demon Deacons. Wake Forest is No. 19 in the Associated Press Top 25 poll – consider that the most recent poll included Wake Forest but was absent of Atlantic Coast Conference juggernaut Clemson – and the win ticked Clawson's record at Wake just above .500, at 46-45.
"Our goal wasn't to be 6-0," Clawson said. "Our goal is to be a great football team and try to win a championship. I'm proud of where we're at but I think this team has a lot more bigger goals ahead of us, than being 6-0."
In the bigger scope, Clawson continues to foster a culture that values building relationships, whether it's with players, recruits or with donors, and one that instills a competitive atmosphere in which football isn't the end-all, be-all, but is a steppingstone to something else after college, whether it's entering the professional world or playing in the NFL.
Though, in Clawson's first seven seasons, NFL teams have drafted eight players from Wake Forest, including Bills defensive end Boogie Basham.  
"Wake did a great job of preparing me for the next level, with its practice schedule, and it did a great job of preparing me for that," Basham said. "Every day was about competition, whether you were a starter or a freshman coming in. Dave Clawson did that."
Alan Elia, one of Clawson's longtime friends from Lewiston-Porter, likened Clawson to a CEO in how he continues to mold the Demon Deacons. Clawson oversees a roster of more than 100 players, a 10-person coaching staff, analysts and graduate assistants and various support staff members.
"He knew he was in a little bit of a downtrodden program and he was replacing an icon, a 13-year coach and Dave had nothing but respect for Jim Grobe," Elia said, referencing Grobe, who resigned after the 2013 season. "But he went in, he evaluated the situation, he embraced the culture and he knew he had to recruit high-academic and high-standard kids, and that the facilities had to be improved to keep up with the rest of the ACC."
Clawson used the same tactic in trying to evaluate what a program has and what it needs to be successful – something he did in previous stops as a head coach at Fordham, where his first team was 0-11 in 1999, then won a share of the Patriot League title in 2002; at Richmond, where his first team in 2004 went 3-8, then reached the FCS national semifinals in 2007; and at Bowling Green, where his teams rebounded from losing seasons in 2010 and 2011 to win the Mid-American Conference title in 2013.
In Clawson's first seven years, Wake Forest has four winning seasons and has played in five bowl games. The win at Syracuse made the Demon Deacons eligible for a sixth bowl game under Clawson.
"It's not a surprise to us," said Matt Bradshaw, who graduated from Lewiston-Porter with Clawson and is the boys basketball coach at Nichols. "We know Dave and what he is capable of doing. I'm sure it's surprising to others, but not to us.
"Everywhere he has gone, it's been the same track record. He takes programs and builds them into consistent winners."
Basham saw Clawson's competitive nature, too. Not just the even-keeled individual with a demeanor better suited toward that of a teacher, but one that could level with people and make a point without raising a voice.
Basham also saw Clawson's competitive nature, as well as his ability to strategize, long-term, for the future of the program.
"The guys he brought in, each and every year, we all knew what the end goal was, to win ACC championships," Basham said. "We knew it wouldn't be easy, because they came off two losing seasons when I came in. We had some great seniors though, that put a platform down, and every senior class after that continued it.
"Now, there's no reason why they shouldn't win it. Everybody on that team, they know the philosophies."
Sam Hartman, Wake Forest's quarterback, pointed to Clawson's consistency as a coach as a reason for his team's success so far this year.
Clawson, he said after the win at Syracuse, expects the same standard of his program and his players every day. 
"We pride ourselves on executing and all the fine details of the game. Even today wasn't great. But we executed. We were ready for situations. We were ready to go for two in the moments we needed to go for two.
"His consistency as a coach and as a person is really what makes us tick. For me, especially, with a head coach that's not erratic and not giving me different signals every single day, he is the same guy and it helps me a lot."
Basham has kept an eye on Wake Forest's opening run during his rookie season with the Bills.
"All the work that we put in, and all the work that the alumni put in, it's starting to pay off," said Basham, the Bills defensive end who played for Clawson at Wake Forest. "We were deep in the mud in 2019, even in 2018, and that's when we saw things going up. 2019 was our best season when I was there.
"The next step is finishing the season, and Clawson was always preaching, 'we've got to finish, we've got to finish.' "
Saturday at the Carrier Dome, Wake Forest took another step in that goal. And Clawson did it relatively close to his former hometown.
"Any time we come to Syracuse and I have friends in the stands or on the sidelines with me, it's always great to see them," Clawson said. "I consider upstate and Western New York my home, but the big thing is the team. Any time you go on the road and get an ACC win, that's hard to do. We've done it twice this year, and we've got two more."