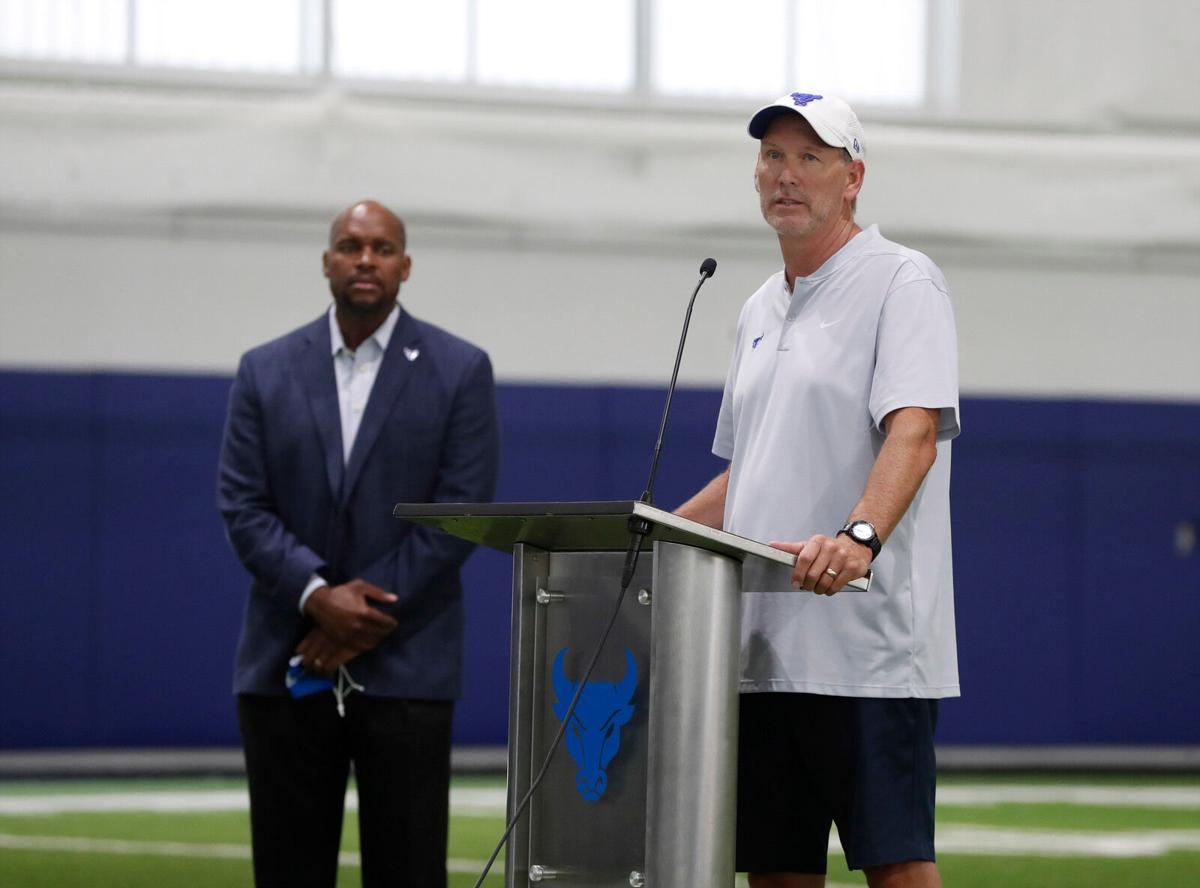 Hours after the Mid-American Conference announced it had postponed fall sports, one of the first text messages Lance Leipold said he received was from Brian Bratta, the University at Buffalo's associate athletic director for sports medicine and wellness services.
Bratta's primary concern was the mental state of UB's football program, as many players learned of the MAC's Aug. 8 decision not through coaches, campus administrators or conference leaders, but through the swift nature of social media.
"We're alerting our counseling services on campus," said Leipold, UB's football coach. "Finding out something on Twitter is not the way you want to find out what's happening, hours in. Where our players are, we spend a lot of time on the mental part of it, that's probably where our next days will be. We'll probably focus on that."
UB's athletes already had been coping with the long-reaching and continuing impact of the Covid-19 pandemic, which had cut their spring practices, had hampered their interactions with classmates and teammates, and had isolated many of them from family members and friends. 
Athletes who participate in fall sports at UB, Canisius, Niagara and St. Bonaventure now must learn to live without competitive college sports. Mental health is paramount at a time when 18- to 22-year-olds have to deal with grief, a sudden loss and an unknown future and have to answer questions about their own identities that are often tied to playing their sport.
"A lot of these athletes have been competing since a very early age," said Chris Siuta, the clinical director of SportsMind Counseling in Orchard Park and the director of counseling and health and wellness at Hilbert College. "This is the first time they've gone without a sport, and there is a sense of loss. I'm finding grief issues, a sense of hopelessness. When will sports return? Will it even be in the spring?
"Depression is up. Anxiety is up. People are completely out of their normal habits. It's up to not only trainers and coaches, but administrators, mental health counselors and sports psychologists not just to teach athletes, but to guide them with the right processes and procedures to make sure they're staying on track and keeping themselves ready."
When several Football Bowl Subdivision conferences announced in the span of a week that they would not field fall sports, it suddenly displaced thousands of athletes across the country from their routines. 
After UB football players had returned for nearly seven weeks of conditioning, the Aug. 7 start to preseason practices was delayed, as the MAC had not announced a decision. A day later, the season was postponed. 
In the MAC alone, more than 2,500 athletes who play fall sports are impacted by the postponement.
"On the surface, it looks like we're going back to business as usual," said Alisia (Giac-Thao) Tran, an associate professor in counseling and counseling psychology at Arizona State. "But we really need to step back and recognize that our mental health could still be compromised. It's OK to feel stress. It's OK to struggle with uncertainty. We're doing things that, in general, are mentally unhealthy, like social distancing and isolation, as well as hypervigilance, and then you add this to what's happening at this time.
"You hope athletes will be resilient and find healthy replacement behaviors, that help them stay connected and help them reach their goals, but this situation is so fresh and so new."
Medical professionals have not had enough time to learn about the long-term physical or biological impact of Covid-19. But the mental health aspect of the pandemic has already been studied.
A Centers for Disease Control and Prevention survey of 9,896 adults, released Aug. 14, found that 42% reported a mental health issue related to the pandemic. Among the respondents, 26% reported anxiety in 2020 compared to 8% in 2019; and 24% reported depression in 2020, compared to 7% in 2019. Thoughts of suicide also more than doubled, at 11% in 2020 compared to 4% in 2019.
Additionally, the survey found that as many as one in four people ages 18 through 24 had seriously considered suicide in the 30 days preceding a survey of 5,412 adults between June 24 and 30.
College athletic programs have been putting tools in place to help athletes and coaches since March, when the NCAA announced it had canceled all winter and spring sports championships.
UB athletic director Mark Alnutt said the athletic department offered counseling services to athletes and coaches in March and continued its counseling services through telemedicine when athletes left campus during the spring semester. UB will continue its mental health outreach efforts, even after the MAC postponed its fall sports, including forums for athletes and coaches and access to counselors, Alnutt said.
"For us, that was a priority, to make sure (mental health and wellness) was addressed first," Alnutt said. "For us, that's a focus, to get that in front of them."
'We have each other'
Shawn Burke, the UB women's soccer coach, has been working with his players during the last five months, when so much was still unknown about Covid-19 and about how to navigate a period of time without practices, team workouts and everyday engagement among teammates.
Burke said the role of tending to mental health is even more crucial now that there is no prospect of playing this fall. The NCAA is allowing athletes in fall sports to continue training, even though there isn't a season. On Monday, football programs in Division I conferences that have postponed their seasons to the spring will be allowed 12 hours of activities per week, including walkthroughs, meetings and strength and conditioning. Alnutt told The News that a plan akin to spring practices is also being considered for college football teams that would allow for a number of practices in October.
Athletes in fall sports that have been postponed are allowed to have alternating weeks of eight hours or 20 hours for meetings, walkthroughs and training. 
"Soccer has been taken away from them since March," Burke said. "You look at the athletes who have gotten to this level, and this has been their whole life.
"We've worked with sports psychologists here at UB, and we want to give our athletes the tools to deal with this."
One of the tools he's encouraged his players to use is daily journaling. Also, he has encouraged his players to speak up, to know there is an open line of communication.
"We're all going through the pandemic and the cancellation of the fall season," Burke said. "But it affects each of us differently. It's OK to be mad, or to be sad. All of these different experiences are happening to us. We tell our players, 'Listen, you have people going through this with you, lean on them. We have each other.' "
Kayode Awosika, a lineman on the UB football team, has taken it upon himself, as a senior, to be a sounding board for his teammates, particularly during the last five months. The remainder of UB's spring football practices were wiped out in March because of the Covid-19 pandemic, and it's uncertain when a spring season could begin.
"I tell teammates, 'If you want to have a conversation, please reach out to me,' " Awosika said. "A lot of seniors feel that way, a lot of people on the team feel that way, and it goes up to our coaching staff."
He believes having access to counseling services on campus is helpful, as well.
"If the conversation can't get done with me helping you feel better to the best of my ability, and can't get done with the head coaches, someone who's professionally in that area is always helpful to deal with unsettling things," Awosika said. "There is that uncertainty. With uncertainty comes concern. With concern comes a bunch of questions. Just talking that out with someone can help ease things and get everyone through this process."
Steve Brdarski, the St. Bonaventure women's soccer coach, understands that nothing about the Covid-19 pandemic is normal. In fact, he doesn't want players on his team to settle for the idea that the pandemic has brought about what many term "a new normal."
"When people talk about 'normalcy,' to me, that's probably the only time I've gotten angry," Brdarski said. "Whoever says, 'I want to be normal, and that's what I want'? My goal and my vision is for my team to be better than that. Let's improve ourselves. How do we overcome those obstacles? How do we create something better."
In the last five months, Brdarski has framed the Covid-19 pandemic as an opportunity for growth and empowerment for his team, rather than a setback.
"We talk to our team about how this is life, and how life is about changing and adapting," Brdarski said. "It's such a difficult situation, and it takes someone very strong and willing to be vulnerable to overcome these things. And that's going back to what life is really about."
Brdarski realizes that the pandemic has taken a lot away from his team. For the incoming freshmen, they've had a spring without a high school graduation and a prom. Now, they have a fall without soccer. So do their teammates.
He's taken to scheduling video conferences on Zoom with his team, and found that his players were willing to acknowledge to their teammates that they were scared, and that they grieved their losses.
Like Burke, Brdarski also wants his players to know that they are not alone.
"I told my players, 'It is OK to be scared and to be vulnerable,' " Brdarski said. "I told them, 'If you ever feel like this is too much, call someone.' Four days later, a player called me and told me, 'I'm really sad.' And I said, 'Let's talk about it.'
"My players will probably remember that they didn't play this season, but I hope they say that they found the power to connect as a group, and that's what they'll remember about this season."
Athletes, coaches and administrators are facing an extended absence, with the potential for spring seasons or a wait until next fall. It can be an absence of routines during the fall that come with games, practices and meetings, or an absence of a built-in support system that comes with being part of a team. In some cases, it's an absence of identity that is tied to being an athlete or being part of a team.
"For athletes, they're dealing with the stress of uncertainty about the future," said Tran, the Arizona State professor. "There was a long time debating, 'Is this going to happen?' There's going to be grief and disappointment with the change of plans. There's going to be a disconnect from a major social network. For athletes, what they have is unique. It's natural to have fears, concern and anxiety about outbreaks on a national and local level. Even pro athletes who are dealing with very serious health complications related to coronavirus. That's really stressful, too, because you share that identity with them and you see that and realize, that could be you.
"Right now, an athlete needs to take the pulse of the state of themselves. Realize that maybe things aren't all right. Stop and take a moment to see, 'How does this feel to me? How do I feel about this? Let me work it out, and if something goes off the rails, what do I do?' "
Michelle Granieri is a licensed mental health counselor and a student-athlete liaison at Niagara University, and has stressed some guidelines for the athletes she works with: find a sense of routine, and find a way to fill voids that were created when your normal routine was taken away.
"We thrive on structure and consistency, as human beings," Granieri said. "Academically, you went online. Athletically, you couldn't do anything in sports. Socially, we were told to stay away from each other, and all of that limited what is available. We need to find a sense of what is available and take advantage of that. If we can find a way to wake up, get dressed and do some activity, whether it's yoga, walking, or taking a pet for a walk, building and keeping a sense of structure in your life will ease some of those unsettling pieces."
Gianna Yurchak, who will be a senior on the UB women's soccer team, makes it a point to take a walk each day. 
"It clears my head," Yurchak said. "We have definitely been thrown off our routine, and we're finding ways to destress. The spring was a tough transition for a lot of athletes, and we're still trying to get back into a regular routine."
The move to online learning has impacted Yurchak, too. She's majoring in occupational therapy and was not able to do in-person, required work during the spring in labs that are related to her major.
"I love to be in-person for those classes," Yurchak said. "That's what I live for. But I've adjusted to it. I'll take those lab classes in the fall and make up what I've missed."
Siuta works with athletes at local colleges who are dealing with depression or issues of loss and grief, and emphasizes the value of identifying and understanding those issues, as well as finding ways and tools to fill the holes of loss, which include meditation or mindfulness activities such as practicing visualization or imagery. He also emphasizes the value of continuing routines, even though competition has been postponed to the spring.
"We're kind of stuck in past mode right now, and it's tough to look into the future because it's so hazy," Siuta said. "It's about staying present and mindful, and in the moment."
Even coaches face the stress and uncertainty of not having a season.
"How we've been operating is different than what we've ever experienced before," Alnutt, UB's athletic director, said. "I'm 47 years old and I've been attached to sports on an annual basis for the last 40 years, and it can become a little difficult. But for us, we talk so much about the physical well-being of people, but we can't let the mental well-being slide, as well. We want to make sure this is available to everyone in the athletic department."
Granieri, from Niagara, also urges the coaches and administrators she works with to identify what might be happening with themselves.
"Often times, coaches are taking on more stress in leadership roles, and are trying to set guidelines and ease tensions and create a sense of security in athletes," Granieri said. "If you take on too much, it can drown you. If someone goes down, it leaves others grasping for straws.
"As leaders on this team and campus leaders, and as people in position to oversee others, make sure you are being honest with what you need."
When asked what it would be like not having a football season in his own life for the first time in years, Leipold, UB's football coach, explained that he had been preoccupied with the tasks at hand the day the postponement was announced: talking with UB's athletic administrators, organizing a Zoom video conference for the team, meeting with players in his office, talking on the phone and texting.
"I haven't had enough time to let that fully sink in," Leipold said. "Again, it's trying to find a way to be there for our guys, to find out, how are they going to handle it? That's the big question. And how we can help with that?"
The National Alliance on Mental Illness recommends daily strategies for self-care and awareness. The NCAA has asked that these general guidelines be distributed to athletics health care providers, strength and conditioning coaches and others who oversee the care of athletes. More is available at www.nami.org.
• Space. Create a structured, dedicated work environment, and include regular patterns of self-care.
• Routine. Try to maintain a routine that reflects your normal day routine, including structured times for breaks.
• Activity. Regular exercise and mindfulness activities are key during times of crisis. Develop a daily routine, even if this is as simple as a 15-minute walk and/or quiet time with deep breathing.
• Time and energy management. Structure your daily work in a way that mirrors your normal workplace hours. In addition to time management, be aware of the way in which you eat, self-talk and communicate with others.
• Accessibility. Develop ways in which you are accessible to colleagues, friends and family. Humans need to feel and be connected. Utilize video tools to connect visually.
• Resources. Map out your important resources, ranging from daily necessities to emergency management.
• Support. The National Alliance on Mental Health Illness website at www.nami.org provides a guide to national and local resources. Know that there is help when needed.