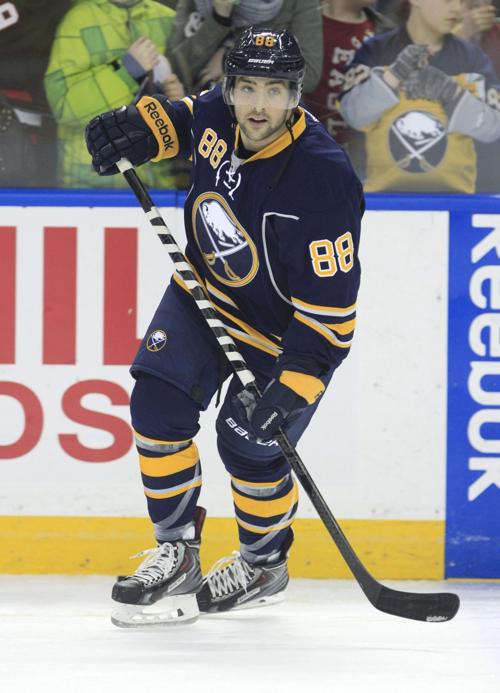 Seven athletes, including former Sabres forward Cory Conacher, have been chosen for the 58th induction class to the Canisius College Sports Hall of Fame, the school announced Tuesday.
The class includes Conacher, lacrosse player and former Golden Griffins coach Allison Daley, baseball pitcher Shane Davis, lacrosse player Adam Jones, soccer player Alan McGreal, softball player Cameron Norton and men's basketball player Frank Turner.
Mark Evans, a 1983 Canisius graduate and longtime athletic department supporter, will be presented with the Rev. Paul J. Dugan '45 Award, given to individuals for their significant contributions to Canisius athletics.
Conacher, the 2009-10 Atlantic Hockey Player of the Year, holds 12 single-game and career records and is the school's Division I era career leader in points (147) and goals (62). He is now in his 12th season of pro hockey, playing with Swiss Cup champion SC Bern in the Swiss League. He played 193 NHL games with the Senators, Sabres, Islanders and Lightning.
Daley has school records with 662 saves and an 11.66 goals against average and is a two-time All-MAAC first-team selection. She was the Canisius coach for four seasons and led the program to a share of the 2018 MAAC regular-season championship.
Davis made 56 starts and is the program's career leader in wins (35), complete games (21) and innings pitched (364.1). He was MAAC Pitcher and Rookie of the Year in 2008.
Jones was the first Canisius lacrosse player to be named All-America and was a three-time All-MAAC choice. He had 129 career points and 98 goals. He also was the first former Golden Griffin selected in the Major League Lacrosse Entry Draft and was named the 2012 National Lacrosse League Rookie of the Year.
McGreal, the only four-time All-MAAC selection in program history, is the school's career leader with 99 points, 35 goals and 29 assists. He was the MAAC Rookie of the Year in 2006.
Norton helped lead Canisius to 120 victories and three NCAA Tournament berths and ranks in the top 20 in program history in 14 statistical categories. Her 112 runs batted in are tied for fourth.
Turner is fourth in scoring in school history with 1,769 points and is one of six players to lead the team in scoring in three consecutive seasons. He is one of only two players with 1,500 career points, 400-plus rebounds and 400-plus assists and held the school record for assists with 616 at the time of his departure. A former three-time MAAC honoree, he currently plays in Macedonia.
The induction ceremony is scheduled for Feb. 6, when the men's basketball team hosts Manhattan at the Koessler Athletic Center at 1 p.m. Tickets for the annual Hall of Fame Day "Induction Brunch" at Montante Cultural Center are available through Feb. 1 via the Canisius Office of Alumni Engagement at 888-2700.