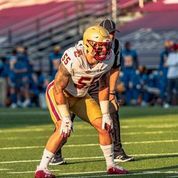 Looking at the season's college football statistic leaders in tackles at ESPN.com, it's hard to miss the smiling face of former Bennett star Isaiah McDuffie.
The Boston College redshirt junior has had a phenomenal year, so much so that he feels he's proved all he needs to at the college level.
McDuffie confirmed to The News Friday morning that he has informed the Boston College coaching staff of his plans to forgo his senior season and enter this spring's NFL draft. The school announced it later in the day via Twitter.
McDuffie ranks fourth in the country in total tackles. He's also seventh in solo tackles -- stats he compiled playing in one of the best conferences in the country.
"I want to thank my family most of all," said McDuffie, who is home in Buffalo after BC opted out of playing in a bowl game. "Family means everything to me and without them I wouldn't be able to chase my dream."
McDuffie finished with 107 tackles, second in the Atlantic Coast Conference to North Carolina State's Payton Wilson. He made 54 solo stops and also chipped in with three sacks as one of the vital leaders of the Eagles' defense.
McDuffie is set to graduate later this month with a degree in applied psychology and human development. He could have returned for one more season to pursue a master's degree in educational leadership. Instead, he's going to see if he can turn the dream of playing on Sundays into reality.
McDuffie, the 2016 Buffalo News Player of the Year, runs sideline to sideline. He loves to hit. He's a student of the game, the son of a coach who comes from a football family. He takes film study seriously.
Earlier this season, Boston College coach Jeff Hafley spoke glowingly of McDuffie in a Buffalo News story.
Hafley said: "He's got the right attitude, the right makeup, the right mentality, and you're going see him continue to improve. His ceiling is so high."
Playing a factor in McDuffie's decision is his health. He played all 11 games this season with BC after missing all but four games in 2019 because of a knee injury suffered in the spring.
He played four phenomenal games to end 2019 and followed up with an extraordinary 2020.
"That's a factor but I just feel it's time," McDuffie said. "There are other risks, reward factors, but at the end of the day I feel going into the NFL as a younger, healthier player will be more rewarding in the end.
"I just feel like I'm ready. It's something I've always wanted to do my entire life. I had a great year this year. I was productive on and off the field. Getting my degree was a factor. I'm just ready to see where this journey takes me."
McDuffie started on special teams as a freshman. He started on defense as a sophomore – making 85 tackles. He suffered the knee injury before the start of 2019 but returned to give a sampling of what he can do on the field by finishing with 30 tackles and 3.5 sacks.
Now it's about continuing to hit the weights and putting in the work to prepare for life in the pros. McDuffie said the scouts he's had contact with project him as being mid-round selection with room for moving up, pending pro day and potential NFL Combine workouts.
"We are excited for Isaiah as he begins the next chapter of his football career and we wish him well," Hafley said in a statement at the school's website. "We look forward to watching Isaiah play on Sundays."
McDuffie's father Steve, who is also coach at Bennett said Isaiah's graduation and entry into the NFL draft should be viewed as a win for the Buffalo Public Schools football programs.
"This should serve as a beacon or a light for all of the inner-city kids who come from the BPS programs that they can continue to work hard and dream big," Steve McDuffie said. "Isaiah should serve as an example that if he can make it from a Buffalo Public School then it can be done. If the kids handle their business in the classroom, keep developing their interpersonal and social skills, work toward become better citizens and handle their responsibilities on the football field and in the weight room then they can accomplish anything they want, too."