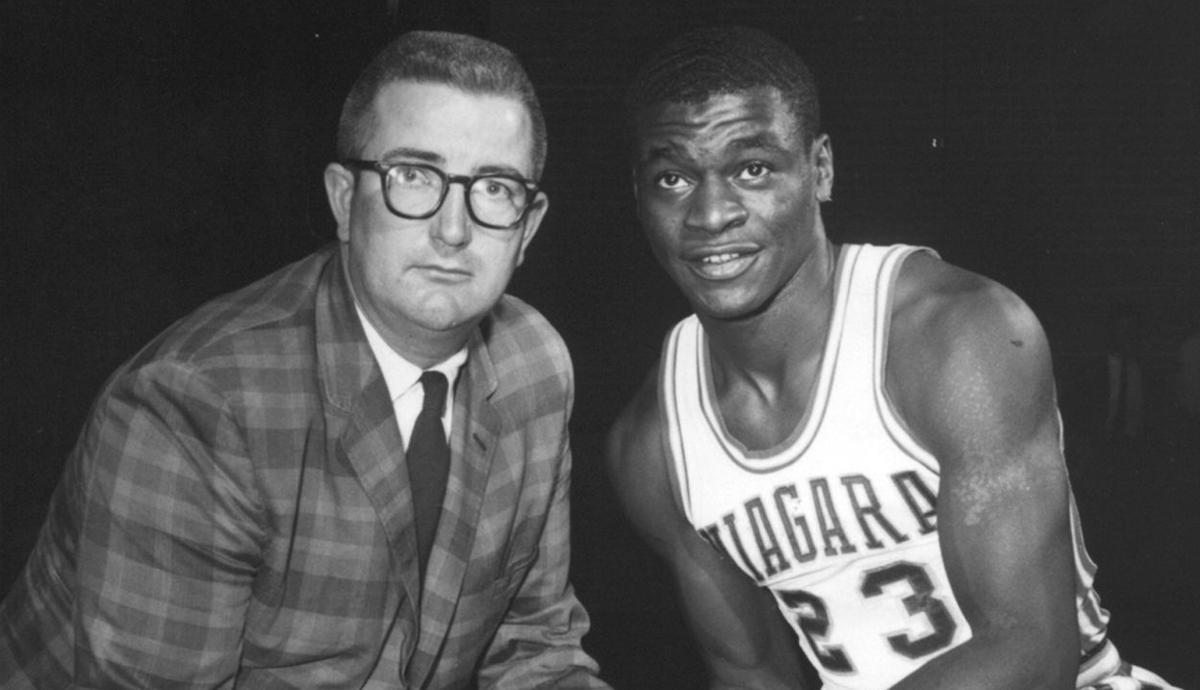 Brian Kelly, the Notre Dame football coach, made news the other day when he said his team should be executed. It was a badly executed joke.
Later, he explained that the gag was meant to echo John McKay, coach of the winless Tampa Bay Buccaneers in 1976, who, when asked about his team's execution, said simply, "I'm in favor of it."
The NFL has 32 teams. Fans in all of its cities want their teams to win, of course, but there is one thing that sets Buffalo apart.
McKay knew how to tell a joke. Kelly, like most coaches, does not.
As it happens, Niagara University's own Frank Layden was the best coach/comedian of his time. His first year as men's basketball coach at Niagara came in 1968, when McKay was coaching O.J. Simpson at the University of Southern California. Once, when asked about Simpson carrying the ball 40 times in one game, McKay said, "It's not heavy. And he doesn't belong to a union."
Layden had Calvin Murphy at Niagara at the same time that McKay had Simpson at USC. Maybe it helps a coach to see the humor in things when he has a player who can shoot like Murphy or run like Simpson. No, that can't be it. McKay was funny when his Bucs couldn't win a game. And Layden was funny when his Utah Jazz didn't win many.
Beebe remembers each of his four like it was, well, not yesterday, but maybe the day before yesterday.
He was the Jazz coach when they arrived in Salt Lake City from New Orleans. They struggled at the gate at first, and Layden accepted invitations to speak at rubber-chicken dinners all over the state. His one-liners kept Utah laughing until the team got good, which happened mostly because Layden, as general manager, made the best consecutive mid-first-round draft choices in NBA history: John Stockton with the 16th overall pick in 1986 and Karl Malone with the 13th in 1987.
Ten years later, the Jazz were better than every other NBA team except Michael Jordan's Chicago Bulls. The Jazz lost to the Bulls in six games in the NBA Finals in 1997 and 1998. I was lucky enough to have lunch with Layden during the first of those Finals for a story in USA Today. And having lunch with Layden in Salt Lake City is a little like having lunch with the pope in Rome. He was the toast of the town.
OK, maybe not the toast: Mormons don't drink. In fact, I asked Layden that day about being a Brooklyn-born Irish Catholic amid Mormons and mountains.
"They don't drink and they don't smoke and they don't swear," he said. "But they don't mind when I do." Pause. "As long as we're winning."
Ah, that pause. Timing may be important in sports, but it is everything in comedy.
Erik Brady tells the remarkable tale of how Goodwin received is new heart on Sept. 11, 2001.
We talked a lot that day about his time as a player at Niagara in the 1950s and as a coach there in the 1960s and 1970s – and also of his son Scott's time at Niagara Catholic High School in the 1970s. Layden took heavy criticism for hiring Scott, just 23 years old, as an assistant coach of the Jazz.
"People would say, 'How can you hire your son? He has no experience,' " Layden told me. "And I would say, 'How could I hire my son? I married his mother, didn't I?' "
Yes, he did. And they celebrated their 64th anniversary in June. The basketball court at Niagara is named for them both. And they got the last laugh: Their son has held front office and coaching positions in the NBA for 40 years, including stints as a general manager for the New York Knicks and Minnesota Timberwolves.
Once, in the late 1970s, Frank Layden returned to Buffalo to speak at the Dunlop Pro-Am Awards. He had them rolling in the aisles. Then, when word came that one of the awardees was still on the way, Layden got up to speak again. He had all new material, and they laughed even harder on his second go.
One of Layden's standard banquet stories was about coaching Niagara. Bear in mind that it is not based on fact: His Purple Eagles were 22-7 in his second season. They went to the NCAA tournament for the first time. And they finished the season ranked No. 17 in the nation. But none of that is as funny as this:
"Relics: The History of the Buffalo Bills in Objects and Memorabilia" will be launched at an event at 6 tonight in the Buffalo History Museum.
"When I took over, my predecessor told me he had left three envelopes in the top right desk drawer, and if things got rough, I should open them, one at a time.
"The first year we went 2-25, and I opened the first envelope. It said, 'Blame me.' So I told everyone the previous coach had let the program deteriorate.
"The next year wasn't much better, so I opened the second envelope. It said, 'Blame the alumni.' So I told everyone the alumni weren't helping enough.
"The third year, it didn't go much better, so I opened the third envelope." Pause. "It said, 'Prepare three envelopes.' "
Layden is beloved in Utah, and he told me at lunch that day that the fans there reminded him of the ones in Buffalo.
Washington's Herb Mul-Key made history on the opening kickoff at Rich Stadium, returning it 102 yards for a touchdown.
"They're loud, like at Rich Stadium, and loyal, like Buffalo's minor-league baseball fans. And I always felt this about Buffalo: It was one of the great tragedies what (ex-owner Paul) Snyder did, allowing the Braves to be taken away. That was a stab in the heart."
That word, tragedy, leads me to one more memory of that long-ago lunch. In setting it up, at first I got Layden's answering machine. Here is what it said before the beep: "F. Scott Fitzgerald said, 'Show me a hero and I will write you a tragedy.' Now, what have you got to say?"
Just this: Show us Frank Layden, a hero in Utah – and Niagara Falls – and we'll write you a comedy.