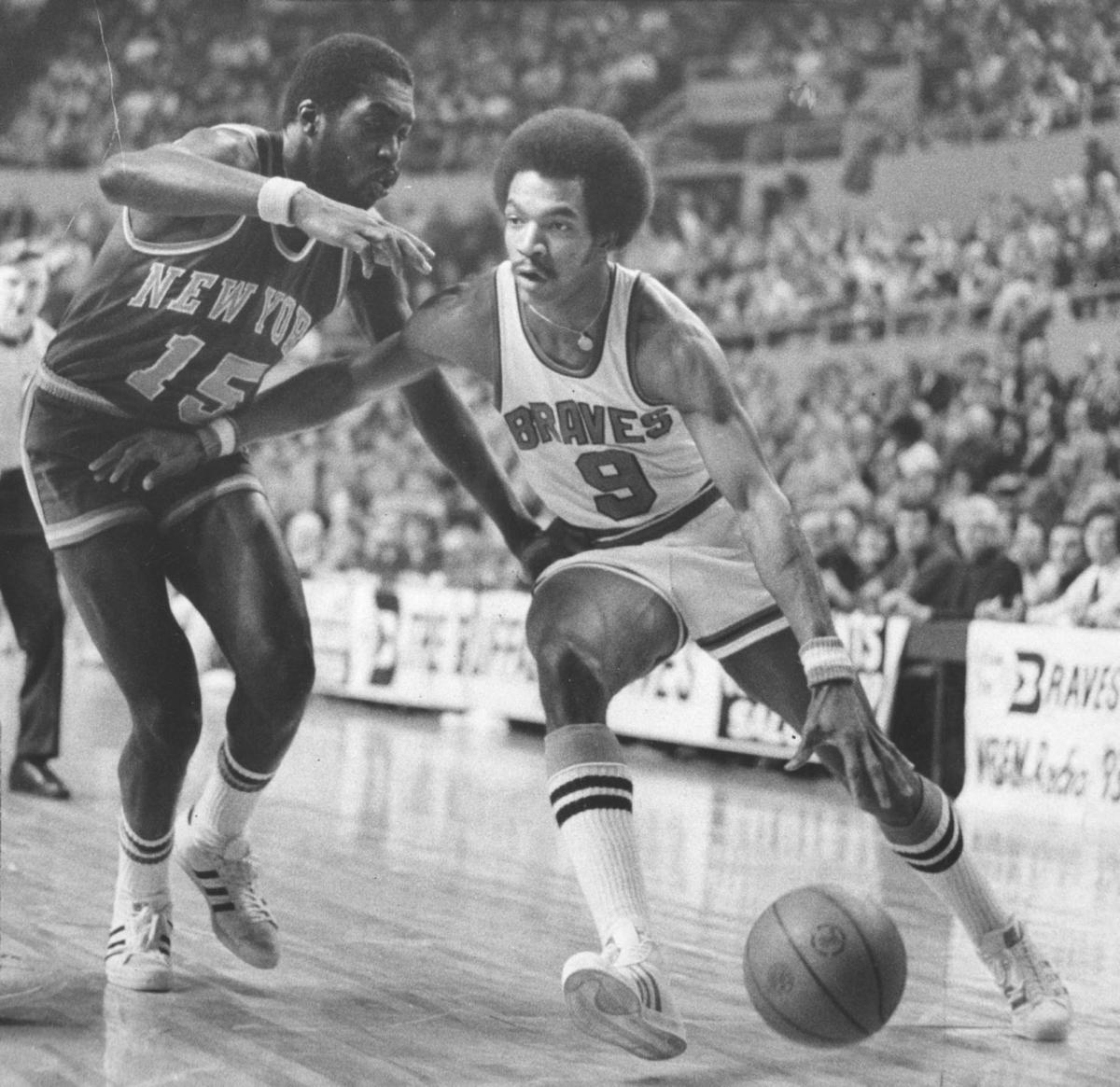 Peter Drumsta covered Randy Smith and the Buffalo State Bengals for the college paper, The Record, back in the day. He knew then that Smith was going to be a great player in the pros.
"All of us who saw him in college knew it," Drumsta says. "No one else did."
The world would find out. Smith blossomed into a two-time NBA All Star who long held the league's ironman record for consecutive games played. And now a groundswell is growing for a statue in Western New York honoring the man who teamed with Bob McAdoo to make the Buffalo Braves one of the NBA's most entertaining teams in the mid-1970s.
"Nobody ever talks about him," McAdoo told Newsday when Smith broke the consecutive-games record in 1982. "Nobody even remembers Buffalo was in the NBA."
Here, of course, we do remember Randy and his Braves. What's less remembered are Randy and his Bengals. Mention a Western New York team in the Final Four and thoughts go immediately to St. Bonaventure, in 1969-70. How many recall that Buffalo State went to a Final Four, too – and in the same season?
The Bonnies played in the Final Four of what was then known as the University Division; the Bengals played in the Final Four of what was then known as the College Division. So Buffalo State's feat was overshadowed even in its own media market, given that Bona's Bob Lanier and Niagara's Calvin Murphy were seniors in 1969-70, Smith's junior season. All were big men on campus: Lanier at 6 foot, 11 inches, Murphy at 5-9 – and Smith at 6-3.
Drumsta was sports editor of The Record in his first year of college, when Smith took to calling this fresh-faced freshman "Clark Kent," as in the mild-mannered reporter of comic-book fame.
"He always called me 'Clark,' " Drumsta says with a laugh. "Here I was, a kid who didn't know how to shave yet, and Randy Smith always called me 'Claaark.' "
Drumsta, like Kent, would go on to write for newspapers, including as a sports reporter for The Buffalo Evening News. Later he turned to TV, and when he retired as a news writer for "CBS This Morning," in 2017, he turned to canvassing for Democrats in elections large and small.
He remembers the Bengals feeling deeply underappreciated in Buffalo 50 years ago. Canisius, Niagara and St. Bonaventure made up the ballyhooed Little Three, and the University at Buffalo would later join them to form the Big Four. But in the Randy Smith era, Buffalo State was as good as any of them, probably short of Lanier's Bonnies.
The Bengals proved it that season when they played Niagara at the Aud. Murphy's Purple Eagles would finish as No. 17 in the nation, but they barely beat Buffalo State, 83-80. The Bengals would go on to finish the regular season 18-3, including an 83-75 win against rival UB.
"If the game was on the line," Drumsta says, "they would spread the floor and Randy would take a bounce pass and just jump over everybody and shoot a 12-footer. Or they would post him up like a center, because he was always the best player on the floor."
Buffalo State played host to the College Division's Eastern Regionals, in which the Bengals beat Stony Brook, 93-69, in the first round. In the regional final, they trailed Montclair (N.J.) State by 10 at the half. Smith then scored 29 of his 39 points in the second half, and the Bengals won going away, 81-72. Students stormed the floor and carried Smith off on their shoulders. "The Bengals couldn't bear to lose at home in front of a crowd that wouldn't quit," wrote Alan Geller in The Record.
Now it was off to the national quarterfinals, in Evansville, Ind. Drumsta and a pal tried hitchhiking but got only as far as Cincinnati – 220 miles from Evansville – when they turned back because they had run out of time. The Bengals beat Stetson, 75-74, to reach the Final Four, but fell to taller Tennessee State, 101-80, in the national semis, and to the University of California at Riverside, 94-83, in the consolation game.
Smith would have another stellar season as a senior, in 1970-71, though this time the Bengals would fall at home in the Eastern Regional finals to Hartwick, 71-70. Weeks later, the Braves would make a hometown selection by taking Smith in the seventh round of the 1971 draft. Seventh-rounders rarely make it past training camp; Smith wound up playing 13 seasons in the NBA. He was MVP of the 1978 All Star Game, which included all-time greats like Julius Erving and Bill Walton, not to mention McAdoo – and Lanier.
Johnny McCarthy, coach of the Braves in Smith's rookie season, marveled at his fitness level. Then McCarthy realized why: A soccer pitch is more than 20 times the size of a basketball court.
Says Drumsta of Smith's soccer stardom at Buffalo State: "They just kicked the ball up the field, and Randy would go get it and kick it into the net. He was not a polished player, but his raw athleticism was extraordinary."
That was true, too, in track and field, in which Smith was a champion high jumper. Not only that, but he was also talented at table tennis, according to Drumsta. "He played pingpong at the Pub, and it was frightening what he could do to people."
If Drumsta was Clark Kent, then Smith was Superman. Yet somehow, to the rest of the world, he was no more than a face in the crowd. And we mean that literally.
Smith was featured in the Faces in the Crowd section of Sports Illustrated on Feb. 1, 1971. Even if you are old enough to have gotten the magazine then, you may have missed it, because his two sentences appeared in the swimsuit issue:
"Randy Smith of Buffalo State College made the Little All-America first team in soccer and track and was given honorable mention in basketball. He holds 15 school records in basketball and was the leading scorer in last year's NCAA College Division tournament."
Yes, dear reader, you read that right: first-team All America in soccer and track – and just honorable mention in basketball. Still, even 50 years later, All America honors in three sports remains an astonishment. So maybe Superman isn't the right reference after all. How about Captain America?
Of such stuff are legends made. Build that man a statue.