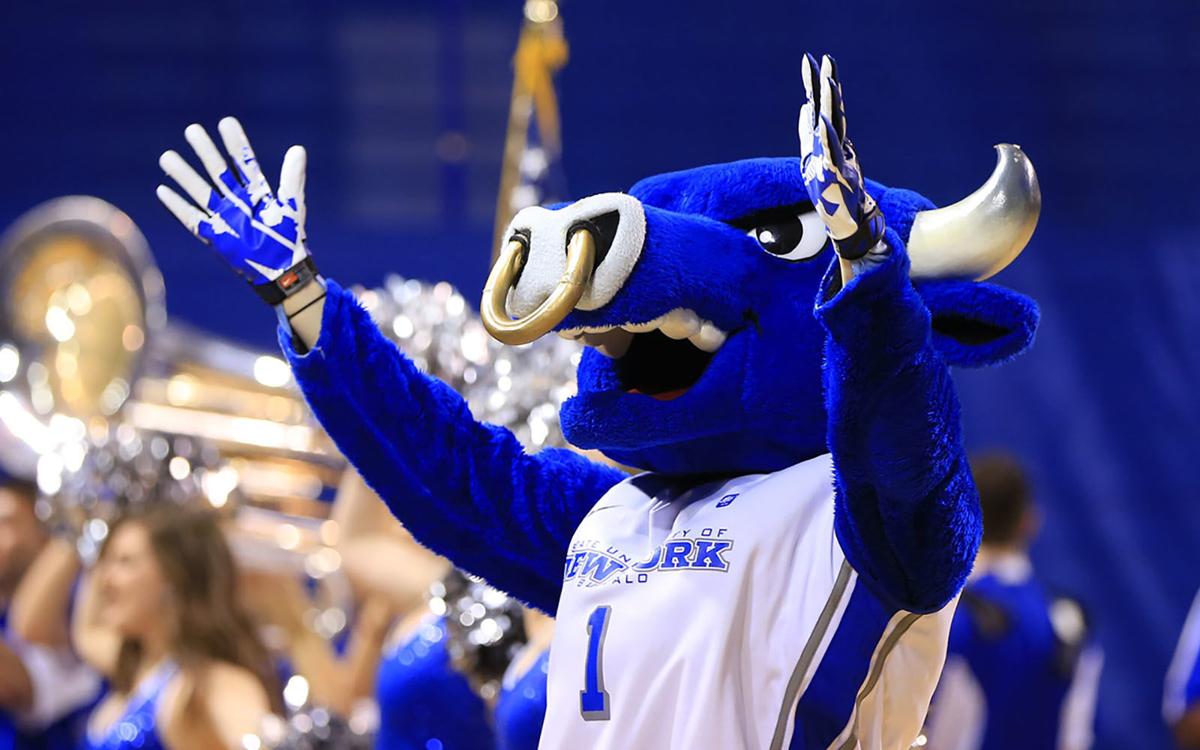 Within hours of the University of Connecticut announcing it planned to leave the American Athletic Conference on June 27, speculation regarding new potential conference members ran rampant.
Some of the conjecture included the University at Buffalo's leaving the Mid-American Conference. Several media outlets targeted UB as a candidate for the AAC, part of a group that includes Army, BYU, Old Dominion and Boise State.
As of right now, UB has no plans to leave the MAC. UB athletic director Mark Alnutt declined an interview request to discuss the topic, but issued a statement to the News through the UB athletic department.
"The University at Buffalo is a proud member of the Mid-American Conference," Alnutt said in the statement. "We will continue to pursue leadership in the conference as we elevate the national profile of our program."
The AAC and its leaders will meet next week in Rhode Island to discuss the future of the conference without UConn, which will join the Big East in all sports except football as soon as July of 2020. All indications point to the AAC staying at 11 teams, unless, conference commissioner Mike Aresco said, the conference finds "a school that would really strengthen us."
Including UConn, the AAC has 12 members and six associate members in women's lacrosse, rowing and football. Its geographic reach stretches from Connecticut to Texas, Kansas and Oklahoma (and California in rowing).
At first glance, UB would appear to be a fit for the AAC. It is an Association of American Universities school (one of 62 top research universities in the United States and Canada) with an enrollment of about 30,000 undergraduate and graduate students that's located in the northeast. The success of its men's and women's basketball teams has elevated its brand, and the football program had its most successful season in 2018.
When asked hypothetically if UB would be a candidate for the AAC, Aresco declined to address the question directly.
"Buffalo is a great school that's achieved great things in football and basketball, and they've produced some great athletic directors in Warde Manuel, Danny White and Mark Alnutt," Aresco told the News last week. "But the last thing I want to do is put a bullseye on Buffalo and upset (MAC commissioner) Jon Steinbrecher."
If the AAC considers replacing UConn, Aresco and the conference have to walk a tightrope in the process. While the AAC has not formally announced or indicated what it plans to do, Aresco notes that he and the conference have to be mindful of its place in the pecking order among Division I conferences, and that the AAC cannot risk alienating another conference if it chooses to pursue a new member.
"We do not have to do anything we don't want to do," Aresco said. "The only thing we would do is if it's something that enhances our brand and enhances our conference. Right now, I'm not really sure there's anyone out there. We're not seeking any new members. If someone seeks us out, we'll listen."
Tom Stultz, the president of JMI Sports, a college marketing firm that manages athletics multimedia rights, explained that if UB was to consider leaving the MAC for the AAC, there are several significant factors to consider, including joining schools of a similar academic reputation, and the cost of travel for all sports, including Olympic sports.
Stultz explained that both schools and conferences must balance a lot of variables when it comes to adding programs and schools, including balancing economics with the academic reputation of a school, as well as the philosophies of schools within a conference, and a student athlete's experience at the school and within a conference.
"You can get a bigger check by going to another conference, but if you have to spend a lot more, it may not be a plus," Stultz said. "You have to consider maintaining regional rivalries. You have to ask if your fan base will travel. It's not an easy transition, and when it happens, it's a surprise."
Wichita State was the last school to join the AAC as an athletic program in basketball and in its Olympic sports on July 1, 2017, and paid an entry fee of $2.5 million, according to the Wichita Eagle.
The AAC could decide to add a 12th member to replace UConn. Or it could choose to stay at 11 schools and request a waiver that would allow the conference to hold a championship game without a round-robin schedule. (The AAC is split into two six-team divisions in football.)
If the AAC chooses to stay at 11 schools, it also has to renegotiate its television contract with ESPN. Sports Business Journal reported in March that the AAC's 12-year contract with ESPN begins in 2020-2021 and is worth $83.3 million a year, which would have paid its 12 member schools $6.94 million a year.
Part of an expansion equation for the AAC could involve football; the success of UCF, Memphis and Houston in the last five years has helped elevate the national profile of the AAC.
"In terms of conference composition, football is extremely important," Aresco said. "We're a football-driven conference but we want to have really good basketball, and it meant a lot to have a good basketball offering. I don't think there's any getting away from it that football is really key to any major college's business plan. Football lifts anything. We wouldn't have the television deal we have without football."
AAC officials will meet July 15-16 in Newport, R.I., during the conference's media days, and Aresco expects the conference will reach a verdict regarding its membership.
"We don't have to do anything," Aresco said. "But I think we're going to have a pretty good idea by media day in Newport."