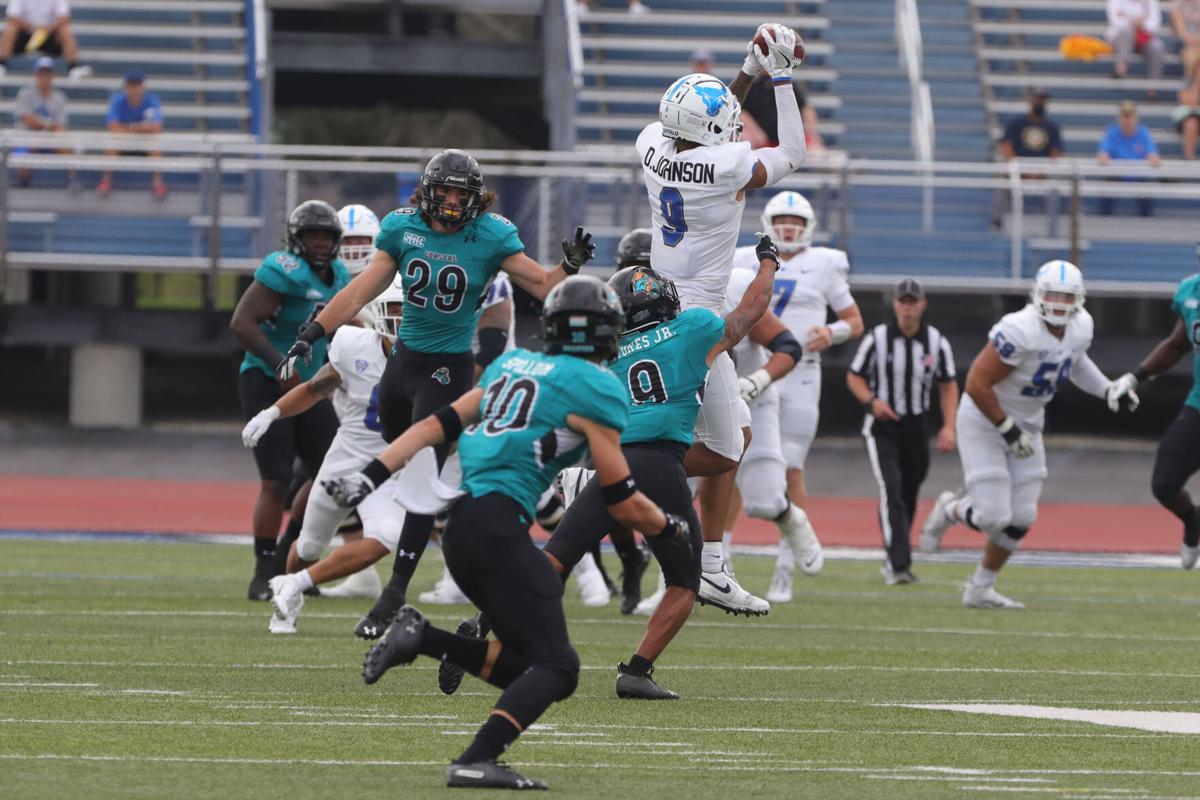 More than a few people inside UB Stadium likely took a long look at the game clock in the moments after the University at Buffalo football team pulled within three points of a Top 25-ranked team.
Less than three minutes remained in regulation, and No. 16 Coastal Carolina had possession of the ball. For UB's sake, there was no possible way to add more time to the fourth quarter, and UB's defense eyed a way to create a turnover against one of the more intricate and productive offenses in the country.
Coastal Carolina, though, needed only a few plays to chew up the remaining time. The Chanticleers reached the UB 38-yard line on five plays, and with 1:46 left, Reese White's 13-yard run on second-and-13 secured the necessary first down that allowed Coastal Carolina to run out the clock and take a knee on two of their final three plays, which ensured a 28-25 win against the Bulls on Saturday at UB Stadium.
Time ultimately ran out for the Bulls (1-2), who cut Coastal Carolina's lead to three points with 2:41 left in the fourth, on Kevin Marks' 7-yard touchdown run, followed by Kyle Vantrease's 2-point conversion pass to Quian Williams. White's first down also ended the Bulls' bid to defeat a team ranked in the Associated Press Top 25 for the first time in nearly 13 years, when the Bulls defeated No. 14 Ball State, 42-24, in the MAC championship game on Dec. 5, 2008.
"We did not run out of gas," UB coach Maurice Linguist said. "We probably just ran out of time. Guys could continue to play. They're disappointed, which they should be, but we will persevere. We will respond."
But, he added, "we didn't do enough to come away with the victory."
While Linguist lamented the lack of extra time, UB wide receiver Dominic Johnson was pragmatic about what hindered his team's offensive efforts, despite UB finishing with 408 yards, including Dylan McDuffie's team-leading 92 rushing yards and a touchdown.
"It was the little things," said Johnson, who led UB's receivers with 66 yards on six catches. "Depth. Running routes at the sticks. Some small penalties with alignments and stuff like that. Just, really, small details, and we have to work on seeing those small details throughout the week and nicking them in the butt so that when it comes game time, we're not making those mistakes."
On defense, UB linebacker James Patterson cited his team's miscommunication and missed tackles, and lack of full pursuit to the ball. Coastal Carolina (3-0) finished with 444 yards, including 232 passing yards by quarterback Grayson McCall (13 for 19 passing, three touchdowns, interception).
"Our defensive line did a tremendous job, especially Taylor Riggins and all those guys, getting after the ball," Patterson said. "But that back seven really needs to start pushing that ball, including myself. We were trying to and it didn't come up. We've got to bring more havoc."
The Bulls took a 14-7 lead on Matt Myers' 13-yard touchdown run with 38 seconds left in the first, and after McCall's 17-yard touchdown pass to Jaivon Heiligh tied the game at 14-14 early in the second, Isaiah Likely's leaping 6-yard touchdown catch gave Coastal Carolina a 21-14 lead less than three minutes into the second half.
The Bulls had the chance to extend a drive about nine minutes into the third quarter, after Myers moved the Bulls to the Coastal 18 on the 11th play of a 12-play drive. Yet instead of going for the first down on fourth-and-3 from the Chanticleer 18, Alex McNulty's 36-yard field goal cut Coastal Carolina's lead to 21-17 with 6:08 left in the third. 
"It's a long game, and there's multiple possessions left in the game," Linguist said of going for the field goal, rather than aiming to extend the drive. "We don't want to start chasing points early in the game. We knew we were going to have multiple possessions left in the fourth quarter and that's exactly what the case was. We knocked that field goal in and at the end of the game, we're down three. They have the ball, we have three time outs, and we're in a strong position to get the ball back."
It didn't unfold that way for the Bulls, who managed only 14 yards on their next two drives.
Three seconds into the fourth, Shermari Jones' 1-yard touchdown run opened the Chanticleers' lead to 28-17, and after Marks' touchdown and Williams' conversion catch with 2:41 left, Coastal Carolina ran out the clock.