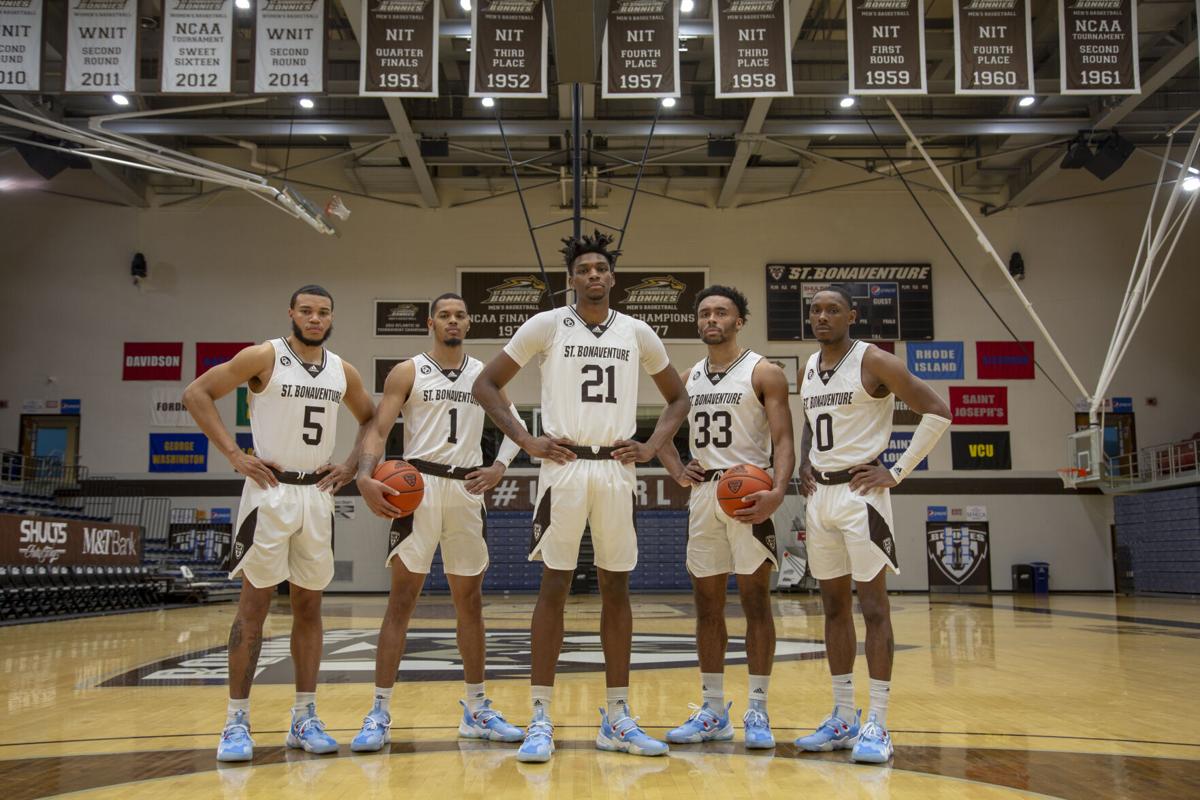 At some point in the middle of the night in Finland, LaDarien Griffin flipped open his laptop. Deprived of sleep, he pulled up the online feed for the St. Bonaventure men's basketball broadcasts.
As someone who had played for the Bonnies, and who now plays professional basketball, Griffin was up each night to watch how his successors fared in Allegany.
Griffin watched his alma mater teeter on the edge of being ranked in 2020-21. He watched a group of players that were freshmen during his senior year at Bona in 2018-19 – guard Kyle Lofton, forward/center Osun Osunniyi and guard Dominick Welch – tear through the Atlantic 10 Conference Tournament and play in the NCAA Tournament, where they lost to LSU in a first-round game in March in Bloomington, Ind.
The loss created a palpable disappointment. But that was quickly replaced by expectations for the Bonnies' 2021-22 season.
The NCAA Tournament appearance became a place-setter for 2021-22. The Bonnies are ranked in the Associated Press poll for the first time since January of 1971. They return their entire starting lineup and have become a driving force in the Atlantic 10 and a small-college team to watch on the national stage.
"You could kind of see that, even though some of the guys were injured, when they had to play, you could see the talent there," said Griffin, a forward who played for the Vilpas Vikings in 2020-21 in Salo, Finland, which is six hours ahead of Western New York. "They were trying to understand the game two years ago.
"To see where they're at now, it's just like seeing guys grow up, and you're so happy for the success they're having and for the fans."
The No. 23 Bonnies open the regular season at 7 p.m. Tuesday against Siena at the Reilly Center. Bonnies head coach Mark Schmidt has resuscitated the program as he enters his 15th season at the Reilly Center. As all five starters return, that success is expected to continue.
It won't be just about winning games, though it will certainly help the Bonnies' ranking and NCAA Tournament hopes if they capitalize on a nonconference schedule that includes No. 24 Connecticut, the University at Buffalo and a Charleston (S.C.) Classic field that features West Virginia, Boise State, Marquette and Clemson.
"There's going to be a point in the NCAA Tournament, or even in Charleston, where they could get out-athleted," said ESPN college basketball analyst Joe Lunardi, who oversees the network's popular Bracketology feature. "But along the way, they'll beat people who are unprepared and younger. Who starts five juniors and brings them all back, and adds to it? That's how they've done it."
It will be about continuing to build upon the foundation this group has cemented.
The process for this season began in March, after the loss to LSU.
"That's the driving force to these guys this year," Schmidt said. "They're motivated to try to repeat what we did last year, and it's not easy. Winning the Atlantic 10 and winning the Atlantic 10 Tournament and going to the NCAA Tournament, being the No. 9 seed, that's really, really hard. To duplicate that, that would be amazing.
"But our guys, the goal is to get back to the NCAA Tournament and try to advance, just like every team. Every coach you talk to, the ultimate goal is to get to the NCAA Tournament, and last year we did that, and I think our guys got a taste of it. Now, they want to try to get there again, which we know is going to be difficult. But if we do get there, to try to advance and try to get to the second weekend, try to get to the third weekend. That's what we're trying to do."
Rick Pitino's early success as a college basketball coach came in 1987, when Providence reached the Final Four. Providence was an outlier at the time, but other small Catholic schools such as Loyola-Chicago, Dayton and Gonzaga have grown into high-profile basketball programs.
Pitino puts St. Bonaventure in that general group as well.
"It's so rewarding because at those places, traditionally they don't have football, so the driving wheel is the basketball programs," Pitino said. "Financially, they support other programs, and once you build that type of thing, it's generally a culture a new head coach has built. At Loyola, that was the case, and at St. Bonaventure, that's the case.
"Once you take that small Catholic school, and St. Bonaventure certainly has awesome tradition going back to Bob Lanier, and you build it back up to a Top 25 program, you have something special. And then you build that incredible home court advantage."
Pitino will return to Western New York when Iona plays Feb. 4 at Canisius and Feb. 6 at Niagara. He's not planning a detour to the Southern Tier to face Schmidt and the Bonnies, though.
"I can tell you, I would not go to Olean, New York, to play," Pitino said, grinning. "I'm sure it's a great spot but I would not go there to play that basketball team because the fans will sell out the place. They have a top 25 program and they are going to be heard, nationally, this year."
That tongue-in-cheek hesitation is a stark difference from when Schmidt began coaching at Bona in 2007. The Bonnies had lost at least 19 games in the previous four seasons, as they recovered from a player-eligibility scandal in 2003 that resulted in self-imposed sanctions, three years of NCAA probation and a postseason ban in 2004.
Since 2007, when Schmidt was hired, Bona has climbed the Atlantic 10 ladder, and played in the NCAA Tournament in 2012, 2018 and 2021.
Schmidt has applied what his mentor at Xavier, Skip Prosser, taught him when he was an assistant coach with the Musketeers from 1994 to 2001. He leaned on what he learned as coach at Robert Morris from 2001-07. In fact, when Bona introduced Schmidt in 2007, he made a vow: 
"We're going to build this thing brick by brick," he said. "And we're going to do it right. ... We're going to bring St. Bonaventure back."
Lofton, Bona's point guard, said the focus has been on toughness, a blue-collar work ethic and developing players who have a chip on their shoulder.
"There's core values that Mark Schmidt has, and he doesn't have to get in the weeds to worry about fighting with some of the programs that cheat for players," said Jeff Goodman, a college basketball analyst with Stadium.com. "He is getting guys and doing it the right way, through development, evaluation. The consistency of him being there for so long, they know what he wants and he knows what he wants. And (assistant coach) Steve Curran knows when he goes out and recruits, he knows exactly what to get, for a player who will work with that expectation."
Bona also has invested in Schmidt. According to the school's 990 form for the fiscal year ending in May of 2020, his annual salary was $984,975.
"The powers that be have obviously determined that in the bad years, it's worth it, and that we've got to make sure to keep this guy, because we may not be able to attract the next one," Lunardi said. "That's a business decision by a small university that knows basketball is essential to its institutional marketing."
A few weeks ago, a graphic circulated on social media, showing that of all the teams ranked in the preseason AP Top 25, Bona had the lowest endowment and the lowest enrollment.
Still, the donors are whom Schmidt said help make the Bonnies into winners, and helps sustain winners. Schmidt never forgets to thank them, either.
"That's something that we'll work on," Athletic Director Joe Manhertz said. "That's something we'll use to ask other people to support us. That's a sense of pride but if we want to stay, competing at this level, that's something that we'll work from."  
The Bonnies return their entire starting lineup and have gotten long-term commitments from Lofton, Osunniyi and Welch. The commitments are almost an anomaly in college basketball now, with the advent of the transfer portal, or the lure of lucrative professional basketball contracts.
"This program has been really good, and being able to come in here and keep that trend going, that history going, it's been really good," Osunniyi said. "That culture going in an upward trend. Having all that behind us, on the court, will really help us a lot this year."
That continuity starts with Lofton, who has started for the last three seasons.
"Texas, Kansas, Baylor, Michigan, Kentucky are all bringing in transfers as point guards," Goodman said. "There's a lot of turnover, a lot of guys in new places, and those teams might be more talented than the Bonnies, but the Bonnies know their roles. Nobody is playing to get out of their comfort zone. They all know their roles, which increase or decrease a little bit. But (Schmidt) doesn't have to worry about every guy thinking they're an NBA player."
It continues with Osunniyi, who is one of the Atlantic 10's top shot blockers, and the development of guards Welch (11.4 points per game), Jalen Adaway (12.2 points per game) and Jaren Holmes (13.8 points per game).
Those five seniors will be key in guiding Bona's depth. Bona added transfers in guards Quadry Adams and Linton Brown, and forwards Abdoul Karim Coulibaly and Oluwasegun Durosinmi.
Schmidt said his team understands what's at stake this season, a sign of their collective maturity. He'd be more concerned if he had a group of freshmen and sophomores who began the season ranked in the top 25.
The five returning starters didn't let the offseason hype overwhelm them, either. They say they didn't even expect to be ranked.
"Each and every game, we're going to get everybody's best shot. We're going to go out there and play basketball, like we know how to do," Holmes said. "It's not about the No. 23 team against whoever. It's just about St. Bonaventure, playing basketball, the guys we have out there, our teammates, and us preparing to go out there and get victories.
"When we go out there and play, we don't have the No. 23 on our shoes. We don't see that during games. Only people on TV see that. We're just going to go out there and continue to play as if we're not even ranked. And not even put that pressure on ourselves."
How experts see the Bonnies
Atlantic 10 coaches picked the Bonnies to repeat as conference champions. Lunardi, a longtime Saint Joseph's color analyst who is now ESPN's NCAA Tournament prognosticator, slots the Bonnies as a 5 seed in the NCAA Tournament in the current Bracketology.
"The next bracket comes out the first day of the season, and it will have more qualitative measures," Lunardi said. "Maybe they'll be a six or a seven because teams with highly rated newcomers have eclipsed them, but maybe not. They're legitimately good, no matter what your method is, and most people would say they were a year ahead of schedule last year, by winning the Atlantic 10."
In years past, the Bonnies have been a long shot of sorts, one of those small colleges that squeaks into the NCAA Tournament and puts a scare into a Power Six team. Or, in Bona's case, dispatching one of college basketball's blue bloods, as it did in 2018 when it beat UCLA in a First Four game.
The Bonnies are in the collection of Dayton, Bradley and St. Mary's of California, programs that make noise in conference tournaments, get airtime on CBS and make a run at NCAA Tournament bids. But the Bonnies are not yet among Georgetown, Marquette and St. John's, Catholic colleges whose basketball programs rose to national prominence and have become a staple of NCAA Tournament conversations.  
To do that, it means establishing consistency, whether it's winning games, retaining players and investing in the program, the recent upgrades to the Reilly Center or keeping Schmidt as the head coach.
"At the highest level," Goodman said. "They've been good. Dayton ran for a while and was dominant in the Atlantic 10 and they have the resources. If I'm St. Bonaventure, and I'm seeing this, I hope they step up, in terms of resources. And if you want to keep Mark Schmidt there, make the investment."
Because all the success that has been built during Schmidt's tenure has helped the Bonnies reach this point.
"This is probably going on 10 years of success for Coach Schmidt, and this is the best time to be a Bonaventure fan, because of the high expectations," said Griffin. "Now, everybody's wondering if they can move past the mid-major thing and be a powerhouse, nationally."