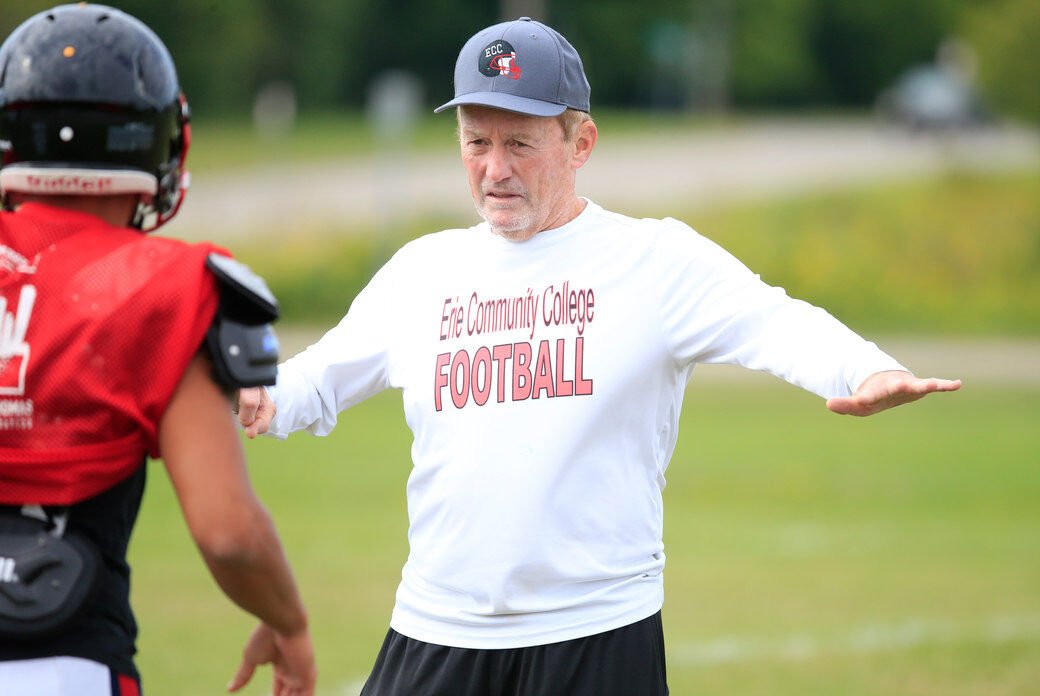 No Buffalo State team since its first varsity group in 1981 entered a season with less college football experience than this edition of the Bengals, who will face St. John Fisher in the season opener at 6 p.m. Saturday at Coyer Field.
Coach Chris Ozolins has only 16 players who appeared in a game in the 2019 season, the last time Buff State put a team on the field before the Covid-19 pandemic wiped out the 2020 season. That team, Ozolins' first as head coach after replacing Jerry Boyes, posted a 1-9 record. Only two Bengals played in all 10 games, offensive linemen Henry Palermo (Tonawanda) and Kyle Schreader (Starpoint). Schreader was second team All-Liberty League.
On defense, the most experienced player is linebacker Devin Delmont, a senior who was second on the team with 85 tackles and had eight tackles for loss in 2019. Linebackers Mike Drywa and defensive back Darren Thompson (St. Joe's) are others. Another experienced returnee is senior Cole Jenkins, who was named to the Special Teams U All-American Watch List as one of the best draft-eligible long snappers in college football.
The Bengals have hardly any offensive players who registered statistics in 2019. One is wide receiver Nas Jackson (St. Joe's), who caught 11 passes for 150 yards as a sophomore two seasons ago. Cam Sionko (Grand Island) is the only quarterback on the roster who has attempted a pass for Buffalo State. He has thrown three incompletions. Sionko was a four year starter at Grand Island.
Veteran coach Paul Vosburgh, a Lockport native who played at the long-departed DeSales High School, will bring a St. John Fisher team that will be looking for a third consecutive victory over the Bengals to even the series between the schools. Buffalo State leads 12-11.
Fisher has won the last two largely on the kicking of a Western New York product. Joe Dotterweich (North Tonawanda) kicked a 34-yard field goal on the last play for a 31-28 victory by the Cardinals the last time they visited Coyer in 2018. In 2019, at Growney Stadium in Pittsford, Dotterweich kicked three field goals and two extra points in a 23-6 Fisher victory. Dotterweich is back for this season, as is junior quarterback Hunter Walsh, who passed for 17 touchdowns in 2019, and running back Dashmir Pross, who ran for 748 yards in 10 games in the 2019 season.
The nonconference opener between former Empire-8 rivals will open a 10-game Buffalo State schedule. The Bengals will play six games in Liberty League play, including home games against Union, Rochester and St. Lawrence. League road games will be played at RPI, Ithaca and Hobart.
After a year away from football, Erie Community College also will open its season Saturday with a noon game against Hocking College of Nelsonville, Ohio, at West Herr Stadium in Orchard Park. It will be ECC's first game under new head coach Mike Kemp, who has Division III college head coaching experience at Plymouth (N.H.) State and Utica College.
ECC will play 10 games, but only three at home: Saturday against Hocking, Sept. 18 against Hudson Valley Community College and Oct. 9 against Nassau Community College.
The Kats list 58 players on their roster, including 25 from Western New York. It's a completely new group. All but five are freshmen at the college. Kemp has three freshman quarterbacks on the roster – Williams Rogers from Penn Yan, Gianluca Fulciniti (Lancaster) and Patrick Gerbec (Kenmore West).
The schedule is a little less daunting than usual. Among the missing opponents is Lackawanna College (Pa.), which embarrassed the Kats 83-0 in 2019 on the way to a 10-1 season.