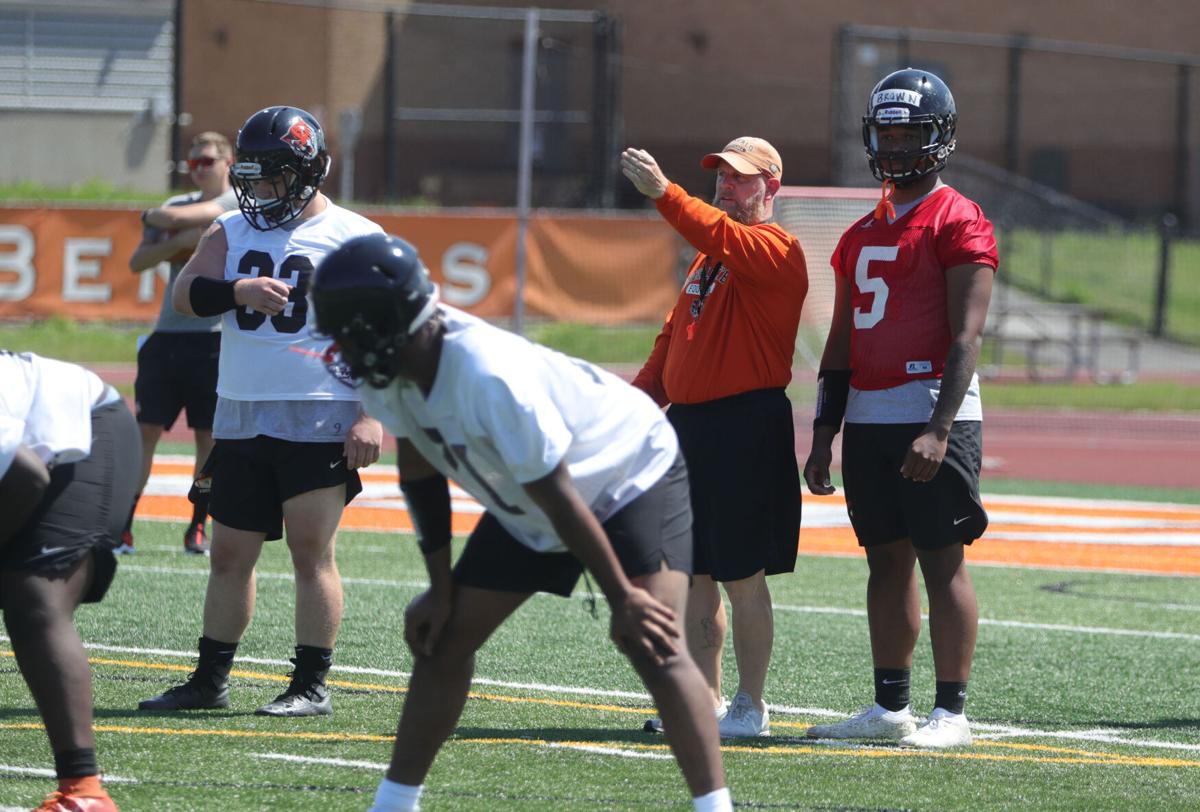 Buffalo State has begun a national search for a new head football coach, an athletic spokesman at the the college confirmed Wednesday.
Christian Ozolins, who has served as interim coach since 2019, tweeted an apparent farewell message on Wednesday afternoon, indicating that his service has ended.
"I would like to to say Thank you to Buffalo State College, athletic directors Jerry Boyes and Renee Carlineo for the opportunity over the past 18 years to be a part of the Bengal football program.  I take with me a lot of great memories from the sidelines of Coyer Field. "
Nate Smith, assistant director of athletics for sports information and student support, confirmed that Buffalo State has begun a search for a new head coach, and that a search committee is being formed among athletics department personnel and others in the college administration.
Ozolins was head coach for the 2019 and 2021 seasons. The 2020 season was not played because of Covid-19 restrictions. In his two seasons, the Bengals were a combined 1-19, with the only victory over Rochester in 2019. The record for the past season that was completed with a 41-6 loss at home to St. Lawrence last Saturday was 0-10.
The Bengals were truly competitive in only three games, losing by 7-8 point margins to St. John Fisher, RPI and Rochester. They lost decisively in Liberty League games and were routed by SUNY opponents Cortland (58-9), Morrisville State (41-10) and Brockport (41-16).
Ozolins was appointed on an interim basis when former coach Jerry Boyes gave up the post at the end of the 2018 season to concentrate on his duties as director of athletics. Boyes has since retired and Renee Carlineo was hired to replace him effective June 1, 2021. The completion of the 2021 season is the first opportunity Carlineo has had to put her stamp on the football program.
"He (Ozolins) has been coaching on an interim basis, and his term was over at the end of the season," said Smith, who indicated that Ozolins could be a candidate for the post on a permanent basis if he were interested. "It's not like he was let go."
Ozolins joined the coaching staff at the college in 2013 as offensive coordinator.
Nearly all of Buffalo State's success since its first varsity football season in 1981 came under Boyes, who had a 138-116 record as head coach from 1986 to 2000 and again from 2009 to 2018 including seven NCAA Division III playoff appearances.