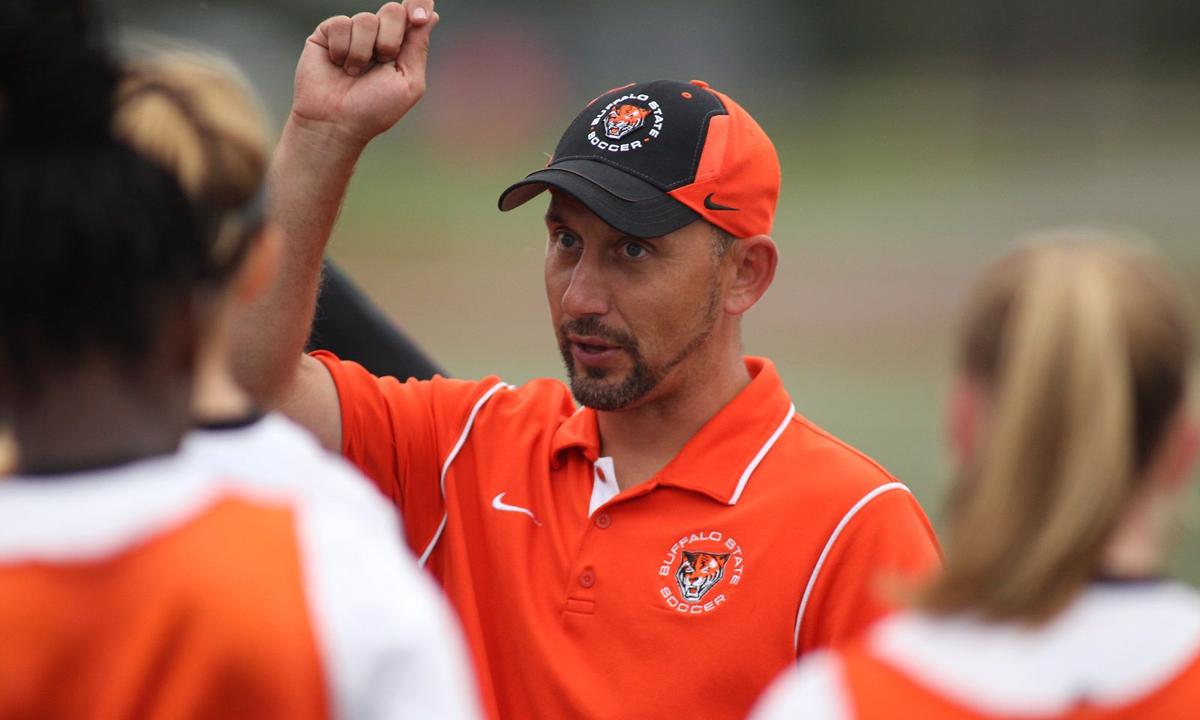 Former players have rallied around the embattled women's soccer coach at SUNY Buffalo State who has been accused of "unprofessional" behavior by some current players.
Instead, supporters of veteran soccer coach Nicholas DeMarsh describe him as a tough but fair coach, who taught them lessons they'll remember for the rest of their lives and kept in contact long after their playing days were over.
"I've been around so many coaches at so many different levels and he is by far and away my favorite coach of all time," said Erin Kinz, who played club soccer for DeMarsh while as a teenager. "He challenged me and pushed me beyond my mental and physical means and made me a better person."
"Honestly, I had nothing but a positive experience with Nick," said Meghan Jarrell, one of his former Buffalo State players. "I'm not going to lie to you, he's a tough coach, but he doesn't pull any punches about that. He's a tough coach, but he's a fair coach."
Eleven members of his 2019 team quit at the end of the season and called for his removal.
On Monday, Timothy Gordon, vice president of student affairs at Buffalo State, announced the college will commission an independent investigation of the women's soccer program and the complaints against DeMarsh.
"The complaints shared are indeed troubling and describe an environment that is not aligned with our institution's values. We continue to take these concerns seriously. The welfare of our students and student-athletes is my top priority," Gordon said.
"We are actively working to secure the services of a skilled and knowledgeable outside investigator to look into the complaints and evidence, and report back findings by the end of the calendar year," Gordon said.
While DeMarsh remains an employee of the college, Gordon said, men's soccer head coach Francesco Cardillo will oversee day-to-day operations of the women's program while the independent review is conducted.
In their complaint, the 11 players described DeMarsh's behavior as "unprofessional, hurtful and ultimately detrimental to one's mental health and self-confidence," citing 16 examples that they believe violated both NCAA principles and college's code of conduct.
Those accusations include singling out and embarrassing a player, holding personal grudges against players who stand up to him and telling a player crying in pain she needed to "keep it together."
DeMarsh has declined to comment, but his former players have decided to speak up for their old coach.
"In my opinion, there is no way any of that is true," said Kinz, who went on to play Division I soccer and submitted a long list of DeMarsh supporters to The Buffalo News. "Yes, he was a tough coach. Yes, he was hard on you, but if you speak to any of those people he is the best coach they ever had."
"I have known coach for over 10 years and he is the reason I am who I am today," said Jenna Smolinski, who played for DeMarsh's 2016 championship team. "He deserves someone to speak the truth about him."
"I know coach and I even played beside some of these girls," Smolinski said. "I'm not saying I wouldn't vouch for these girls, but I would vouch for this coach all day long."
The former players provided their own personal experiences with the coach.
Kinz and Smolinski, for example, described what they learned from DeMarsh, like resiliency and professionalism and keeping your cleats clean and picking up your sideline – lessons both big and small that helped prepare them for  life.
"I live in Denver right now and haven't seen Coach Nick in years, but when I'm mentoring young kids I literally tell stories of what Coach Nick had done for me," Kinz said.
Jarrell recalled how she broke a finger in a game her senior year and it was DeMarsh who waited at the hospital while doctors treated her.
After the players graduated, the coach has kept in touch – through marriages and the birth of children and the death of loved ones.
He has built a culture for the soccer program at Buffalo State, which includes bringing back former players for an alumni game each year, Jarrell said.
"When Nick took that program over the team was absolutely laughable. They were still wearing the men's old uniforms when he got there," Jarrell said. "By the time I graduated we had our first home playoff game."
DeMarsh, the women's soccer coach for 18 years, has a career record of 141-138-39 for a winning percentage of .505, according to the Buffalo State website.
In 2016, DeMarsh led Buffalo State to its first-ever SUNYAC Championship and NCAA Tournament berth, finishing 17-1-3, a school record for wins. He was also named the conference's Coach of the Year that season, the third time overall.
Since then, though, the team has had struggled through three losing seasons, finishing this year at 6-11-1.
Former players made it clear they didn't know what the problems were on the team these days and were careful about not pointing fingers at the current players.
But from what they've heard, that's not the coach they know.
"I think sometimes going from high school to college, kids aren't ready for that level of competition," Jarrell said. "Yes, it's Division III, but it's one of the most competitive Division III conferences in the country."
"Some of the things these girls are saying – I get it times have changed – but this is college athletics," Smolinski said.
"No person is perfect. I'm sure sometimes people say things they regret," Smolinski said. "I just don't see that it should be to the point of ruining someone's career."