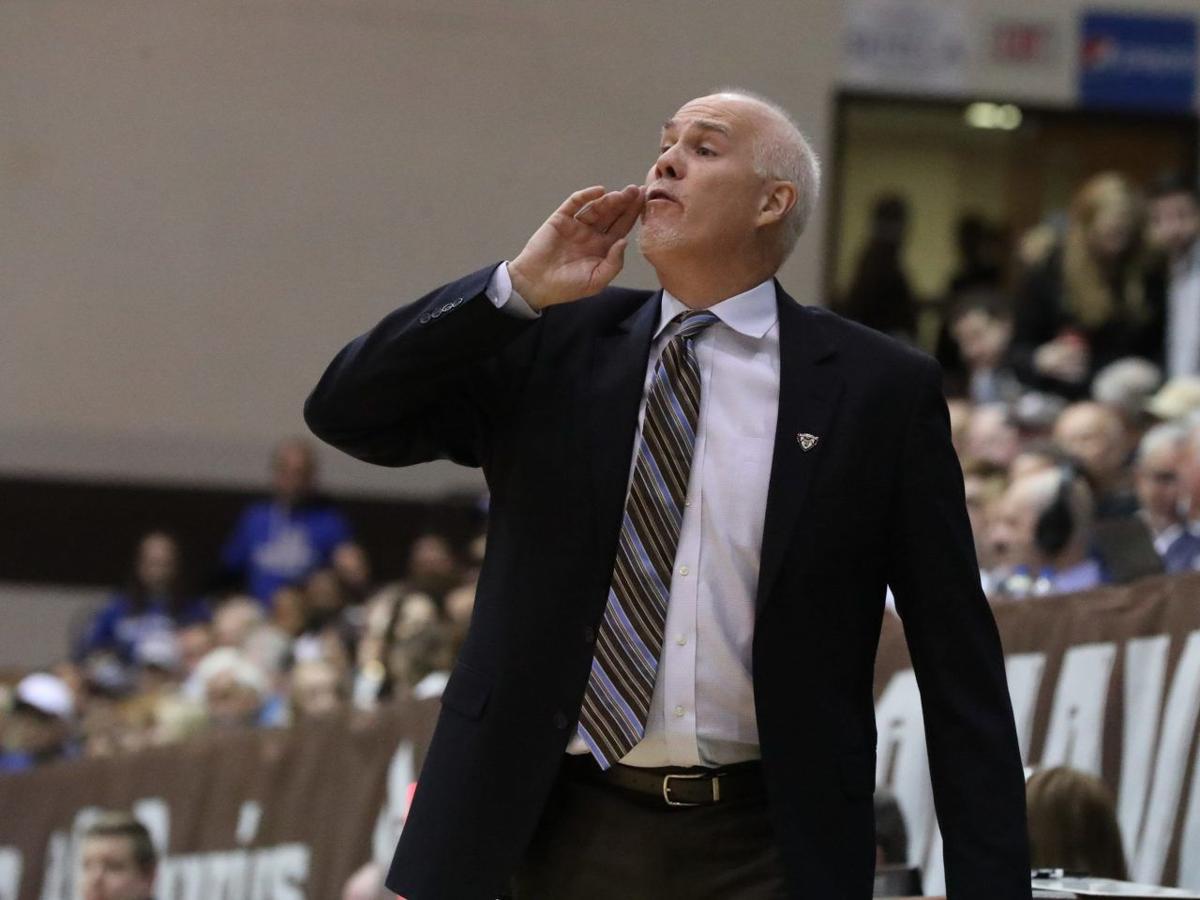 Mark Schmidt acknowledges the value of his team being nationally ranked. It adds to the program's prestige, and it brings forth a level of pride on St. Bonaventure's campus, within its alumni community and among its donors. 
Schmidt, though, clarifies the reality of leading a ranked program, as he enters his 15th year as coach of the St. Bonaventure men's basketball team. He uses no uncertain terms to explain that reality.
"As I told our players, it's only a preseason poll," Schmidt said. "Crumble that piece of paper up and throw it in the basket. The games are won on the court, and we understand that. I don't think the preseason polls are going to make our guys play any harder or any less hard."
At No. 23, the Bonnies are in the Associated Press men's basketball poll for the first time since January of 1971. The rankings were revealed Monday. Bona opens the season at 7 p.m. Nov. 9 against Siena at the Reilly Center in Allegany.
A day after the AP Top 25 rankings were released, the Bonnies considered what it means for the program to be ranked for the first time in 50 years. However, like Schmidt, they remained realistic.
The St. Bonaventure men's basketball team is back in the polls for the first time in more than 50 years.
The Bonnies qualified for the NCAA Tournament last season after winning the Atlantic 10 Conference's regular-season and tournament championships, and understand the expectation that comes with being a ranked program.
"We grew up wanting to play college basketball, wanting to build bonds with our teammates, and as a team, we did this," Bona guard Jaren Holmes said. "That's last year's team, and we're focused on this year, and the goals we have set. We're still smiling, deep down inside.
"Its still a true honor to be considered one of the best teams in the country. We're going to continue to work hard each and every day and keep putting our best foot forward to reach our goals that we have at the end of the season."
The Bonnies were 16-5 last season and return five starters who are seniors, including Holmes, point guard Kyle Lofton and shot-blocking forward/center Osun Osunniyi.
The Bonnies expect to repeat as Atlantic 10 regular-season and tournament champions. They expect to return to the NCAA Tournament, and to advance.
The Bonnies open their A-10 schedule Dec. 30 at George Washington.
They also have expectations for strong leadership and to play consistently throughout the season. There's no room for letdowns in the course of a schedule that includes games against No. 24 Connecticut (Dec. 11 in Newark, N.J.) and teams that could be candidates for the AP Top 25 poll this season, including Virginia Tech (Dec. 17 in Charlotte) and Atlantic 10 rival Richmond (Feb. 4 in Richmond, Va., and March 4 at the Reilly Center), as well as the University at Buffalo, a likely Mid-American Conference favorite (Dec. 4 at the Reilly Center).
"We've earned this schedule," Holmes said. "We feel like as a whole, as a team, we have a right to play these games. We're going to get everybody's best shot, but everybody is going to get our best shot, as well."
The Bonnies are motivated by a loss to LSU in the opening round of the 2021 NCAA Tournament.
"I'm lucky to have five seniors who have been through this thing," Schmidt said. "There were high expectations last year, maybe not as high as this year, but we have five veteran guys, five mature men that understand that rankings are great for the media and for the alums, but for our team, we understand what's at stake.
"Games are won and lost on the court. They're not won in the polls or newspapers. I'd be much more concerned if we had a young team or freshmen and sophomores just coming in and they haven't worked at it, and they got the preseason top 25. But these guys have worked their tails off."
Both schools announced Thursday that the Bonnies will host the Bulls in the first game of the four-year series at 4 p.m. Dec. 4 at the Reilly Center in Allegany.
Holmes, who averaged 13.8 points, 5.3 rebounds and two assists in 21 games last season, said that as the Bonnies trained this summer, they didn't expect to be ranked.
But with a bullseye and a national ranking now affixed to the program, the Bonnies are turning their focus inwards.
"Each and every game, we're going to get everybody's best shot," Holmes said. "It's not about the No. 23 team against whoever, it's about St. Bona, that you're playing basketball, the guys we have out there, the teammates, and us preparing to go out there and get victories."