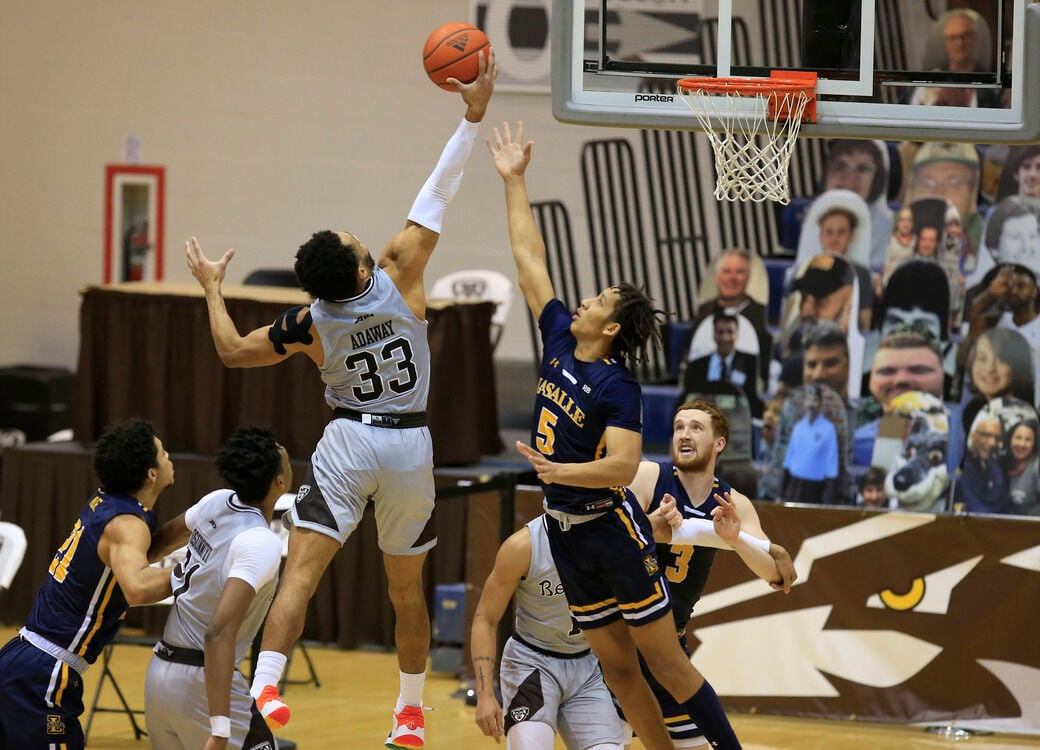 The St. Bonaventure men's basketball team became eligible for NCAA Tournament consideration Friday, when it played its 13th game of the season against VCU.
The University at Buffalo and Niagara men's basketball teams had already crossed that threshold for NCAA Tournament consideration.
Canisius, meanwhile, played only its seventh game of the season Friday when it resumed its schedule at Quinnipiac, after a layoff of nearly six weeks without games due to Covid-19 positive tests and contact tracing within the Golden Griffins' program. Canisius reached eight games with a victory over Quinnipiac on Saturday.
It is an illustration of the disparity in college basketball that has been created by the Covid-19 pandemic, particularly as postseason tournaments approach. Some teams have played upwards of 15 to 20 games, their schedules barely impacted. Other teams have played fewer than 10 games, and are in a sprint to make up games late in the season after losing ground as programs have paused activities due to Covid-19 issues.
"We're preparing for the home stretch and the opening stretch," Canisius coach Reggie Witherspoon said prior to his team's two-game series at Quinnipiac. "We have to do both of those at once."
A director of basketball operations' job has become more detail oriented as athletic programs navigate the season during unprecedented times.
Conference tournaments are scheduled to begin the first week of March, and the NCAA Tournament men's field will be announced March 14, a day before the NCAA women's field. Teams are eligible to be considered for NCAA championship selection if they play 13 games against Division I opponents this season. Teams can also play 12 regular-season games against Division I opponents and one conference tournament game to be eligible for tournament consideration.
Of the seven active men's and women's Division I basketball programs in Western New York, five reached the 13-game threshold prior to Saturday's games: UB men, UB women, Bona men, Bona women and Niagara men.
Niagara's women have played only six games after splitting a pair of games with Rider. The Purple Eagles were on pause and resumed their season Saturday.
The Bona men have had six nonconference games canceled due to Covid-19 issues, including games that were postponed when the Bonnies paused activities on Nov. 19. Bona has three Atlantic 10 Conference games that remain to be rescheduled due to positive Covid-19 tests or protocols. The Bonnies had schedule changes for eight straight games from Jan. 15 to Feb. 12.
However, Bona coach Mark Schmidt wasn't worried about reaching the 13-game baseline.
"We've got plenty of time," Schmidt said prior to Bona's win Feb. 6 against Saint Joseph's. "There's no concern about not getting to that number. We've got a whole month and we have three open dates on the schedule, so that hasn't really entered our mind at all."
The Canisius College women's basketball team will discontinue the remainder of season due to the Covid-19 pandemic, and due to health and safety concerns.
On the other hand, tournament eligibility is not a priority right now for Canisius. The Griffs have eight games scheduled in the final four weeks of the regular season before the MAAC Tournament is scheduled to begin March 8 in Atlantic City, N.J.
"First, we are always more concerned about the people we are coaching, and their health and safety," Witherspoon said. "But that's what it has to be, you have to do it the right way. You have to be concerned about the people you work with.
"Second, 13 games is out of our control. You have to control the controllables, and we have absolutely no control over how many games we can get in. As long as test results say that we're available, we can play, but there's so many things that are out of our control as to how many games you can play."
Playing 13 games against Division I opponents wasn't a major concern for Whitesell and the Bulls, but the number of games that have yet to be rescheduled is becoming a concern for UB, which is jockeying for position in conference tournament seeding.
After an 86-54 win Friday against Western Michigan, the Bulls were tied with Ohio for fourth in the MAC standings (7-4, .636 winning percentage).
The Niagara University athletic department announced the pause Monday after a Tier 1 member of the program tested positive.
While the Bulls reached the 13-game threshold Feb. 6 with an 88-64 win against Miami (Ohio) – UB also has a win against a Division II opponent – they had a pair of games postponed or rescheduled last week due to Covid-19 issues in opposing programs: Tuesday against Western Michigan and Friday at Central Michigan.
The virus, positive tests and Covid-19 protocols are starting to impact other programs around the Mid-American Conference. There still remains a difficulty in scheduling games as the season gets shorter.
"You're running out of time," Whitesell said. "We're 10 games in (in conference play) and you need, maybe, some three-game weeks somewhere. Or, are we going to play all 20 league games? No one's made that decision yet, but you're running into the danger of not getting all 20 in right now."
Of the MAC's 12 teams, all but two played at least 10 conference games prior to Friday. The MAC will decide its regular-season champion and its conference tournament seedings on winning percentage in conference games, rather than the conference win-loss record.
"We weren't worried about getting the minimum games in, but the concern we have is, can you have games scheduled that are equitable?" Whitesell said.
"We're also asking, can we still get games in? I think the league is looking at, we have to get as many games in and make it safe, and shuffle things around. We have four or five teams that are on pause right now, and some teams that are in contact tracing. Now, it's at the point where it's, who hasn't played each other?" he added.
Of the seven active Big 4 men's and women's basketball teams, the Bona men could be the team that has the best chance at making the men's NCAA Tournament, which is scheduled to begin March 18 with the First Four in Indiana. 
In the 68-team men's tournament, 31 teams will earn an automatic bid by virtue of winning a conference tournament championship, and 37 teams will earn at-large bids. 
In the 64-team women's tournament, 31 teams will earn an automatic bid by virtue of winning a conference tournament championship, and 33 teams earn at-large bids. 
There's also a growing sentiment in the national college basketball landscape that teams who are in position to earn at-large bids could consider opting out of conference tournaments and just focusing on the NCAA Tournament, which has outlined stringent protocols for its participating teams, including a requirement that any member of the Tier 1 personnel who travels with a team must have seven consecutive negative Covid-19 tests prior to arrival.
"I don't think you'll see (opting out of a conference tournament) at our level or even in the Atlantic 10," Whitesell said. "I could see it happen with a team that's part of a secure at-large group, and that's a very small group. But if you're in that situation, you have to consider it."
College basketball tournaments
Atlantic 10 Men's Tournament: March 10-14, Richmond, Va.
Atlantic 10 Women's Tournament: March 3-7, Richmond, Va.
Metro Atlantic Athletic Conference men's and women's tournaments: March 8-13, Atlantic City, N.J.