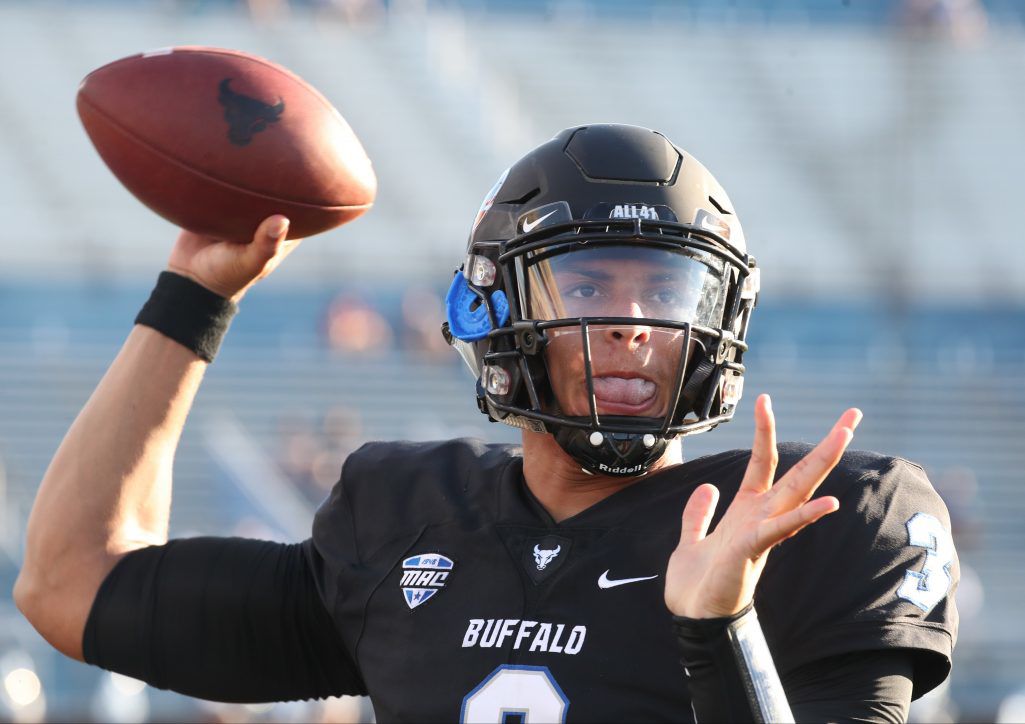 The University at Buffalo football team's 51-42 win against Miami (Ohio) had all the trimmings of a November game in the MAC.
Obviously, it was a high-scoring affair. The outcome wasn't decided until the final minutes. And the Bulls got a lights-out performance from Anthony Johnson, who deemed himself healthy following a record-setting performance Tuesday at UB Stadium.
The senior wide receiver caught eight passes for 238 yards in a 51-42 win against the RedHawks. Johnson set a single-game school record for the Bulls, which highlighted a back-and-forth game that wasn't decided until the Bulls made two defensive stops in the final 2½ minutes.
Johnson and Bulls quarterback Tyree Jackson carried the offense Tuesday against the RedHawks, at a point in the season where defense almost becomes optional once the calendar approaches November and the MAC showcases its teams in mid-week, prime-time games.
Johnson only needed four quarters to set a personal and school best against Miami. He helped the Bulls (8-1, 5-0 MAC) control their lead in the MAC East Division, ahead of Ohio (5-3, 3-1) and Miami (3-6, 3-2).
It didn't hurt that Johnson woke up feeling pretty good, either.
"Before the game, my body's feeling good," said Johnson, who sustained an injury to his left hamstring Sept. 22 at Rutgers.  "I know when I'm healthy, I can make good plays for this team.
"I felt excellent today."
That boast is dangerous for Buffalo's final three opponents, as UB pursues the MAC East title. The Bulls host Kent State on Nov. 6, then travel to Ohio for a night kickoff Nov. 14 in Athens. The Bulls close the season Nov. 23 at Bowling Green.
"Let's be honest," said Jackson, who threw 358 yards and three touchdowns on 20-of-34 passing against the RedHawks. "When AJ's healthy, he's the best receiver in college football, in my eyes. Having a guy like that on your team, it's awesome. He makes great plays. It's a blessing to play with him. We're coming down to our last stretch of games with him, but it's been so fun, so far."
Johnson and Jackson's chemistry on the field was in a resurgence Tuesday night, after Johnson missed all or parts of three games because of injury from Sept. 29 to Oct. 13 .
Jackson hit a bit of an individual lull in that stretch, passing for 152 yards in a loss to Army on Sept. 29, and 127 yards in a win Oct. 6 at Central Michigan. It might just be a coincidence that he was without Johnson as a receiver in both of those games.
Johnson's return to the offensive fold has only helped Jackson. Jackson threw for at least 200 yards for the third straight game.
"The thing about AJ, me and him have a great connection," Jackson said. "I understand what he's going to do, and there's times he might switch a route up a little bit, but we're on the same page. We understand each other. He's a play-maker."
Yet if Jackson and Johnson aim for that chemistry to peak in the next three games, neither is necessarily saying so.
"It's one game at a time," Jackson said. "We can't look down the road. We have to stay focused. We have to worry about Kent State."
Johnson was instrumental in the first half, tying the game twice, first at 7-7 on a 75-yard touchdown pass in the first quarter, and then at 21-21 6½ minutes into the second quarter on a 20-yard catch.
Johnson's third touchdown – a 10-yard pass from Jackson with 4:58 left in the third – gave the Bulls a 42-28 cushion. But that margin was short-lived, as the RedHawks answered with two touchdowns in the final 2 minutes, 29 seconds of the third. Miami's second touchdown, a 1-yard run by quarterback Gus Ragland (20 for 35 passing, 313 yards, touchdown) with 17 seconds left ended a drive that started with Miami's recovery of an onside kick.
Johnson caught only one pass in the fourth quarter, a 10-yard completion that moved UB to the Miami 20-yard-line and set up Adam Mitcheson's 37-yard field goal, which gave the Bulls a 51-42 lead with 3:54 left.
But on first-and-10 at the UB 22, Kadofi Wright sacked Ragland with less than 2½ minutes left and stripped the ball out of Ragland's hands. James Patterson recovered the fumble.
Then, with 1:35 left, UB's defense forced Ragland to throw four straight incompletions, including a pass that Dominique Robinson dropped on fourth-and-10 from the UB 39.
"Everybody had to be focused and locked in, because the game was a lot closer than it should have been," Wright said. "Everybody had to be on the same page."
At that point, Johnson was happy to cede the stage to his defense in the final minutes. Especially when it meant being healthy, and helping his team stake its pursuit of a division title.
"It was real fun, to get back out there and be healthy, and run around like I've been doing before," Johnson said. "I hope I can keep it up and stay healthy. There's much more to come."
Be the first to know
Get local news delivered to your inbox!