Nick O'Neil had torn emotions as he watched the Niagara University women's basketball game on Feb. 20.
Angel Parker, who played for O'Neil at Cardinal O'Hara, was about to make the winning shot for Niagara. O'Neil's daughter plays for Saint Peter's, which had unsuccessfully defended Parker. The Niagara star had tied the game, 82-82, and was about to win it on a three-point play, after being fouled on a layup as time was about to expire.
But as Parker lined up to make the decisive free throw, the seventh-year O'Hara coach thought of the family Parker came from – a family whose women's lives revolved around basketball – and he thought of the path that Parker had taken to Niagara.
Three years ago, health issues changed Parker's route to college basketball. She originally committed to Siena College as a junior at O'Hara but signed with Niagara in the summer of 2019. Then, a conversation with Purple Eagles coach Jada Pierce prior to this season gave Parker the push she needed to open and change her game. Don't just pass the ball and set up your teammates, Pierce told Parker. Be a scorer.
For Parker, the change in her role wasn't daunting. It came as an honor to her.
"They believed in me to take on that role," said Parker, a sophomore. "They had faith that I could do it, and it was me believing in myself and trying to get into that role. I like getting people open, getting steals, playing defensively. So for them to have that confidence in me to have to score, to want me to score, I wanted to step into that role and fulfill it."
The 5-foot-6-inch guard from Cheektowaga leads the Purple Eagles in scoring (14.5 points per game), rebounding (6.9 per game) and assists (59). Niagara (4-6 overall and in the Metro Atlantic Athletic Conference) is scheduled to finish the regular season with a two-game series at 1 p.m. Thursday and 1 p.m. Friday at Siena.
In a 71-57 loss to Quinnipiac on Friday, Parker hit a highlight-reel worthy, half-court 3-pointer at the end of the third quarter.
A day later, she scored 23 points in the Purple Eagles' 78-69 win against the Bobcats – Niagara's first win against Quinnipiac in program history.
"She has definitely brought her positivity and her work ethic," Pierce said. "She is very much committed to helping other people, and that stems onto the court. She's always been a very good teammate, even when she wasn't a featured player, and that's one thing that stands out about her, her willingness to be there for everybody on the team."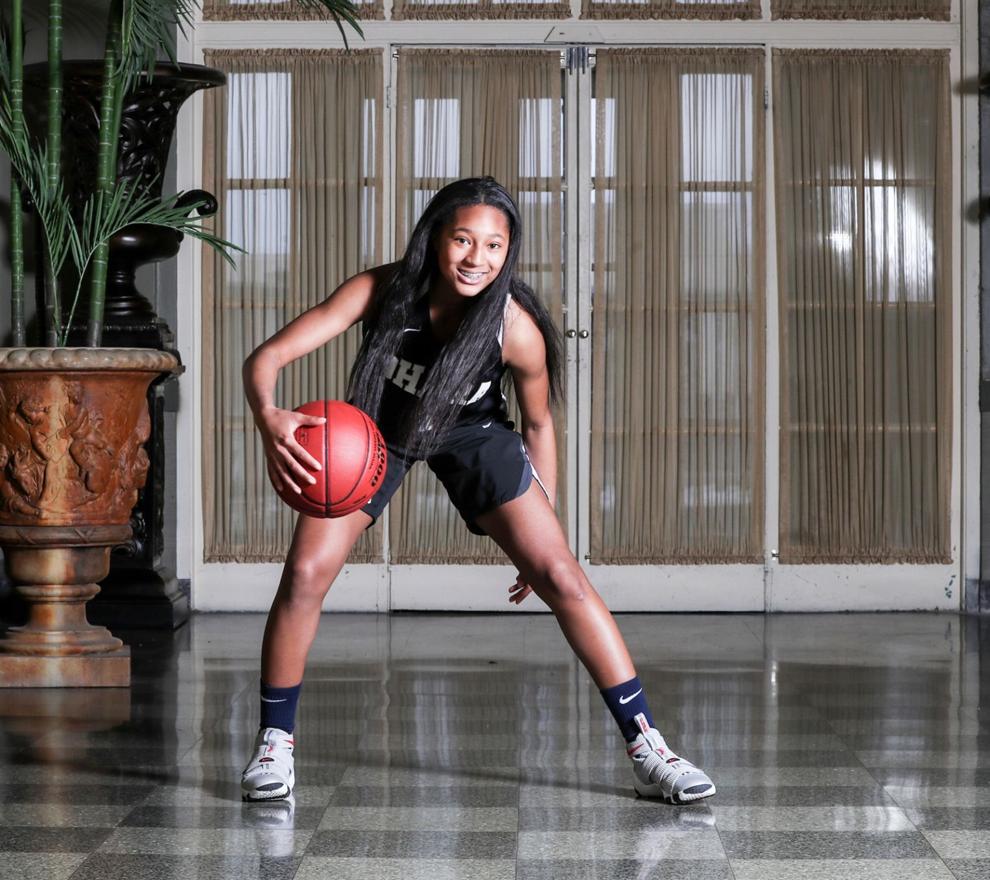 Taking a detour to Niagara
At Cardinal O'Hara, Parker was a two-time All-Western New York first-team selection and the Sister Maria Pares Buffalo News Player of the Year in 2017-18 as a junior. She was also two-time Monsignor Martin High School Athletic Association Player of the Year.
As a senior in 2018-19, Parker averaged 13.5 points, seven assists, five steals and four rebounds per game, and led the Hawks to their sixth consecutive Monsignor Martin playoff title.
Parker is from a family of 11 children, for whom basketball is a certain rite of passage. All her brothers and sisters – six older siblings and four younger siblings – play or have played basketball, including her younger sister Aaliyah, a senior at O'Hara who committed to Niagara last April.
"The older sisters put the pressure on the younger ones to play basketball, and some of the best basketball battles they had were at their house," O'Neil said. "The sport is their whole being, and the girls from her family who have played for me, those girls will give you everything they've got. They're good kids, good students and good basketball players."
However, during her junior year at O'Hara, Parker began having stomach issues and quietly played games in pain, while trying to assess her future in basketball because of her health. At some points in the season, she had to go to the hospital, and there were days when O'Neil did not want her to play in games. That didn't sit well with Parker.
"I held her out of a few games, for her well-being," O'Neil said. "She would get mad if I didn't play her.
"Some of her health issues slowed her down, but she never wanted to use that as an excuse."
Parker signed a national letter of intent in November 2018 to play basketball at Siena. Still, she was frustrated about her stomach issues, and continued to pursue medical treatment in Western New York, which ultimately facilitated her decision to ask for her release from Siena and to enroll at Niagara.
"I was struggling with problems with my stomach, but that's improved a lot, with the new doctors that I've got," Parker said. "Wanting to be closer to home, closer to my family and knowing the coaches here were always there for me, and always checking up on me, I felt like I could really fit in here, and still be close to my family."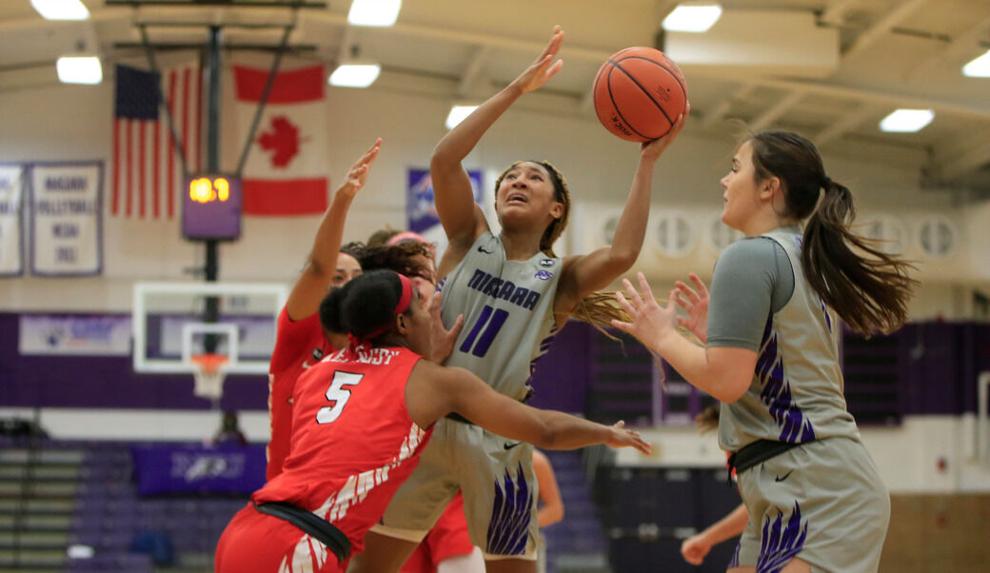 As a freshman at Niagara in 2019-20, Parker played 31 games, averaging 3.8 points and 1.6 rebounds, with 39 assists and 37 steals.
Parker was primarily a playmaker and a facilitator. But after Niagara lost its top seven scorers from 2019-20 due to transfers and graduation, Pierce, Niagara's coach, needed Parker to expand her role in her sophomore year.
"We asked her to step into a new role this year, and to be able to score, as well as distribute and be a very good defensive player for us," Pierce said. "Angel already had a lot of God-given abilities, coming into everything, and I think for us, it was helping her to see that, and enhancing some of those areas."
Parker said she has learned more about basketball, such as seeing how and why certain things happen during the course of a game, and utilizing that in games, rather than just relying on instinct and her sharp decision-making skills.
The Purple Eagles have only played 10 games this season, as Covid-19 issues, including positive tests, have paused activities three times since Dec. 9. They have played six games in the last three weeks, which has helped Parker thrive in her time on the court, even though she still has moments in an abbreviated season in which she has to tell herself to embrace her role.
"It goes down to the type of mentality we're trying to have here, going against all the adversity," Parker said. "There's a lot with Covid, and with everything that's going on. So, having the opportunity to play, it's just to try to play as hard as I can, do the best I can in those moments where I can, because it's not promised."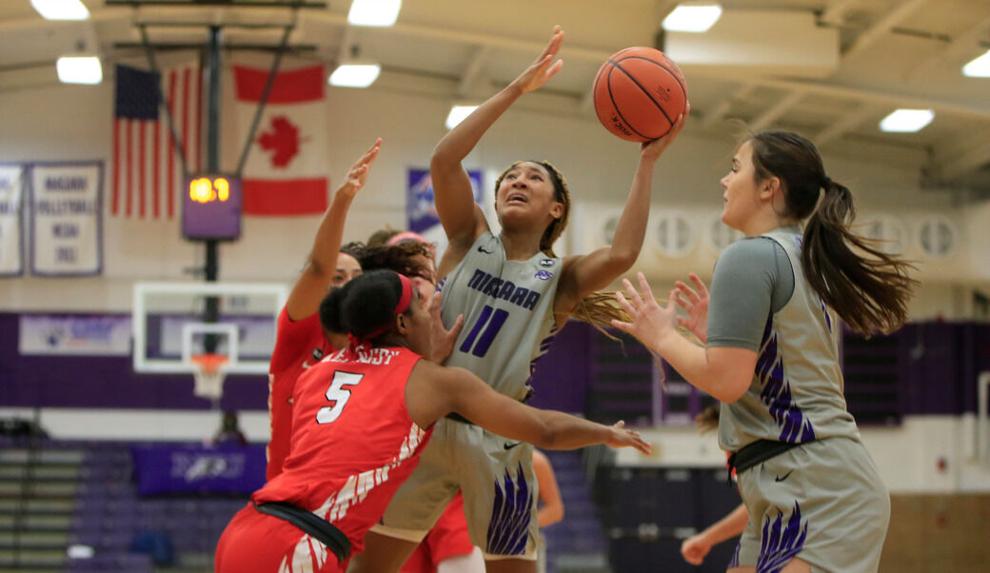 A few days after O'Neil watched Parker make the winning shot for the Purple Eagles, he laughed as he recalled the play.
O'Neil's daughter, Nickelle, is a guard for the Peacocks. But as Parker's former coach, he was pleased to see Parker thrive.
"I was happy for Angel, but I was sad for my daughter's team," Nick O'Neil said. "But I have a great relationship with the coaching staff at Niagara, and it's a really good place for Angel. And I like where the Parker sisters are going to be. I like where Angel is at. And I like what she is going to be able to do at Niagara.
"Right now, she's having an extraordinary season. It shows how disciplined she is and how committed she is to what she does, and what she's been through."