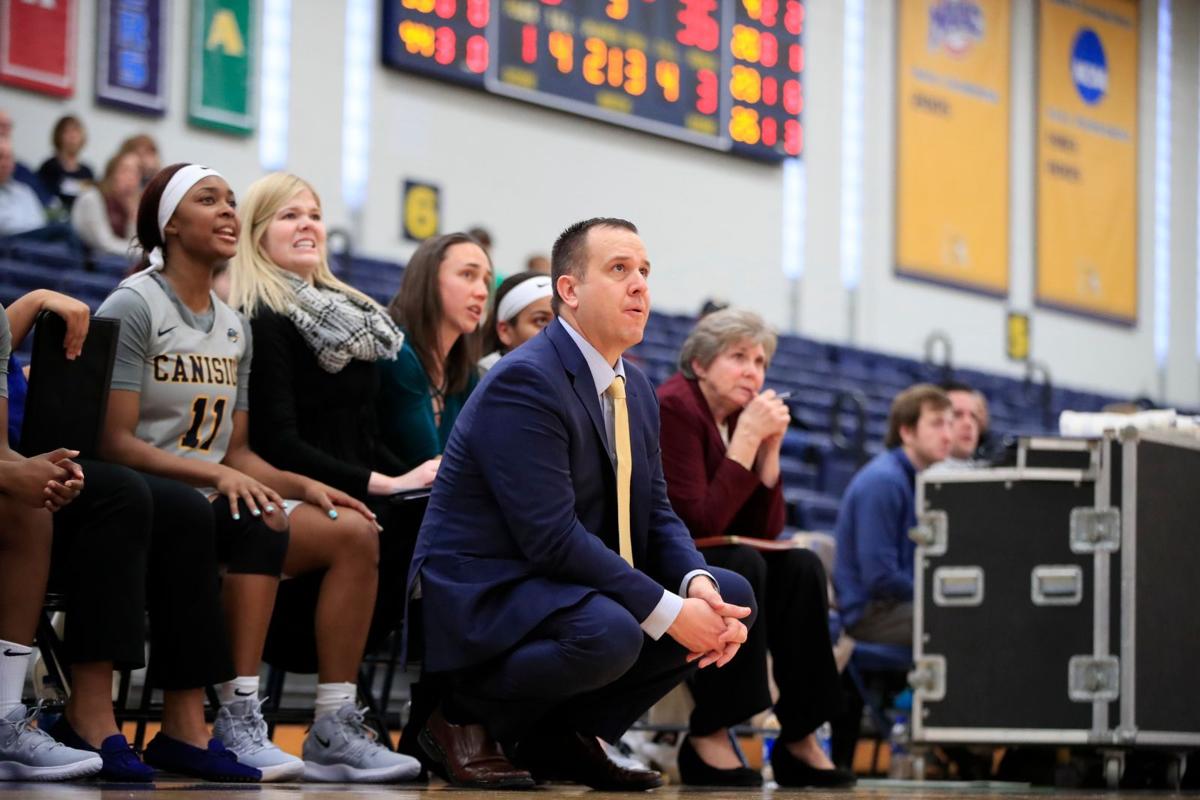 Scott Hemer, the Canisius College women's basketball coach, has resigned from his position after three seasons with the Golden Griffins.
Canisius announced Tuesday morning that Hemer will step down from the job; Hemer cited personal health reasons for his resignation. The Griffs were 16-49 in Hemer's three seasons at Canisius, including a 13-29 record in the Metro Atlantic Athletic Conference.
Through a Canisius athletic department spokesperson, Hemer declined to comment to the News on his departure. He instead deferred to a statement released by the school regarding his resignation.
"Going through a year like we all just experienced forced everyone, myself included, to reassess many things. For me, I kept coming back to my personal health and my family's well-being," Hemer said in the statement. "Despite my passion for coaching and my passion for Canisius and our women's basketball program, I believe now is the best time for me to step away from the coaching profession to take care of myself and my family."
This season, however, was one of the most challenging for the Griffs. Canisius' athletic department announced Feb. 4 that its women's basketball team would discontinue the remainder of its season due to the Covid-19 pandemic and due to health and safety concerns.
When the cancellation of the season was announced, Canisius' basketball activities had been paused for more than a month, due to positive Covid-19 tests in the program. Hemer also told the News that his roster had been impacted by injuries that would have prohibited the Griffs from resuming their schedule until at least mid-February.
The Griffs finished 0-5 and 0-4 in the MAAC this season.
Canisius athletic director Bill Maher said in a statement that a national search for Hemer's replacement will begin immediately.
"The past 15 months have been a challenge for everyone and it has made all of us to review our priorities and evaluate personal and family decisions," Maher said in the statement. "I appreciate everything Scott has done for our program and I support his decision to focus on his health and his family at this time."
Hemer became coach of the Griffs in 2018, after 11 seasons as the women's basketball coach at SUNY-Geneseo, where he was named the SUNYAC coach of the year, and was the 2016 Pat Summit Trophy winner as the United States Marine Corps/WBCA NCAA Division III National Coach of the Year.
Canisius was 11-19 and 9-9 in the MAAC in Hemer's first season in 2018-19. The Griffs earned the No. 5 seed in the conference tournament that year, their highest postseason seeding and best conference winning percentage since 2008-09. Canisius was 5-25 and 4-16 in the MAAC in Hemer's second season. 
Hemer, a St. Bonaventure graduate, also was the head women's basketball coach for six seasons at Genesee Community College in Batavia, was an assistant at SUNY-Fredonia for one year and was the varsity girls basketball coach at Gowanda High School from 1996-2001.