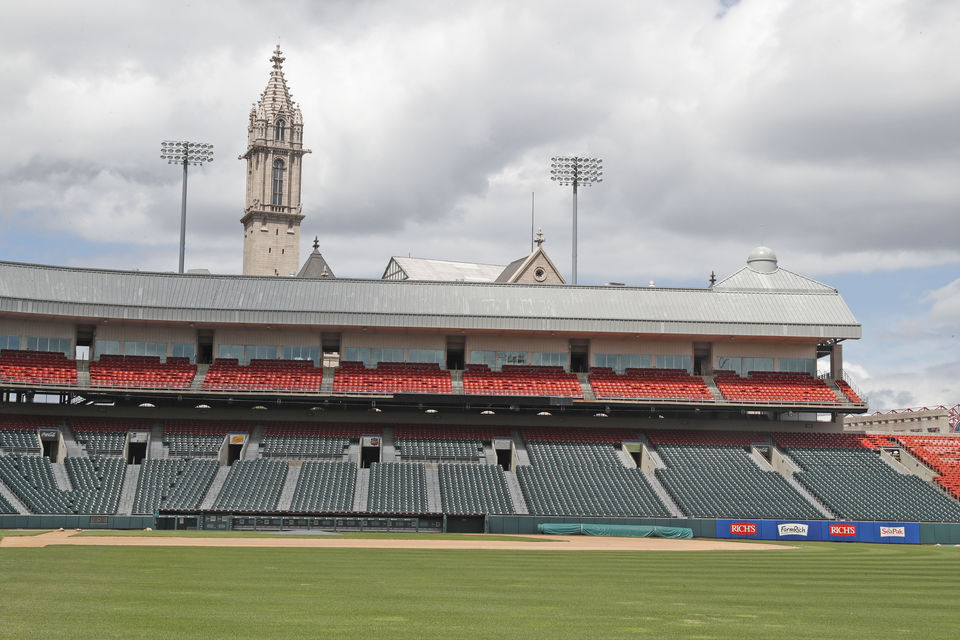 The Toronto Blue Jays are officially a team without a home. And Buffalo is ready to step in if Major League Baseball calls the city to the plate.
After receiving the OK from the city and the province of Ontario a few days ago, the Blue Jays were denied permission to play their home games in Rogers Centre this year in a decision announced Saturday by the Canadian federal government.
Time is of the essence and the Blue Jays are now in scramble mode to have a site for their regular season games. Sahlen Field is one of the primary options for the the 30-game schedule that begins July 29 against the defending World Series champion Washington Nationals.
But the home of the Buffalo Bisons, which would need lots of fast upgrades, is far from the only one.
In spite of Florida's exploding Covid-19 numbers, the Blue Jays have not given up the thought of playing their games at TD Ballpark in Dunedin, their spring training home. And team president/CEO Mark Shapiro made it clear Saturday night there are other facilities in play, likely those of unnamed fellow MLB teams.
"Dunedin is the only one that is 100 percent seamless right now and ready to go," Shapiro said. "That from a player health standpoint has some challenges. Buffalo is certainly one we've spent an increasing amount of time in the last few weeks. That is not done. There are some infrastructure and player facility challenges we'd have to address to get that up to major-league standards."
The Jays and Bisons have spent the last few days working on a plan to move the games here and make upgrades to the ballpark if Canadian officials said no. Sources say all timetables, including a major upgrade needed for the 32-year-old stadium's lighting, could be done in time for the games to be played here. Toronto has been the Bisons' parent since 2013.
As is going to be the case in all major-league parks when the season opens on Thursday, no fans would be allowed to attend the games.
"We have been making plans over the last several days to see what it would take to get our ballpark ready should this scenario arise," Mike Buczkowski, president of Rich Baseball Operations, told The News Saturday afternoon. "But we have no definite 'yes' that the games will be played here at this time."
Shapiro said the Blue Jays have particular concerns about clubhouses and training areas in Buffalo. 
"It's a smaller footprint and is obviously not a major-league facility and the teams we're competing against are playing in major-league facilties," he said. "We would look to improve those things. We have spent time over the last 10 days working on that. We continue to work on that but we're weighing that against other alternatives as well."
Canadian Immigration Minister Marco Mendicino announced in a statement Saturday the federal government had denied the request largely because of the cross-border travel that the Jays and visiting teams would have to complete to play their games. Of particular concern were the Jays' trips to Tampa Bay and Miami, two hotspots for Covid-19.
"Unlike preseason training, regular season games would require repeated cross-border travel of Blue Jays players and staff, as well as opponent teams into and out of Canada. Of particular concern, the Toronto Blue Jays would be required to play in locations where the risk of virus transmission remains high," Mendicino said.
"Based on the best-available public health advice, we have concluded the cross-border travel required for MLB regular season play would not adequately protect Canadians' health and safety. As a result, Canada will not be issuing a National Interest Exemption for the MLB's regular season at this time."
The Blue Jays' open their season Friday at Tampa Bay as part of a five-game road trip. The home schedule begins with a five-game homestand from July 29-Aug. 2, with the first two games against Washington and three against Philadelphia. There are seven games against the New York Yankees – all in September – as well as seven against Baltimore, three against the New York Mets, Boston and Tampa Bay, and two against Florida.
Virtually all expenses of a potential summer in Buffalo would be incurred by the Blue Jays and Major League Baseball, and the Bisons would be able to bring back some ballpark employees who had been furloughed last month in advance of the cancellation of the minor-league season.
"As Mayor of Buffalo, I would love to see the Blue Jays play at Sahlen Field," tweeted Mayor Byron Brown.
"The 'Buffalo Blue Jays' sound good to me. Let's find a way to make this happen," was the thought tweeted by Erie County Executive Mark Poloncarz.
A lot has to fall into place quickly for that to happen. Shapiro said MLB has not given him any drop-dead date for a decision but the schedule obviously pushes the issue on its own.
"Buffalo is the place we've spent the most time on the last 10 days. There's a lot that we have to do," Shapiro said. "Some of it might get done after we start playing but I'm confident Buffalo is a viable alternative and with the amount of resources we would marshal if we focus solely on Buffalo, we can make it what it needs to be for us in time to play games."
Shapiro said he's taken notice of the way the Boston Red Sox have repurposed previously public areas of Fenway Park for use this season, and said similar moves would need to be made here.
"A lot of that has been driving our thoughts," he said. "Not just the indoor but the outdoor with temporary facilities. Utilizing concourses, utilizing suites. Those are all the things we've already started to consider as we worked through the Buffalo alternative."
The Blue Jays received an exemption for their ongoing Summer Camp, with players isolated in the Marriott City Centre hotel attached to Rogers Centre. The team's plan for the regular season was to keep its players and staff and those of the visiting team quarantined in the hotel as well.
Mendicino's statement left open the possibility of the Blue Jays being able to return to Toronto for postseason games if they qualify based on coronavirus conditions.