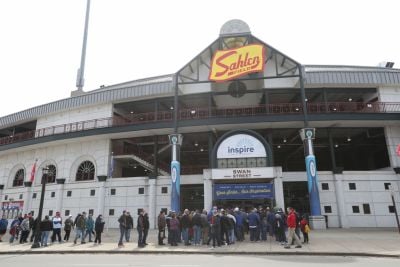 The Toronto Blue Jays are preparing to use Sahlen Field as the site for their "taxi squad" during the upcoming Major League Baseball regular season, team president Mark Shapiro said Friday.
Speaking on a media conference call, Shapiro said holding the taxi squad in Buffalo is the "most likely" destination and that details could be finalized next week by General Manager Ross Atkins and the club's minor-league staff.
Shapiro said Buffalo is not under consideration as a site for the team's spring training that is scheduled to open next week, nor would the city host regular-season games. The Blue Jays remain focused on holding Spring Training 2.0 and playing their home games at Rogers Centre in Toronto, with their spring complex in Dunedin, Fla., serving as a backup plan.
Some tweets from national baseball reporters and some stories in the Toronto media this week speculated that Buffalo could be a possibility as a host. 
"That was a 'misreport,'" Shapiro said. "I think we did consider Buffalo along with many other facilities along the way, thinking it through both from a regular season and from a training perspective.
"In the end, although there is no perfect alternative, the ability for us to conduct our training in a building that provides scale in a municipality that we had a lot of resources, infrastructure and support, it just felt like we had spent too much time and energy meticulously planning how exactly how would conduct and pull off training in Dunedin to offset challenges of what's going on in Florida right now."
Mike Buczkowski, president of Rich Baseball Operations, confirmed to The News following the call that the Bisons never discussed spring training or regular-season games with the Blue Jays.
The thunderstorm that rolled through late Tuesday afternoon struck me as a pretty good metaphor for this
While speaking in general teams and not specifically referencing Sahlen Field, Shapiro noted the Jays needed "major-league quality resources" and lots of medical support. It would be difficult to get that in Buffalo on short notice as several Bisons employees have been furloughed and the ballpark, opened in 1988, does not have expansive training facilities.
In addition, the city and Erie County have done no preparation for a major-league team to be in town as soon as next week.
Teams are going to be allowed to have 60 players in their pool for use during the upcoming 60-game MLB season. The roster will start with 30 players and other players will hold workouts at a different site nearby to cut down the chance of a spread of coronavirus. Most teams are planning to use a nearby minor-league affiliate to host the extra players.
"We've started to talk to them about the possibility and I think we will know more this weekend about what the timing of it will be and what we might need to do to get ready for it," Buczkowski said. "We're happy to cooperate with them any way we can if Buffalo is a place that makes the most sense as a viable option for them."
Buczkowski said the Bisons will run the Jays' plans past city, county and state officials so they meet health protocols.
The Blue Jays are dealing with a lot of moving pieces. Coronavirus cases are spiking in Florida, so the team is understandably hesitant about using its Dunedin complex.
But the Canadian border remains closed through July 21 and there are continued 14-day quarantines for those who enter Canada.
The Jays are under severe time pressure to finalize their situation, with the report date for spring training coming Wednesday and the regular season slated to open either July 23 or 24. MLB is expected to release team schedules next week.
The club is working with Toronto and Ontario provincial health officials regarding these issues, but Shapiro said Friday he simply had no answers.
"I'm not going to be able to provide you with closure because there is no closure at the moment," Shapiro said.
The Bisons' season has not been canceled yet, although it's considered a formality that the 2020 schedule for the entire minor leagues will be wiped out any day.
Shapiro, of course, knows Sahlen Field and the Bisons' organization well. As the former farm director of the Cleveland Indians, he built three consecutive playoff teams in Buffalo from 1995-97, including the '97 team that won the American Association championship. Shapiro then ascended to roles as general manager and president of the Indians, who were the Bisons' parent from 1995-2008.