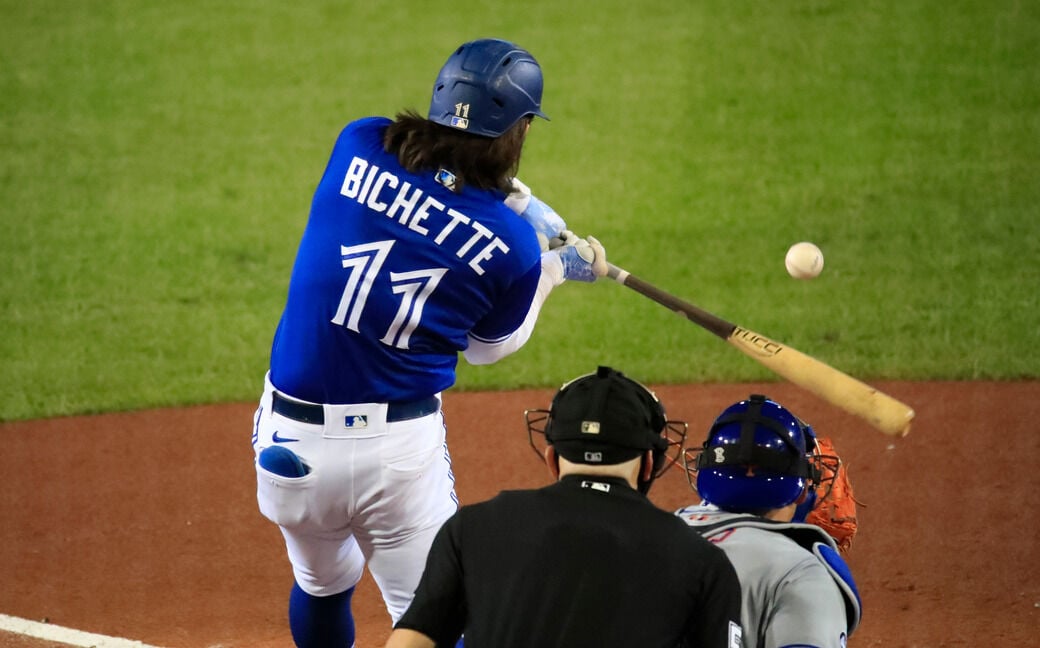 Instead of watching his team battle for a playoff spot, Bo Bichette is now in the middle of it with his teammates, and there's no place he'd rather be.
The star shortstop not only returned to the lineup Saturday night after a lengthy absence but contributed to the excitement building around the team as the Toronto Blue Jays returned to their winning ways by defeating the New York Mets, 3-2.
One night after being flogged by the Amazin's, 18-1, at Sahlen Field, the Blue Jays rebounded from that and snapped a two-game losing in their signature, nail-biting fashion. They did it with Bichette in the lineup as he finished 1 for 4, scoring the Jays' first run a half inning after the Mets had taken a 1-0 lead by scoring their 19th consecutive run of the series.
Though he stranded six men on base, he fueled the comeback leading off the bottom of the fourth with a hard single to left. He scored on Randal Grichuk's infield hit later in the inning, as the Jays scored single runs in the fourth, fifth and sixth innings.
He had chances to help them have a big inning in the fifth but hit a soft liner to first with the bases loaded for the first out. He scorched a liner to center that was caught to end the sixth, also with the bases loaded.
"The return is huge for us," Jays manager Charlie Montoyo said. "He was our best hitter when he got hurt. … You can tell he looks good at the plate. It's not that easy to lose that much time, come back have good at-bats and he did today. We're happy to have him back for sure."
When Bichette went down with a knee injury nearly a month ago, it was viewed as potentially catastrophic for a young Toronto team still finding its way during this unique 60-game season. He was their best hitter, batting .361 with five home runs and 13 RBIs. He hit .563 over first four games at Sahlen before the injury (three homers, seven RBIs).
Though the Jays showed flashes of being a good ball club at the time of the  injury, they made just enough hiccups to have a 7-11 record the day word spread Bichette hurt his knee while stretching in the on-deck circle.
Instead of sinking, others stepped up to fuel the Jays' run to second-place in the division. Toronto won 17 times without Bichette.
"I definitely wanted to be a part of it but at the same time they've been playing amazing, fighting every night and winning a lot of close games," Bichette said. "As much as I wanted to be a part of it, it was just as much fun to watch and see how they've competed the past three-four weeks."
Bichette said the injury was a freaky thing that happened in the first inning of a game against Tampa Bay that he stayed in and finished.
"I did a stretch and my knee just popped," he said. "It was hurting a little bit but it kind of went away after about 10 seconds. Went and played the rest of the game but it got banged. I went inside, sat down and it started to puff up."
When key hitters Teoscar Hernandez and Rowdy Tellez landed on the disabled list the past week, Bichette discussed with his parents whether he should rush back.
"I was already ahead of schedule, but they weren't too excited with me thinking that way," Bichette said. "But I did a really good job with the rehab. I might be four to five days ahead of the original plan. I'm just happy to be back here to help the team."
Robbie Ray (2-4) went five innings for his first win as a Jay. He struck out five and yielded four hits. This was his third appearance, second start, since coming over from Arizona on trade deadline day.
Cavan Biggio notched his 100th career walk. He achieved the feat in fewer games than any other Jay (145). Fred McGriff did it in 182 games.
Buzzing about Kirk, not James T.
Alejandro Kirk isn't just a prospect he's a big leaguer now, and he made quite the debut Saturday night in finishing 1 for 3 with a walk and run scored. More importantly, he was on the same page as Ray and the rest of the pitchers as the 21-year-old did not look out of place behind the plate.
Wearing No.  85, Kirk is just the second catcher in team history to make the big leagues without appearing in any games in Class AA and Class AAA. The last was Mike Milner back in 1978.
Kirk had a .918 OPS with 17 home runs and .315 average in a minor league career, which spans 151 games in Rookie and Advanced Class A-ball.
The Jays called up their top catching prospect with hopes he would add a little offense to the position. Starter Danny Jansen has his share of key hits but is still just batting .125 with four home runs.
Kirk takes the spot previously held by Caleb Joseph (.125, one home run in eight at-bats) and Reece McGuire (.073, one home run in 41 at-bats).
The Mets scored first in the top of the fourth as Jake Marisnick ripped a double down the third-base line with two outs to score Michael Conforto, who reached with a single and moved to second on Biggio's fielding error in right.
The Jays tied it in the bottom of the fourth as Bichette led off with a single and later scored from third on Randal Grichuk's infield hit.
The Jays went ahead 2-1 in the fifth on Travis Shaw's sac-fly to right, which scored Kirk, who led off with a walk. The Jays added another run in the sixth when Vladimir Guerrero Jr. scored on Jonathan Villar's single after smoking a lead-off double to right.
The Mets got one back in the seventh on J.D. Davis' RBI fielder's choice which plated Wilson Ramos.
The game ended on a pickoff play after a review, as Rafael Dolis caught Amed Rosario at first with Guerrero wisely asking the dugout to challenge after an initial safe call.
Closer Ken Giles returned to the lineup Friday night after missing the last 41 games with a strained forearm.
The plan is for the Jays to let Giles get reacclimated to pitching in a few non-save situations before returning to the closer's role.
Giles got some work in Friday, yielding a home run on the first pitch he threw in  the eighth inning to Wilson Ramos. Giles settled down after that, striking out the next two hitters. He yielded a single but retired the final batter he faced on a grounder to third.
Be the first to know
Get local news delivered to your inbox!